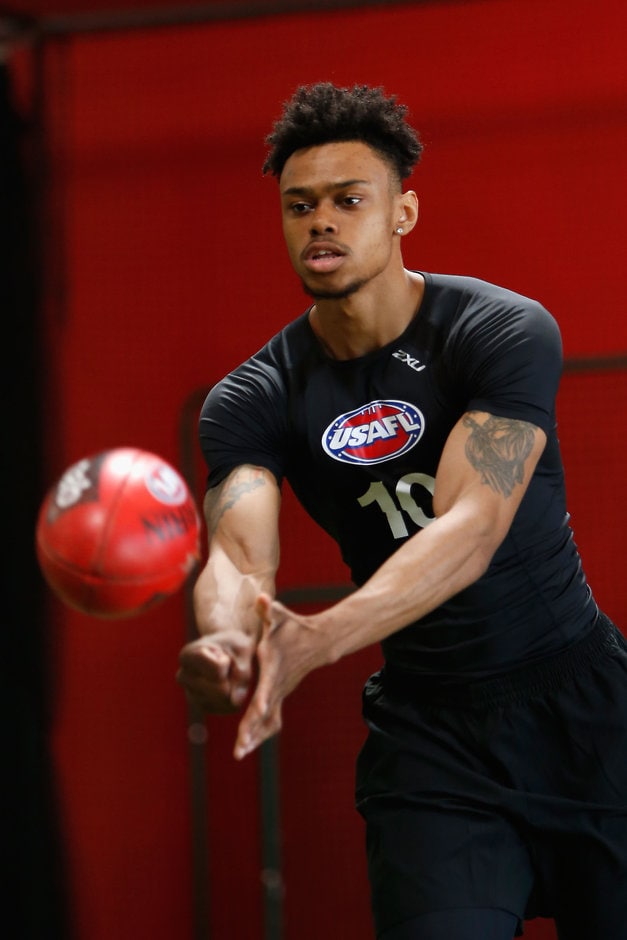 THE TALLEST player ever tested in AFL history was one of 18 prospects who took part in the opening day of the League's US Combine in Los Angeles on Monday.
Basketballer Stanislas Heili became the tallest player ever tested by the AFL in Australia or overseas, when he measured in at 212.3cm at the Velocity Sports facility in Redondo Beach this week.
The mark leaves the 22-year-old just short of seven feet tall, but edges him ahead of American giant Mason Cox who tested at 211.4cm when he attended the AFL combine two years ago and made his AFL debut for Collingwood on Monday in the Pies' win over Essendon.
The AFL is scouring the globe for taller prospects and has identified America as a market for potential ruckmen. Heili, who was born in France and studies at Lindenwood University in Missouri, fits the prototype for clubs searching for talent outside traditional pathways.

Richmond and North Melbourne are the two clubs that have sent recruiting staff to the Combine.
Kevin Sheehan, the AFL's national and international talent manager, said it was not the only new benchmark set on the opening day of testing in America.
"Both Shane Henry, a 197cm basketballer from Virginia Tech, and Khalia Spicer, a 201cm prospect from Kent State University with a tennis, track and cross country background, broke the absolute running vertical jump record," he said.
"Henry recorded a jump of 371cm and Spicer jumped 368cm, which surpassed the likes of Mason Cox (364cm), Jason Holmes (359cm) and Nic Naitanui (356cm)."
Henry also equaled Naitnaui's 102-cm record in the running vertical jump.

The start of the three-day combine coincided with Cox's debut, with the Magpies big man starring at the combine in 2014.
Cox toured Australia shortly after the completion of the combine and trialled at four clubs – Collingwood, North Melbourne, Richmond and Port Adelaide – before choosing to sign as an international rookie with the Magpies.

Derrick Williams shows his leap while practicing ruck work. Picture: Lachlan Cunningham

Sheehan said Cox's debut on Anzac Day had excited the new batch of AFL hopefuls in America.
"There was high buzz last night as USAFL officials and the Combine prospects gathered at their hotel in preparation for their introduction to the AFL, and they watched the Collingwood and Essendon game live with all eyes on the debutant," Sheehan said.
"He didn't let anyone down, confirming in their eyes that anything is possible."
DAY ONE TESTING – TOP COMBINE PERFORMERS
Height
Stanislas Heili (Lindenwood University) – 212.3cm
Devontae Watson (Temple University) – 206.5cm
John Cannon (UNC) – 206cm

It's a long way down as Stanislas Heili learns to bounce the Australian ball. Picture: Lachlan Cunningham








Absolute running vertical jump (right leg)
Khaliq Spicer (Kent State University) – 368cm
Devontae Watson (Temple University) – 364cm
Omari Gudul (Angelo State University) – 357cm

Absolute running vertical jump (left leg)
Shane Henry (Virginia State) – 371cm
Jamal Hunter (Jacksonville State) – 356cm
Austin Lewis (McNeese State University) – 354cm

Omari Gudul does the agility test during the AFL US Combine. Picture: Lachlan Cunningham



Vertical jump
Shane Henry (Virginia State) – 84cm
Jamal Hunter (Jacksonville State University) – 84cm
Khaliq Spicer (Kent State University) – 79cm
Derrick Williams (Park University) – 79cm
Running vertical jump (right leg)
Khaliq Spicer (Kent State University) – 99cm
Brandon Nazione (Eastern Michigan University) – 90cm
Shane Henry (Virginia State) – 87cm

Nduka Ezeamii is measured during the AFL US Combine in Los Angeles Picture: Lachlan Cunningham

Running vertical jump (left leg)
Shane Henry (Virginia State) – 102cm
Jamal Hunter (Jacksonville State) – 83cm
Nduka Ezeamii (Avila University) – 83cm
20 metre sprint
Austin Lewis (McNeese University) – 2.86 seconds
Ikem Eriobuna (Allen University) – 2.93 seconds
Jamal Hunter (Jacksonville State) – 2.96 seconds
Imoh Silas (Siena College) – 2.96 seconds

Imoh Silas goes through his warm-up during the AFL US Combine in LA. Picture: Lachlan Cunningham








Agility test
Jacquez Rozier (Middle Tennessee State University) – 8.35 seconds
Brandon Nazione (Eastern Michigan University) – 8.35 seconds
Ikem Eriobuna (Allen University) – 8.44 seconds
Repeat sprint
Khaliq Spicer (Kent State University) – 25.51 seconds
Imoh Silas (Siena College) – 25.73 seconds
Bruce Marshall (Missouri Southern State) – 25.95 seconds

Daniel Joseph Woody Quinn in the sprint test during the AFL US Combine. Picture: Lachlan Cunningham