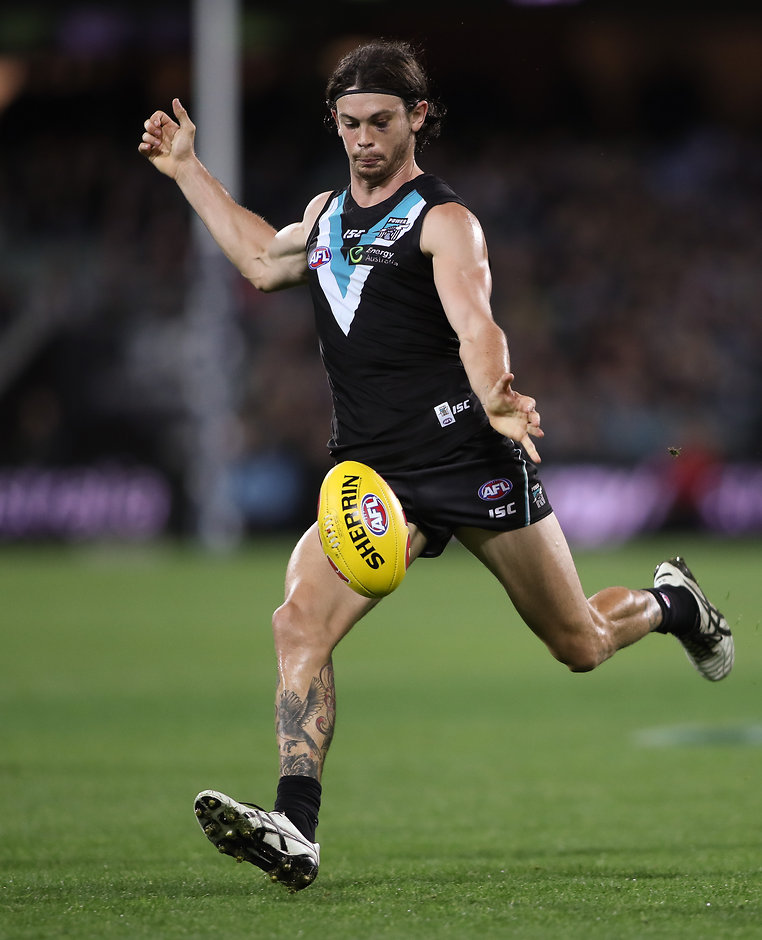 IN-FORM Port Adelaide defender Jasper Pittard says it's the cohesion of the Power's back six and the faith instilled in him by coach Ken Hinkley that has led to his career-best form.
Pittard has been one of the bright spots for the Power in the opening seven rounds of the competition.
His ability to cause havoc off half-back and spark Port Adelaide's counter-attack will be vital as the Power aims for their third straight win against Carlton at Etihad Stadium on Sunday.
The 25-year-old's key statistics have gone through the roof, improving his average total possessions from 19.6 last year to a career-high 26.1 per game this season.
He's ranked seventh in the League for kicks per game with 17 and is No.6 for rebound 50s.
Pittard attributes his dramatic increase in finding the ball to his fellow defenders having his back.
''The boys in the back six, we've played a lot of good footy together now,'' Pittard said.
''We've got that synergy with each other and I think we've started to work out how to play with each other.
''They often take dangerous players and allow me to attack up the ground and be close to the ball.
''I'm pretty thankful I've got a group that work hard to get me free.
''I do my best to repay them by attacking really hard as well.''
Pittard said he had also enjoyed the extra responsibility Hinkley has put on him this year.
''I've been around the traps a while now and it hasn't really been a conscious decision to play a certain way, but I feel like my game has been building over a number of years,'' Pittard said.
''I'm starting to make better decisions consistently.
''That's been the big part of my improvement, being a bit more consistent with those decisions, a bit more calmer with the ball and continually trying to defend aggressively.''
After an average start to the season, the Power have shown steady improvement in the past two weeks with wins against Richmond and the Brisbane Lions.
But Pittard admitted it was a bit premature to suggest the club had turned its fortunes around.
''You want to string four, five, six, good performances together,'' he said.
''There's definitely a feeling we're back to playing the way we want to play.
''We weren't getting that right in the first four or five weeks, the last two weeks we've played four quarters of the brand of footy we want to play.
''We play a high-risk brand of footy and sometimes things can go pretty wrong, but more often than not, when it comes off, we're really hard to play against and hard to defend. ''