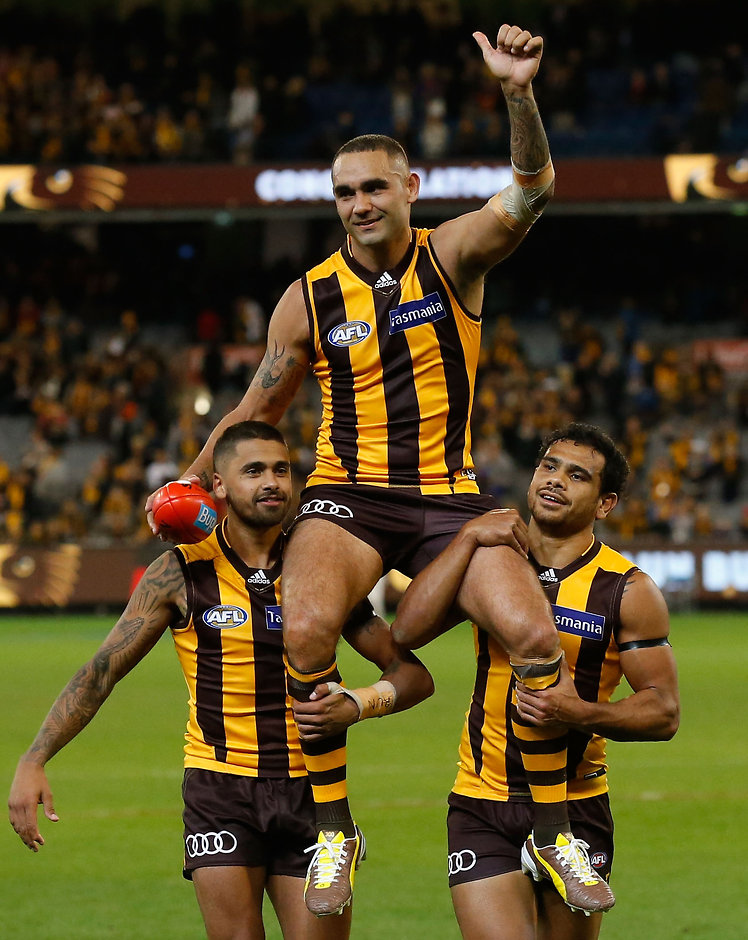 Hawthorn champion Shaun Burgoyne recently replaced retired Sydney Swans great Adam Goodes as chairman of the AFL Players' Association's indigenous advisory board. Here, he explains his role, outlines some of the challenges facing indigenous players and how he is embracing his own responsibilities.
THE BOARD is made up of current players. Preferably we want one player from each state, as players face different problems and challenges depending where they come from.
It evolved from a camp we had in 2011 in Alice Springs. On the back of that, the players – after a number of meetings – indicated they wanted an indigenous voice. The first committee was set up with Adam Goodes as chairman.
We get together regularly to hear what indigenous players across the league are saying, to learn about what the clubs are doing and try to provide a voice back to clubs to recommend what they could be doing better.
We advise the PA and the clubs on issues indigenous players are facing, which are a lot different to the issues facing most other players. Those issues mainly revolve around relocating, family and culture. Basically, we're an extended voice for the players to get their points through.
There are always challenges for indigenous players. Moving from small indigenous cultures to a city where there are no indigenous people. That can come as a shock. There are financial burdens, homesickness, pressure from family and matters such as cultural leave. Those things are very important to indigenous players.
Clubs are getting better at handling these issues, and they're better at understanding that each player, no matter what background, is different. Clubs are taking a greater interest in their players' individual beliefs. As a player, you want your club to be an extension of your family and you want to feel comfortable.
Look at Hawthorn – we have players with surnames from all over the world, and some of those players have different beliefs. Players are fully accepting of their teammates' beliefs and culture.
The quicker you can get your teammates feeling at home and at ease at the club, the better they'll feel accepted. In the end, you'll be rewarded with better performance from them.
Being chairman is lot of responsibility and something I take very seriously. I thought long and hard about it before taking the role. If you told me when I started in the AFL with Port Adelaide that I'd eventually have a role like this, I wouldn't have been too happy or comfortable, as I was lot more shy back then. But as you get older, you realise you have more responsibilities.
This is another stepping stone in terms of my view that if I can help another player stay in the game and have a more meaningful career, I'll help him as best I can. That goes for all players, but obviously more for indigenous players, because a lot of the transitional issues and challenges they face are what I've also been through. I feel like I can connect with those players on that level.
As much as I didn't like it, I knew pretty much from when I was drafted that I had responsibility. I always thought I'd just kick a footy. But as soon as you're drafted, all your younger family members tell you they want to be just like you. The minute you're drafted, you're put on a pedestal and you're a role model.
Year by year, I've grown a bit more comfortable with that role-model tag and when you get to where I am now you're held very highly by young indigenous people across Australia, as you give them hope and dreams they can achieve something through hard work and perseverance.
On the field, I'm more about action that talking. I lead by my actions. Off the field, I like to talk to people and get a feel for what the issues are and how they feel. I like the consensus approach – give people a voice, take into account how they feel, make a decision and then move forward.
I'm getting more comfortable these days putting myself in uncomfortable situations. That's one of the reasons I moved to Melbourne – to try something new. I'm looking forward to seeing what other challenges come up.