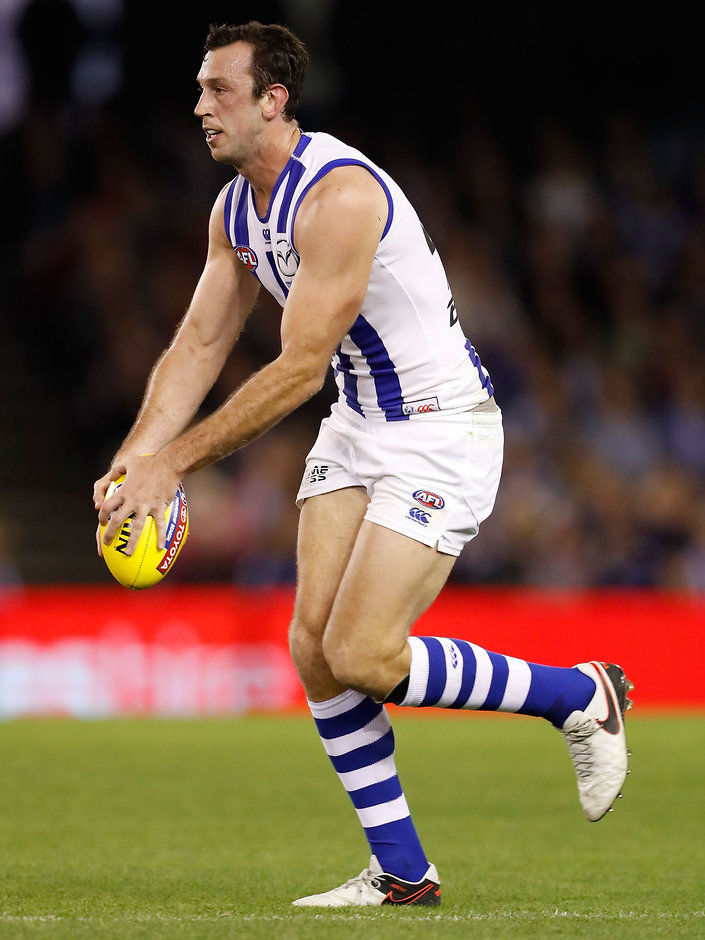 NORTH Melbourne ruckman Todd Goldstein believes he is certain to return to the line-up for Saturday night's crunch match against Geelong.
Goldstein completed high intensity run throughs at training on Monday, showing no signs of the knee complaint that saw him miss the club's win over Richmond in Hobart last Friday night.
The All Australian big man has showed strong durability in recent times, missing just three matches since 2013 and is confident there will be no ongoing issues.
"Yeah, definitely that's the plan (to play this week). I think everything's tracking the way it should but I've still got plenty of time to recover," he told Channel Nine.
"It should be fine, it's just a slight knock that should take a week or so to recover."
Goldstein said that had the Richmond match been a final, he probably would have played.
"I think so, quite possibly," Goldstein said.
"We've still got a long way to go and it's a long season.
"There's no point in taking any risk, we may as well take that one off and we had confidence that Maj (Majak Daw) could come in and do a job for us and he did that so I think it worked out well."
Brad Scott returns to the coaches box this week and faces a tough decision on whether to play both Goldstein and the out-of-contract Daw.
Playing his second game for the season against Richmond, Daw combined with Ben Brown in the ruck and registered 10 disposals, 19 hit-outs and a goal.
Goldstein said he didn't envy making the call on his teammate.
"I'm lucky enough I don't have to make that decision," he said.
"We can all play different roles and that's up to match committee and the coaches to decide on.
"All we can do is keep performing and make a selection for the match committee."