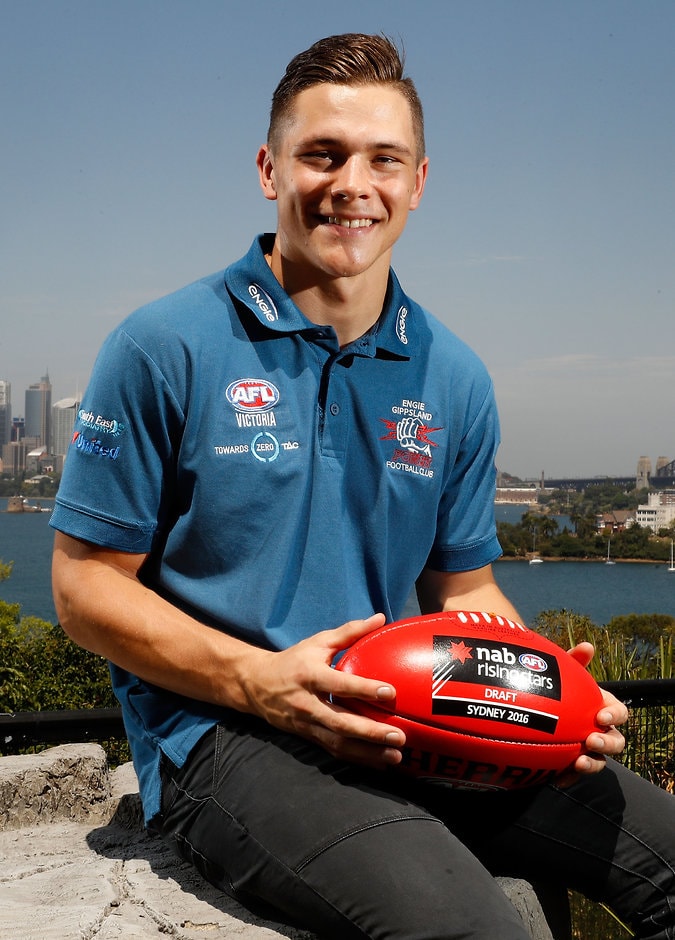 EXCITING draft prospect Ben Ainsworth says the chance to play senior footy in 2017 and reunite with underage teammates Josh Schache and Sam Skinner are the main reasons behind his desire to join the Brisbane Lions.
Ainsworth took in the sights at Sydney's Taronga Zoo on Wednesday ahead of Friday night's NAB AFL Draft, and while he admitted he'd jump at any chance he was given in the AFL, the Lions remain an attractive option as his new home.
The Lions won just three games last year to finish second last on the ladder but traded their No.2 pick to Greater Western Sydney for pick No.3, so he won't get his wish unless both Essendon and the Giants pass on the gun small forward.
The Gippsland Power captain said he was in no position to choose where he takes his footy talent, but said there were several factors behind the appeal of the Lions.
"Getting an opportunity to play at the highest level is definitely the thing that comes to my mind, and that's why I did say I'd like to go to Brisbane," he said.
"I think they're developing a pretty good culture at Brisbane and I think there's good things ahead for the club.
"I know (Lions players) Josh Schache and Sam Skinner from Gippsland Power, too.
"But wherever I get an opportunity it doesn't really bother me, I just want to take it with both hands."
Ben Ainsworth meets the wildlife at Sydney's Taronga Zoo. Picture: AFL Photos
Ainsworth has carried the weight of expectation of being a top-five prospect throughout 2016, and he was honest when he admitted he didn't handle the pressure earlier in the year.
Injuries and a four-week suspension in the TAC Cup mid-season were major hurdles to overcome, but after initially responding poorly, the explosive forward found his best form over the final few weeks of the season with Gippsland.
Ainsworth said he took plenty of positives from the way he bounced back from adversity.
"It has been a difficult year, more of a learning year than focusing on football," he said.
"Although I played some good footy towards the end I was pretty disappointed with the start of the season.
"I felt a bit of expectation going into the season and I focused on it a little too much, but I just had to find ways around it, and I guess I did that in the last few games of the season.
"I've matured a little bit, and (Gippsland coach) Leigh Brown and (Gippsland talent manager) Pete Francis helped me through those experiences, as well as my family and friends.
"They've been great for my development and kept me down to earth."
Aisnworth has been compared to Collingwood's Jamie Elliott and Giants star Devon Smith for his ability to take a strong grab for his size, and find the goals.
He also said he hopes to emulate the feats of Sydney rookie Tom Papley, who kicked 29 goals from 20 games in his debut season this year.
"It was good to see Tom Papley last year come off the rookie list and play in a Grand Final," he said.
"I do see myself coming making an impact as a small forward.
"I think my overhead marking is more of a strong point than my small forward craft, so I'll definitely being looking to kick some goals and put my best foot forward."