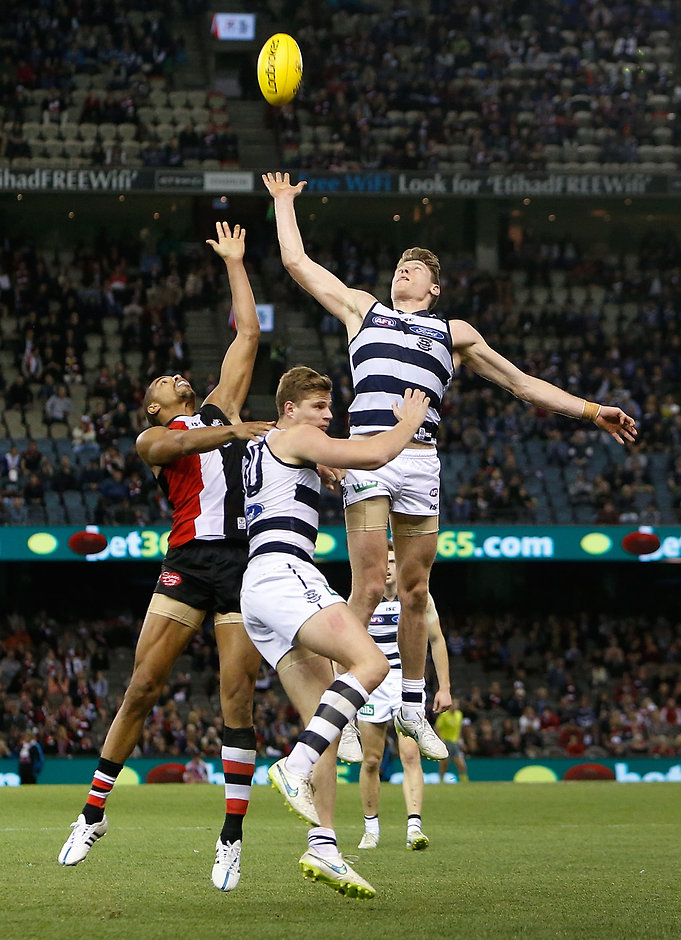 CLUBS are split on whether to allow or ban 'third man up' on ruck contests after coaches discussed the issue at Friday's AFL laws summit meeting.
The AFL is expected to consider the feedback before determining whether a rule change would be necessary, given the variety of views among clubs.
The incidence of players going 'third man up' at stoppages has increased dramatically in the past two years from 8.5 per cent in 2014 to 13.2 per cent last season.
Some coaches are concerned that the growing incidence of 'third man up' at stoppages dilutes the value of the powerful ruckman in the game and could undermine the game's ability to attract athletes of all shapes and sizes.
They want the ruck craft to be protected while other coaches are concerned stoppages would become too predictable if players other than the two ruckmen weren't allowed to contest a hit-out.
The AFL Charter designed for the Laws of the Game committee has a guiding principle that "players of all sizes, football and athletic ability have the opportunity for success in the game played at the highest level".
One suggestion understood to be put forward to the Laws Committee was to tighten the interpretation of the rule so that players must nominate the designated ruckmen at contests, allowing opponents to block players wanting to be 'third man up' with giving away a free kick.
A source suggested to AFL.com.au that coaches were concerned without this rule being enforced players could fake their intention to go 'third man up' to create space as their opponent was caught in two minds as to whether they could block them or not.
Although statistics don't show any relationship between players going 'third man up' and clearance rates, and medical staff have not seen an increase in injury due to the increased use of the tactic, one club was concerned that ruckmen backing back during boundary throw-ins remain vulnerable to an opponent going 'third man up'.
Any change to the law would require AFL Commission approval to be considered for the 2017 season or beyond.