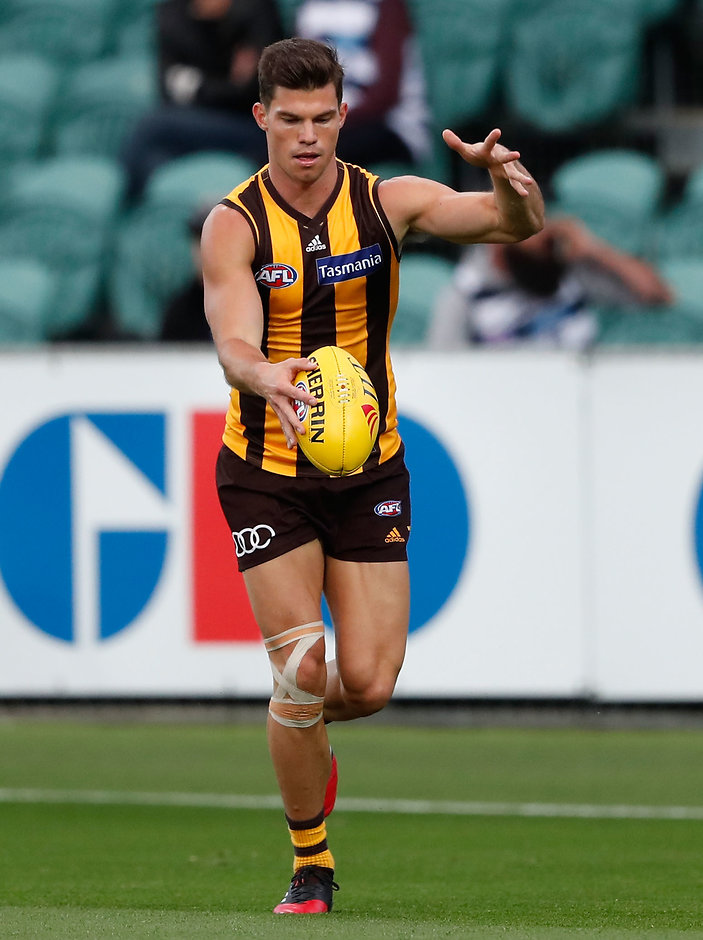 IT HAS been a long, hard pre-season for AFL Fantasy coaches. Some who were seeking redemption from last year, like Warnie, started as soon as the 2016 season finished. While others have been quietly absorbing information over the last couple of months and are happy with where their squad sits.
For quite a few, this is the week when the first virtual step is taken on the Fantasy training track.
Teams need to be finalised before the first bounce on Friday night, but if you wish to have a Tiger or a Blue, then they'll need to be locked away before 7.20pm AEDT on Thursday night.
The Traders guide you through every step of the way on the all-important final podcast ahead of round one.
Click here to register for AFL Fantasy
Also in this week's podcast:
Roy discusses team structure
The best of the sub-$250K players
Calvin's captain tips, including the loophole
Team Vanilla – the most popular picks this year
Warnie catches up with Russell Shore, the winner of Fantasy Classic in 2016
Your social media questions answered
Click here to subscribe on iTunes
Defenders
| | | | | |
| --- | --- | --- | --- | --- |
| NAME | CLUB | POSITION | PRICE | OWNERSHIP |
| Mitchell Hibberd | NM | DEF/MID | $150,000 | 43.7% |
| Taylor Adams | COLL | DEF/MID | $622,000 | 42.5% |
| Curtly Hampton | ADE | DEF | $204,000 | 40.1% |
| Caleb Marchbank | CARL | DEF | $205,000 | 29.9$ |
| Rory Laird | ADE | DEF | $584,000 | 28.9% |
| Andy Otten | ADE | DEF | $150,000 | 28.7% |
| Heath Shaw | GWS | DEF | $614,000 | 26.7% |
| Tom Stewart | GEE | DEF | $172,000 | 22.2% |
| Andrew McGrath | ESS | DEF/MID | $250,000 | 19.4% |
| Sam Docherty | CARL | DEF | $609,000 | 18.1% |

Midfielders
| | | | | |
| --- | --- | --- | --- | --- |
| NAME | CLUB | POSITION | PRICE | OWNERSHIP |
| Jaeger O'Meara | HAW | MID | $364,000 | 55.4% |
| Nat Fyfe | FRE | MID | $595,000 | 47.3% |
| Patrick Dangerfield | GEE | MID | $712,000 | 45.5% |
| Dayne Beams | BL | MID | $519,000 | 34.2% |
| Jake Barrett | BL | MID | $150,000 | 31.9% |
| Sam Powell-Pepper | PA | MID | $216,000 | 30.6% |
| David Swallow | GC | MID | $355,000 | 25.6% |
| Dyson Heppell | ESS | MID | $548,000 | 23.7% |
| Nathan Freeman | STK | MID | $150,000 | 19.7% |
| Tom Rockliff | BL | MID | $704,000 | 18.9% |

Rucks
| | | | | |
| --- | --- | --- | --- | --- |
| NAME | CLUB | POSITION | PRICE | OWNERSHIP |
| Braydon Preuss | NM | RUC | $150,000 | 36.6% |
| Toby Nankervis | RICH | RUC/FWD | $365,000 | 35.7% |
| Darcy Cameron | SYD | RUC/FWD | $156,000 | 27.3% |
| Max Gawn | MELB | RUC | $642,000 | 24.0% |
| Patrick Ryder | PA | RUC/FWD | $411,000 | 21.9% |

Forwards
| | | | | |
| --- | --- | --- | --- | --- |
| NAME | CLUB | POSITION | PRICE | OWNERSHIP |
| Jarryd Roughead | HAW | FWD | $373,000 | 45.3% |
| Jarrod Pickett | CARL | MID/FWD | $150,000 | 44.0% |
| Brett Eddy | PA | FWD | $150,000 | 42.5% |
| Luke Dahlhaus | WB | MID/FWD | $557,000 | 37.0% |
| Jack Macrae | WB | MID/FWD | $596,000 | 33.2% |
| Tim Taranto | GWS | MID/FWD | $248,000 | 23.7% |
| Jack Steele | STK | MID/FWD | $432,000 | 23.1% |
| Aaron Black | GEE | FWD | $150,000 | 22.8% |
| Cam McCarthy | FRE | FWD | $211,000 | 21.9% |
| Hugh McCluggage | BL | MID/FWD | $246,000 | 15.9% |

Team Vanilla