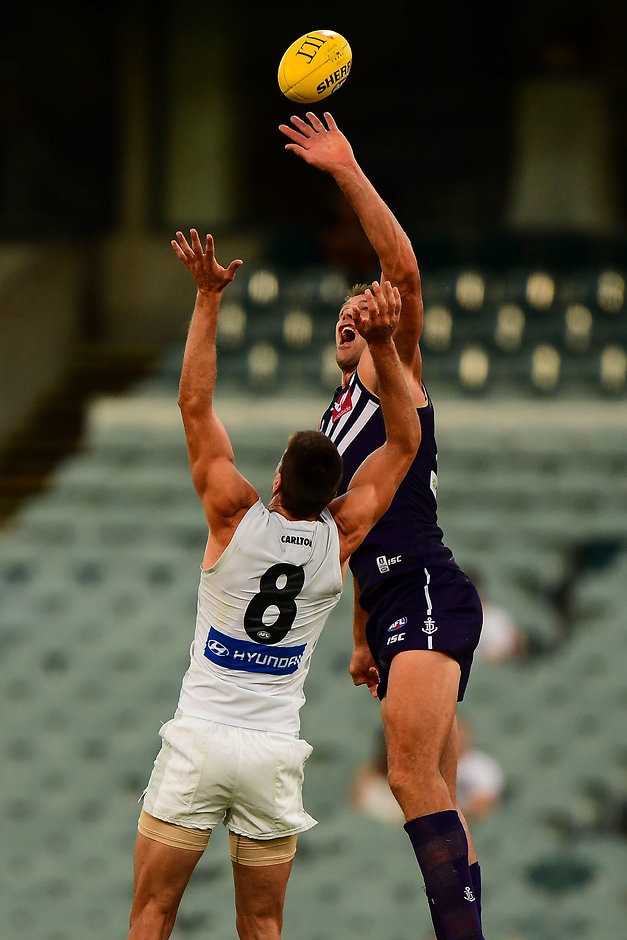 AARON Sandilands has rebuffed talk that 2017 could be his farewell season, with the Fremantle ruckman declaring he wants to play on again next year.
Dockers coach Ross Lyon put Sandilands' future on the agenda in an interview with The West Australian at the weekend, revealing his belief the 34-year-old star still has a "few years in him" at the top level.
"I was pretty happy when he said that," Sandilands said with a laugh on Monday.
"Obviously it's only round one at this point in time. We'll probably have a chat as the year goes on and go from there.
"I'm really enjoying still coming to training and the game side of things.
"As long as that's there and as long as I'm still able to contribute to the side, I've got no doubt I'd like to go again."
Sandilands is about to embark on his 15th campaign coming off a terrific pre-season, where he broke his 3km time trial record by about 30 seconds and starred in wins over Collingwood and Carlton.
The 211cm giant – and his combination with superstar Nat Fyfe - remains integral to Fremantle's fortunes and his influence at stoppages is tipped to increase after the 'third man up' was outlawed.
"I've noticed that guys aren't jumping into me as much," he said.
"It's pretty early on so far, but I'm happy with the rule."
Geelong, who the Dockers face in their Starlight Purple Haze Game at home this Sunday, used the tactic regularly last season – with Mark Blicavs clearly the AFL's No.1 'third man up'.
The Cats are expected to be disadvantaged by the rule change, but Sandilands warned that Fremantle also needed to adjust.
"(The Cats) were one of the sides that utilised it well, but they weren't the only ones and we used to use it ourselves," Sandilands said.
"They've got quality ruckmen as well, so we know we're in for a tough challenge against (Zac) Smith and (Rhys) Stanley."
Sandilands said he wants to play every game this year after only making five appearances last season due to broken ribs, which he still covers with a protective guard.
His partnership with Jonathon Griffin looms as a trump card for Freo, with both big men impressing with their tap work and looking dangerous in attack during pre-season matches.
Draftee ruckman Sean Darcy has also drawn praise from Ross Lyon for his competitiveness and Sandilands sees a bright future for the Geelong Falcons product.
"He's a great young man. He stayed with me for the couple of weeks when he first moved across and he's just enthusiastic and willing to learn," he said.
"No doubt he'll get an opportunity at some point. I can see him as a long-term player here."
Dockers players will wear special guernseys with the Starlight Children's Foundation logo against Geelong on Sunday with some players – including Sandilands – also lacing their boots with special shoelaces.
Sandilands, a Starlight Children's Foundation ambassador since 2007, has also auctioned his match boots for the charity, while Freo players and volunteers will be rattling tins at Domain Stadium to raise money.
Fremantle has donated more than $1m since the first Starlight Purple Haze Game in 2003.