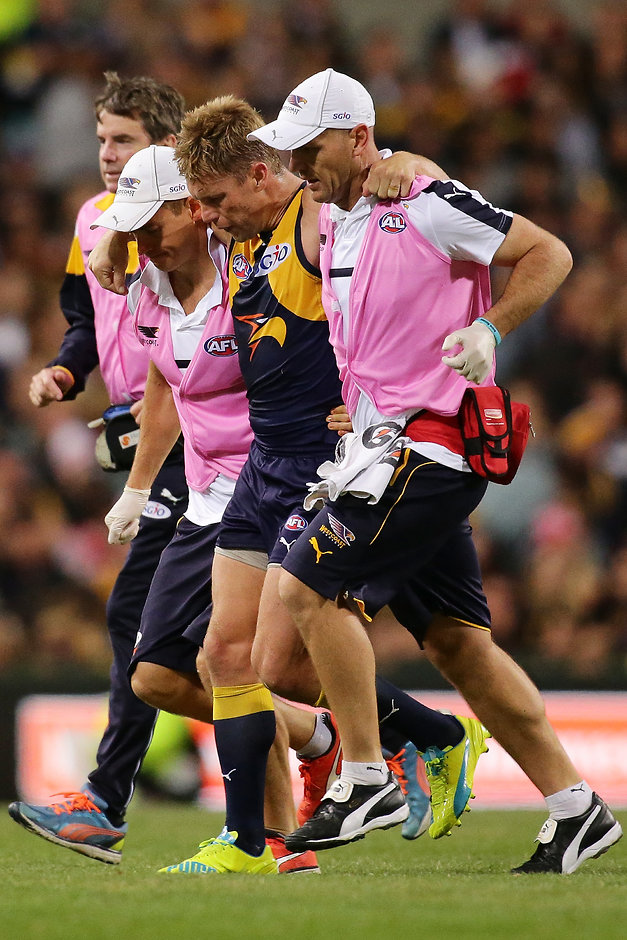 I did a fitness test and got 10 per cent into it a realised it wasn't going to be good enough
Sam Mitchell
SAM MITCHELL had barely started a fitness test on his sore ankle when he knew his hopes of facing former club Hawthorn on Sunday were over.
The 34-year-old hadn't trained all week after suffering friendly fire from West Coast teammate Jack Redden and violently twisting his ankle in the second quarter of last week's win over the Swans.
Mitchell hoped a 10-day break would help him get to the line and take on the Hawks for the first time since his bombshell trade, but quickly realised during a Thursday morning test he was no chance.
"It's getting better by the day but it's not good enough for this week, unfortunately," Mitchell told the club's website.
"It wasn't probably even good enough to be able to convince the doctors about whether or not I could play.
"I did a fitness test and got 10 per cent into it a realised it wasn't going to be good enough.
"It's unfortunate that I won't be out there against the old Hawks on Sunday."
Losing the veteran midfielder is a significant blow to the Eagles' chances of knocking over the winless and under-siege Hawks at the MCG for the first time since 2006.
Hawthorn dominated West Coast in the past two clashes at the venue, winning both the 2015 Grand Final and last year's round two rematch by 46 points.
Mitchell, who played 307 games and won four flags with Hawthorn, will remain in Perth this weekend and continue his rehabilitation in a bid to play his first Western Derby against Fremantle next Saturday night.
"I think I'll be OK [for next week]. I need to get better than what I am now. I couldn't play obviously by Sunday, so I need to get every bit of every day of improvement that I can so I've been spending plenty of time in the pool and on the beach and in the ice baths and on the bike and all these things than improve you," he told Fox Footy.
"And I have [improved]. If I look at where I've got to now from where I was on Monday, I'd be very, very happy with it although it's not good enough [to play against the Hawks].
"If I can have that same progression over the next few days I'll be fine for next week but I need to continue to improve. That's the on-going challenge of AFL footy."