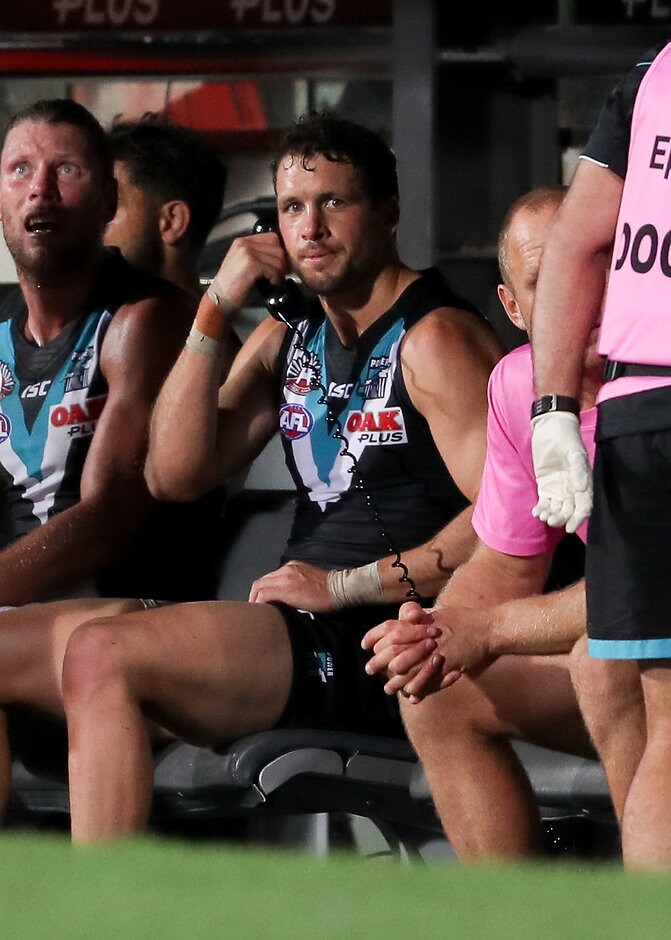 PORT Adelaide skipper Travis Boak is in doubt for the Power's round six clash with the Brisbane Lions after leaving the ground during Friday night's clash with Carlton and failing to return to the field.
Boak came from the ground midway through the third term and was ruled out of the clash with a hamstring issue.
"At this stage he's got a cork in the hamstring, which we weren't prepared to risk since the game was going OK," Power coach Ken Hinkley said.

Click here for full match details and stats
"He got a bit of a whack, a knee, into the back of the hamstring, down low near the end, that was probably near where he felt it.
"Then there was some pain and soreness there, so it was pretty simple to take him off.
"We're not sure so we'll wait until Monday."
Port plays in Shanghai, China, in an historic first match in Asia for premiership points on May 14, and will be desperate to have their skipper and the face of the club available.
Hamish Hartlett withdrew before the clash against Carlton with a quad issue.
"We've played some physical football over the past couple of weeks," Hinkley said.
"You do pay a price as a team and 'Hammer' was one of them.
"In six days we thought he would be nearly be right to get up so we left it until the end, but we weren't going to take a risk and we had fresh players ready to play."
Asked if Hartlett would be in doubt for the game against the Lions, Hinkley said: "I doubt it because he was so close to playing tonight, but I can't guarantee that will be the case."