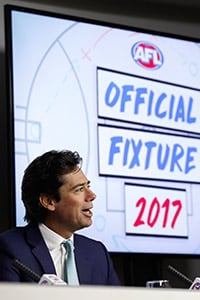 A FIXTURE revamp that would see 18 games in the regular season before a playoff series and then finals has been raised as a possibility during discussions surrounding a new fixture model.
The idea canvassed would allow each team to play each other once but would enable blockbuster fixtures such as local derbies and the Showdown to be played twice each season.
It would also satisfy the clubs' desire to continue selling membership packages that admit members to 11 home games and corporate packages related to home games.
The four-week playoff structure under such a scenario remains open to debate with consultation about the possibilities expected to broaden to more stakeholders in the next month.
Two games between Adelaide and Port Adelaide have been held every year since the Power entered the competition in 1997 with each game a feature of the Australian sporting calendar.
Similarly, West Coast and Fremantle – who play their 45th Western Derby on Saturday – have played each other twice a year since 1995.
Such games are important to clubs, venue operators and the supporters of competing clubs.
With rivalries growing between Greater Western Sydney and the Sydney Swans and the Brisbane Lions and the Gold Coast Suns expected to grow in importance there is a reluctance to limit their encounters to one a season.
The extra round could see traditional Victorian rivals clash for the second time in a season.
Several options have been discussed during the process with the 17-5 model being the most widely debated during recent seasons and AFL.com.au understands it is among a range of potential options that remain on the table.
Although change is not expected to take place in 2018, AFL.com.au reported on Thursday a fixture revamp remained firmly on the agenda.
The possible implications for fans, clubs, venues, broadcasters and players of any revamp means it is a complicated process that will take time and consultation before a final decision is made.
However, the AFL remains motivated to continue to explore ideas in order to ensure something is hanging on the result of as many games as possible, while balancing the need to maintain a credible system to determine the premier and also maintain competitive balance.
The AFL Commission was briefed on the progress of the working party on fixture reform last Friday with the next stage being for the AFL to consult relevant parties on potential ideas.