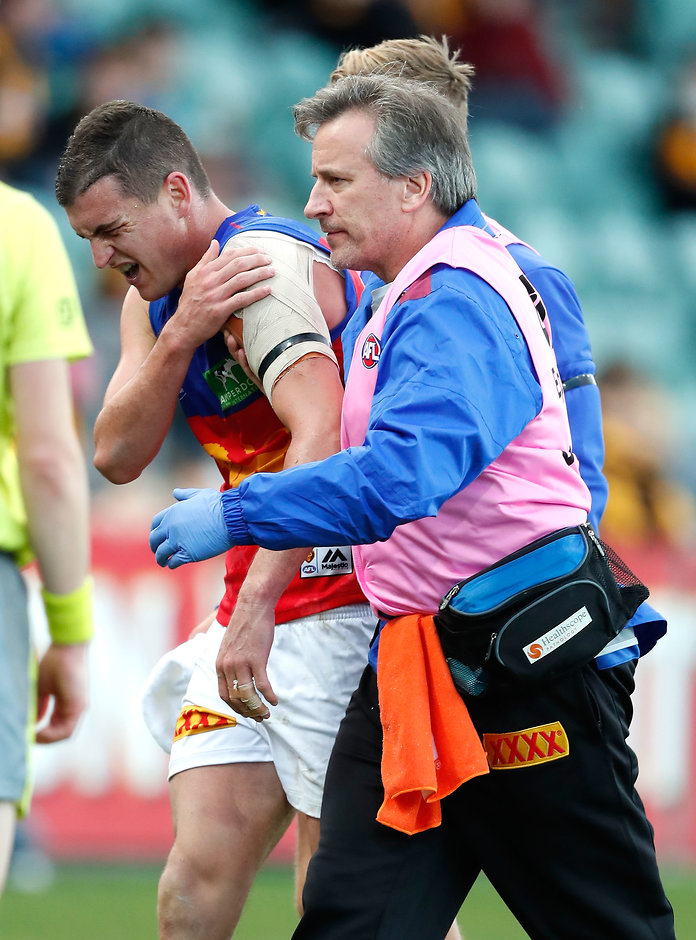 THIS has been a year like no other! Some of the massive scores that players are pumping out are phenomenal, and the best part is, it wasn't just our regulars getting amongst it this week. On a negative note, The Pig, Tom Rockliff went down with a dislocated shoulder on 130. He is tough, but ultimately his fate will come down to the results of his scans. Pork knuckles crossed!
Fantasy pig
I flagged Josh Kelly as the 'trade target of the week' a few rounds ago, and he put in a couple of disappointing games following that, but he has bounced back with vengeance of late. His game against the Pies on the weekend was the highlight however, with a round high 162 from 36 possessions, 11 tackles and a goal. Once again he is one to keep an eye on because he remains under priced.
• Nine things we learned from round eight
Honourable mention: He may not be in the top two scorers for the week but Zach Merrett is nothing short of amazing. As a matter of fact, the only word to describe him, that doesn't sell him short is Pig. He went bang again this week with 33 touches and 12 tackles for 150. He gets it done week after week and is a 'must have' in every team.
Rage trades
For the second week in a row, I will reluctantly talk about the same player. Rory Sloane looked to have ticked all boxes on the back of a record scoring month, to the point coaches were willing to pay top dollar. Unfortunately for those coaches, he was tagged again and managed just 11 possessions and no marks for 63. Thank goodness he laid a whopping 12 tackles and plays the Lions next week, otherwise coaches may not reverse the trade this week.
• After the siren: Mundy's kick could shape two seasons
This one is a little personal, as I traded in Zach Tuohy on the back of an outstanding month where he had averaged over 110. The form, the role and the matchup had me convinced that a score of 90 was a walk-up... until I checked the scores at half time and saw him on 19 points. If I could have hacked the system and traded him at that point, I would have! Instead I threw my phone and now the screen is cracked … that showed him. He eventually recovered to 67, but he certainly owes me… in more ways than one.
Piglet
Daniel Lloyd didn't set the world on fire, but he didn't look out of place for the Giants, collecting 17 possessions and a goal for 61. With injuries mounting and only Toby Greene set to return this week, it looks like he could be around for a few weeks.
• Around the state leagues: Who starred in your club's twos?
Honourable mention: No-one knew why Nic Newman was dropped in the first place, but ironically no-one was surprised. What did surprise people, was turning on the TV and seeing him running around despite not being named. He was in fact a late inclusion and made the most of his chance, pumping out a lazy 135 to be the game high scorer.
Click here to subscribe on iTunes.
The top five
Josh Kelly: 162
Travis Boak: 153
Jack Billings: 151
Zach Merrett: 150
Jack Viney: 145
Trade targets
Michael Walters
Isaac Heeney
Bradley Hill
Brodie Grundy
Josh Kennedy
Fantasy mailbag
Hey legends💪: order these 4; brad hill, billings, wingard, walters. @AFLFantasy @RoyDT @WarnieDT @CalvinDT

— Reid Gibson (@ReidGibson10) May 14, 2017
That's a tough one. I really like Walters in his new midfield role at such a cheap price. You have to be prepared for anything though, who knows where Ross will play him in a fortnight. I love Wingard as a trade straight after his bye.
@RoyDT any news on rocky??

— Travis LeBrun (@DjTravisLeBrun) May 14, 2017
Monday scan. Can't help but fear that he will miss one week, then the bye will make it two weeks rest.
@RoyDT How important is trading for the byes this week? #royswrap #AFLfantasy

— Adam (@simboer88) May 14, 2017
I think it's important to start getting some balance for the byes. Tune in to our Podcast for plenty of bye discussion.
Fix other areas or complete the 3 little pigs... 🐽🐽🐽 Danger might be my way up! @WarnieDT @CalvinDT @RoyDT #AFLFantasy #Oink

— Caleb Hingston (@CabbageKnows99) May 14, 2017
Might only be two pigs in the pen next week and I don't blame you for considering Danger as the stepping stone. Personally, I would keep fixing up other areas of the ground, Danger has a good run of games at home.
Unfortunately, I slipped to 110 this week which leaves me with some work to do next week in order to get back among the 'top 100' and win me a hat.
For more, follow myself @RoyDT and @AFLFantasy on Twitter (http://twitter.com/AFLFantasy) and like us on Facebook (http://facebook.com/AFLFantasyOfficial).