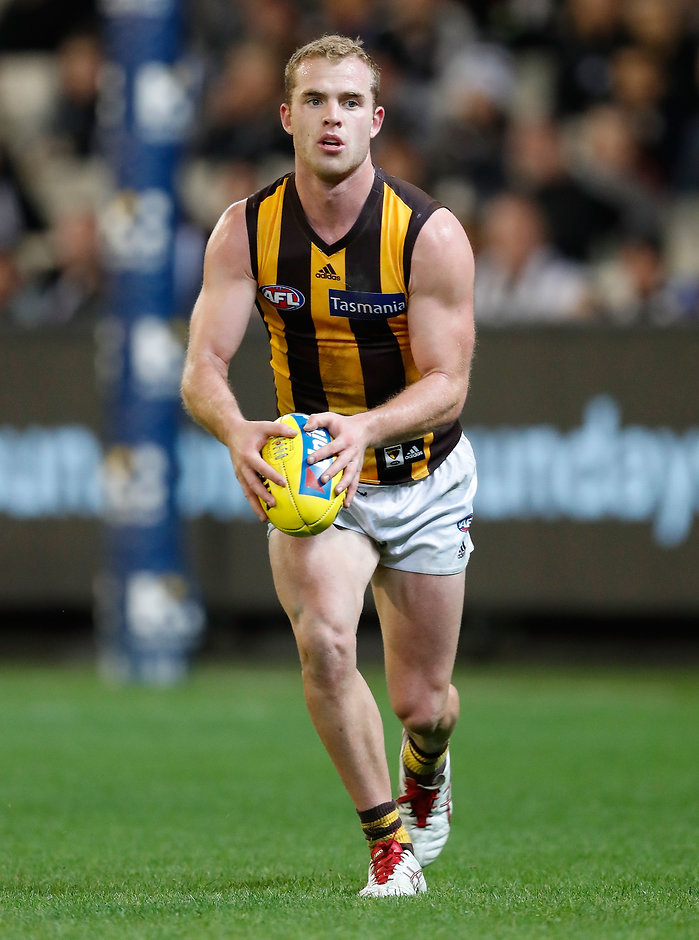 NOT ONLY did the stars come out to play this week, but many rookies also delivered which is something we haven't been able to say every week. The result was some thumping scores from teams that nailed it. Moving forward, we need to use the next five trades to prepare us for the byes, with the Suns and Power providing the obvious fixture priorities.
Fantasy pig
Another week, yet another nomination for Tom Mitchell. Not only did he continue his sensational season, he took a huge step toward to being officially snouted alongside Dane Swan and Tom Rockliff after displaying the ceiling we had been waiting for. Mitchell was an absolute beast against the Pies, collecting 50 disposals, taking eight marks and laying eight tackles for 177. Stay tuned to the Official AFL Fantasy Podcast because there has been plenty of discussion by the boys as to whether it's time.
• Eight things we learned from round nine
Honourable mention: In the shadows of 'Dangerwood' Mitch Duncan is quietly dominating while being owned by an extraordinarily low percentage of coaches. While all the talk was rightfully about Dangerfield's electric start to the game, Duncan showed a new found ability to tackle, laying a career high 18 to go with seven marks and 31 touches to score 169. Much like Fantasy coaches, he gets no attention from the opposition and is making the most of the freedom. Holds a handy round 12 bye for an extra sweetener.
Rage trades
It was a points party in the Swans camp with six players racking up a ton, led by the in form and under priced Dan Hannebery with 159. Unfortunately, Luke Parker was once again left off the invite list, managing just 83 with two marks and two tackles. He showed good signs last week, but he just isn't playing to the level we became accustomed last year.
• After the siren: Watch your backs, the Swans are coming
Honourable mention: No rage about it, Curtly Hampton has done his job and it's time to go. Not only did he rack up another 40 this week, he leaked money and to top it off is in a moon boot with an ankle injury.
Piglet
Hugh Greenwood made one of the all time great debuts, icing his transition from gun basketballer to elite footy player. The Tassie boy did everything we expected, showing poise, class and tackling pressure well beyond his experience. Apart from all that, he also managed to snag three goals in the first half to eventually score 93. With a convenient round 13 bye and dual position status, he will be a popular selection this week.
• Around the state leagues: Who starred in your club's twos?
Click here to subscribe on iTunes
The top five
Tom Mitchell: 177
Mitch Duncan: 169
Dan Hannebery: 159
Patrick Dangerfield: 156
Zac Smith: 148
Trade targets
Gary Ablett
Chad Wingard
Michael Barlow
Hugh Greenwood
Mitch Duncan
Fantasy mailbag
top pa/gc trade targets? @WarnieDT @CalvinDT @RoyDT @AFLFantasy

— Domenic Minniti (@domenic_minniti) May 21, 2017
As I mentioned above, my top three are Gaz, Wingard, Barlow and Hall is probably a sneaky fourth.
@WarnieDT @CalvinDT @RoyDT is it safe to go Roughy > Greenwood as F6 in order to go WHE > Ablett?

— Levi (@xVillah) May 21, 2017
Yeah I don't mind it. Obviously we can't expect Hugh to score like that every week, but he is a tackler!
@WarnieDT @CalvinDT @RoyDT ablett or scooter + cash a big Q this week?

— Nico Leopardi (@LeopardiNico) May 21, 2017
Great question, Scooter Selwood is a bargain, but if you can get to Gaz, that would be my move.
Legends 💪 which trade is a must first Hampton (on bench) to pittard or balic also on bench to Ebert? @AFLFantasy @CalvinDT @RoyDT @WarnieDT

— Harrison Alafaci (@HaZ_18_) May 21, 2017
I like Ebert as a point of difference!
For more, follow myself @RoyDT and @AFLFantasy on Twitter (http://twitter.com/AFLFantasy) and like us on Facebook (http://facebook.com/AFLFantasyOfficial).
The views in this article are those of the author and not necessarily those of the AFL or its clubs