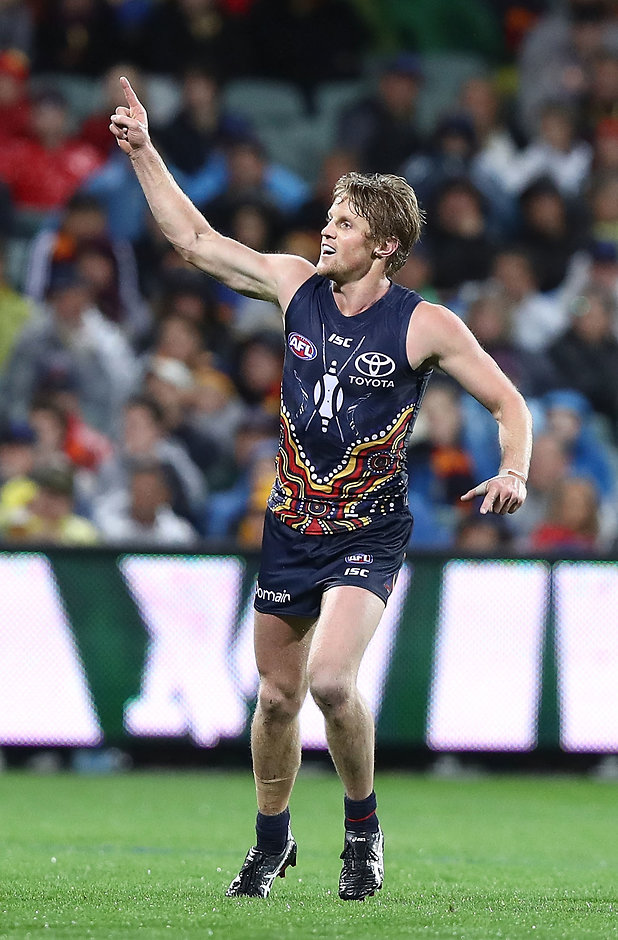 THE FIRST of five straight Thursday night games is over and Patrick Dangerfield provided many coaches with a handy 125 or 250 by using the VC loophole. Make sure you put a VC on a player for the next four Thursday games just in case they turn it on. The bye rounds are here, so we have three trades per round for the next three weeks to help us cope with all the missing players. And remember, we are aiming for 18 players over each of those weeks. If on any given week you have more than 18 players, the lowest scorers are dropped off, which is handy and no doubt owners of Jake Lloyd are asking 'why couldn't your untimely injury have happened next week!?'
Fantasy pig
It's becoming ridiculous … if Rory Sloane isn't getting nominated for a rage trade, then he is nominated for the weekly Pig. It is precisely that reason why he will never be inducted to the sty, as consistency is an important criterion. However, credit where credit is due, Sloane avoided a tag against the Dockers and punished them with a round-high 157, which included two goals and a trademark 13 tackles.
• Nine things we learned from round 10
Honourable mention: Bryce Gibbs is quietly having a very good season and his recent form suggests he is one to look at after the round 11 bye. Coming off 133 a couple of week ago, Gibbs led the Blues comeback against the Roos and finished with 38 touches, six marks, six tackles and three goals for 145. He will be well priced and a nice unique option in the charge toward finals.
Click here to subscribe on iTunes.
Rage trades
Fantasy coaches of Stef Martin weren't directing much love toward the Lion's coaching panel as soon as Archie Smith was a confirmed inclusion. We have seen it before and we saw it again, the Lions lost the advantage of having one of the most dominant rucks in the League the moment they decided he had to share ruck duties … it just doesn't work. Stef's awesome season came to an abrupt halt, scoring just 64 with 20 hit-outs and no marks. A trade will be on the cards if Archie isn't shown the door by round 12.
Honourable mention: Jasper Pittard ticked a lot of boxes coming off his early bye with a low score of 89 in his season to date. Well, he turned in a shocker down at the Cattery with just nine possessions and 55 points. Unusually, it was the six tackles that saved his score. He will bounce back fast, but that is hard to swallow, especially if it was on debut.
Piglet
James Cousins was rewarded for outstanding form in the VFL and held his own on debut. The Hawk managed 14 touches and a goal for his 66 points, but his tackling pressure is what will impress the coaching staff the most, recording six, which was the second highest on the team.
• Around the state leagues: Who starred in your club's twos?
The top five
Rory Sloane: 157
Bryce Gibbs 145
Jack Newnes: 143
Steele Sidebottom: 139
Jeff Garlett: 138
Trade targets
Aaron Hall
Michael Barlow
Ollie Wines
Brad Ebert
Jarrod Witts
• After the siren: Giant win could define their season
Fantasy mailbag
@RoyDT Triple downgrade so you can play all 18 for first week of the byes.
Or try a double downgrade and single upgrade? Legends 💪💪

— Dale (@dpc888) May 28, 2017
It is certainly unique to every team, however unless some reliable rookies step up on Thursday night, two downgrades and one upgrade is likely the best choice for most.
@RoyDT Parker going... Going... GONE ▶️Barlow? #AFLFantasy #royswrap

— Jad (@jadomai91) May 28, 2017
Yeah mate, especially if it helps a stacked round 11 bye.
@RoyDT Get rid of stef or hold? And is a double downgrade and then upgrade the best option this week?

— Bailey Mcglone (@BaileyMcglone1) May 28, 2017
Hold for now unless you have a real luxury trade.
@RoyDT Keep Barrett and Marchbank for now? Looking good for 70-80 at the moment

— Jaxon Connor (@jaxonconnor11) May 28, 2017
Yes for sure, they are getting the job done!
@RoyDT Options on who to replace JJK with? #royswrap

— Karissa (@thunder_67au) May 28, 2017
I think the best forward that has completed his bye is Barlow, so I would go to him.
My +3 goes to @RoyDT for giving Z.Jones a spray at qtr time @DTTALK #AFLFantasy

— Ben Covington (@BenCov10) May 28, 2017
I let him have it and he responded better than I could have imagined with 115 in the final three quarters. Hopefully he doesn't get rubbed out for round 12 now… maybe I got him too pumped up. For more, follow myself @RoyDT
Get expert advice from The Traders in the Fantasy Hub. Follow AFL Fantasy on Twitter and 'like' the Facebook page to join in the conversation.