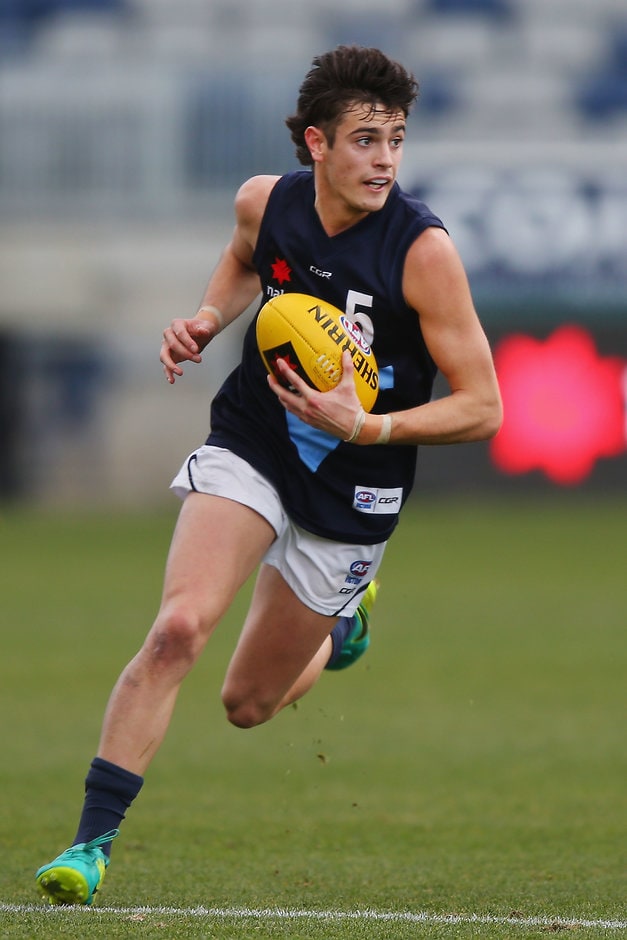 PATRICK Naish's impressive season sees him likely to become Richmond's first father-son pick since 2003, but the classy midfielder's form has also created an interesting situation for the Tigers.
Richmond has a strong hand at this year's draft, holding two first-round selections – its own (currently pick No.13) and Geelong's first-round pick (currently No.16) which was on-traded to the Tigers last year from GWS to secure Brett Deledio.
Should the Tigers hold on to their two first-round picks during the trade period, they will be desperate for a bid to come on Naish after they have already used their early selections on other players.
But the 18-year-old's excellent season – he was last week named in the NAB AFL Under-18 All Australian team – has seen him rise into top-10 contention for some clubs.
If, for instance, a bid for Naish came at pick eight (worth 1551 points under the AFL's draft value index) at November's draft in Sydney, the Tigers would need to match the bid with 1241 points after their 20 per cent discount.
They could do that with their next pick (No.13 is worth 1212 points) which wouldn't impact the place of their next pick (No.16 is worth 1067 points).
However, if a bid was to come earlier than No.8 and the Tigers' first pick didn't have enough points value, their second first-round pick would get pushed back to make up the difference.
Under the live father-son and academy bidding system, if the Tigers used their two first-round picks before matching another first-round bid on Naish, their first-round pick for next year would be pushed back equal to the points they owed to bring him in.
The Tigers don't have a second-round draft selection at this stage having traded it last year, but that won't restrict their ability to nab Naish.
Naish is the son of former Tigers forward Chris, who played 143 games for the club between 1990-97 and kicked 212 goals.
The Northern Knights prospect averaged 21 disposals across the carnival, including a stellar finish to the championships against the Allies last Wednesday at Simonds Stadium, when he gathered 26 disposals.
He has spent plenty of time at the club in recent years as part of its father-son program, with recruiting manager Matt Clarke telling the Road to the Draft podcast earlier year the club wasn't too fussed about how high his form might have pushed him.
"We probably don't look at [where he sits in the order] too much at the moment, that's for sure," Clarke told AFL.com.au in May.
"We're probably just tracking all the areas of his game that he needed to improve on. Others may be able to give you a bit more of an insight into where he sits, we're just more concerned about the small things in his game he needed to work on and if he's ticking those boxes.
"He tends to be doing that at the moment."
The Tigers haven't had a father-son pick since they took Tom Roach, the son of former champion Michael, in 2003. Their most successful father-son has been Tigers legend Matthew Richardson, while former defender Joel Bowden also joined as a father-son in the 1990s.
AFL DRAFT VALUE INDEX
| ROUND ONE | ROUND TWO | ROUND THREE | ROUND FOUR | ROUND FIVE |
| --- | --- | --- | --- | --- |
| Pick/Points | Pick/Points | Pick/Points | Pick/Points | Pick/Points |
| 1. 3000 | 19. 948 | 37. 483 | 55. 207 | 73. 9 |
| 2. 2517 | 20. 912 | 38. 465 | 56. 194 | 74. - |
| 3. 2234 | 21. 878 | 39. 446 | 57. 182 | |
| 4. 2034 | 22. 845 | 40. 429 | 58. 170 | |
| 5. 1878 | 23. 815 | 41. 412 | 59. 158 | |
| 6. 1751 | 24. 785 | 42. 395 | 60. 146 | |
| 7. 1644 | 25. 756 | 43. 378 | 61. 135 | |
| 8. 1551 | 26. 729 | 44. 362 | 62. 123 | |
| 9. 1469 | 27. 703 | 45. 347 | 63. 112 | |
| 10. 1395 | 28. 677 | 46. 331 | 64. 101 | |
| 11. 1329 | 29. 653 | 47. 316 | 65. 90 | |
| 12. 1268 | 30. 629 | 48. 302 | 66. 80 | |
| 13. 1212 | 31. 606 | 49. 287 | 67. 69 | |
| 14. 1161 | 32. 584 | 50. 273 | 68. 59 | |
| 15. 1112 | 33. 563 | 51. 259 | 69. 49 | |
| 16. 1067 | 34. 542 | 52. 246 | 70. 39 | |
| 17. 1025 | 35. 522 | 53. 233 | 71. 29 | |
| 18. 985 | 36. 502 | 54. 220 | 72. 19 | |