Made possible by

THEY may only be separated by a couple of suburbs, but the gap between North Melbourne and Melbourne has been considerable over the past 11 years.
The Demons haven't beaten the Kangaroos since round 20, 2006, losing all 16 games since then. It's the longest active losing streak for any AFL side.
With the Kangaroos languishing in 17th spot on the ladder, the time is ripe for the Demons to finally break the curse, cementing themselves in the top eight with a win on Saturday afternoon at Blundstone Arena in Hobart.
North has set its winning streak in style, kicking over 100 points in the last 12 meetings between the two sides.
Melbourne co-captain Nathan Jones is the only player on the Demons' list to have played in a winning side against North Melbourne.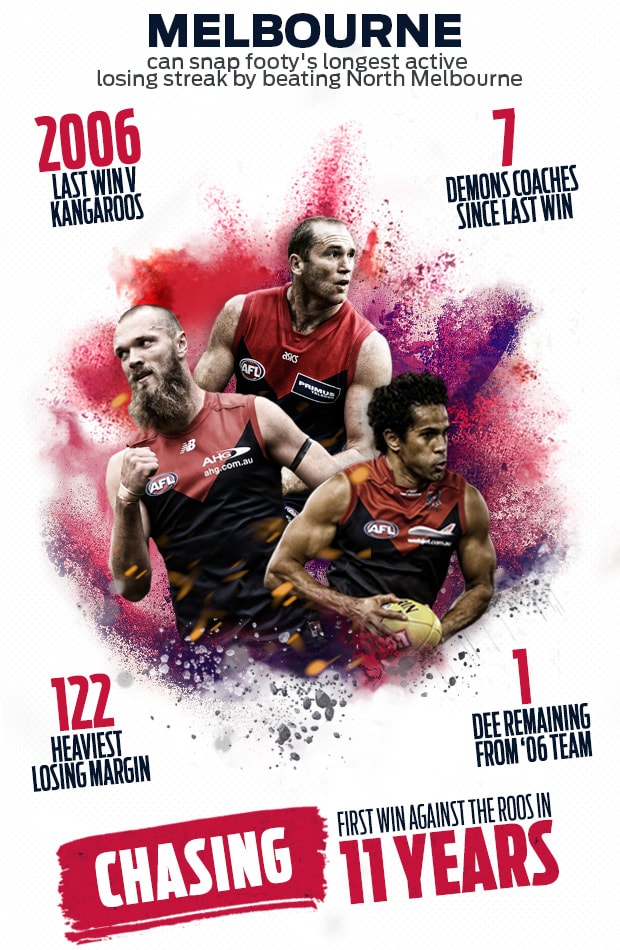 The stats within the streak
Melbourne has had seven different senior coaches (including caretakers) since it last defeated North Melbourne: Neale Daniher, Mark Riley, Dean Bailey, Todd Viney, Mark Neeld, Neil Craig, Paul Roos and current coach Simon Goodwin.
But rest assured Demons fans, if an upset occurs and the Kangaroos extend their winning streak to 17 on Saturday afternoon, it will not even come close to cracking the top five all-time streaks.
Fast fact: David Neitz kicked eight goals in the Demons' last win over the Kangaroos.
ALL-TIME

| Streak | Clubs | Timeline |
| --- | --- | --- |
| 29 | Collingwood v Hawthorn | Round three, 1925 to round 13, 1941 |
| 25 | Carlton v Hawthorn | Round four, 1925 to round 12, 1938 |
| 24 | Carlton v Richmond | Round eight, 1908 to round 15, 1917 |
| 23 | Geelong v North Melbourne | Round 12, 1925 to round seven, 1939 |
| 23 | Essendon v St Kilda | Round 17, 1944 to round nine, 1957 |
Who's next best?
It will come as no surprise the next-best current winning streak involves Hawthorn, the premier side of the past decade, and the struggling Carlton. The Hawks have defeated the Blues in their past 14 clashes, dating back to round 17, 2005.
CHASERS

| Streak | Clubs | Timeline |
| --- | --- | --- |
| 14 | Hawthorn v Carlton | Round 17, 2005 to round 19, 2016 |
| 12 | Geelong v Richmond | Round six, 2007 to round 21, 2016 |
| 11 | Geelong v Western Bulldogs | 2QF, 2009 to round nine, 2017 |
| 11 | Richmond v Brisbane Lions | Round 13, 2010 to round 17, 2017 |
| 10 | Adelaide v Gold Coast | Round eight, 2011 to round five, 2017 |
| 10 | Sydney v Brisbane Lions | Round six, 2010 to round seven, 2017 |
Nathan Jones in the last Demons' win over the Roos with Andrew Swallow close by. Picture: AFL Photos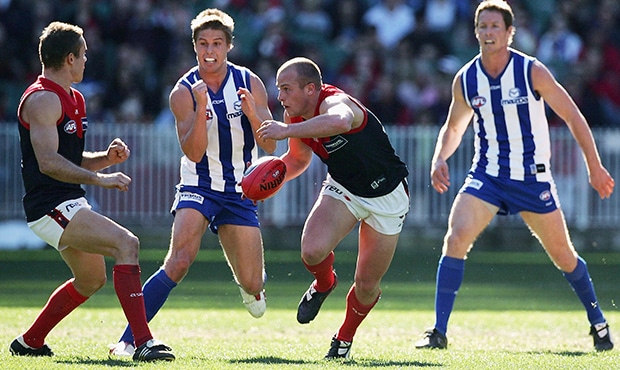 The Chaser: Can Docherty keep on kicking on?
Sam Docherty has been a highly influential player for Carlton since crossing from the Brisbane Lions at the end of 2013, patrolling the half-back line and setting up forward 50 entries with his accurate kicking.
The 2016 Carlton best and fairest is now aiming for 20 consecutive matches where he has had at least 15 kicks when the Blues take on the Cats on Saturday night.
While he is far and away the leader in current 15-kick streaks (teammate Kade Simpson is second with six), Docherty will need to keep his kicking boots in excellent condition for another few seasons to break the all-time record.
Former Fitzroy captain John Murphy had at least 15 kicks in an astonishing 75 consecutive matches, set from round 10, 1968 to round two, 1972. He was named club champion three times in that period.
Text: Sarah Black | Designs: Kahla Emonson | Stats: Cameron Sinclair
Want more?
• The Chase: more mini milestones
• Round 18's Team of the Week: Did we get it right?