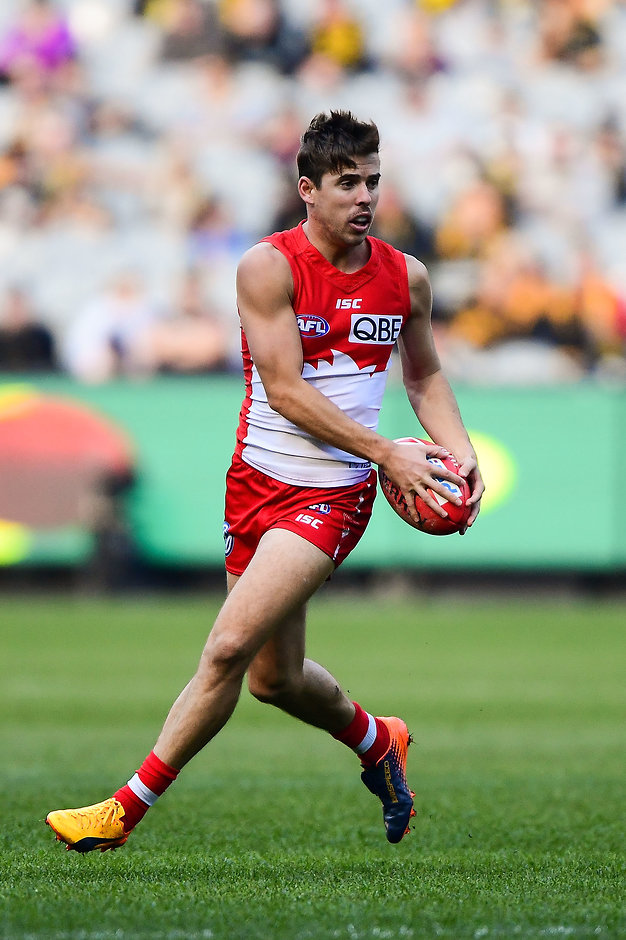 ROUND 19 was certainly one of highs and lows. There were bullets flying left right and centre and it all started on Friday night when Jake Lloyd was withdrawn, triggering many coaches to click reverse trades. I fell into that trap, when in hindsight, it would have been up to 200 points more productive to have just left it. Hopefully you guys had more luck than me.
Fantasy pig
Taylor Adams was rumoured to be a late withdrawal but instead he had a sensational game, kicking three goals to go with his 34 possessions, seven marks and six tackles for a whopping 151.
• Nine things we learned from round 19
Honourable mention: Dayne Beams is in the Pig conversation for the second week in a row after smashing out another 140+ performance with 144 from 41 touches, five marks and six tackles. He looks to have overcome the injury woes that caused his significant price drop and he is the bargain of the competition this week.
Rage trades
Joel Selwood has had a steep rise in ownership the last two weeks after bottoming out in price and hitting some good form. Well he did his owners no favours against the Blues with a shocking effort that resulted in a score of just 59. I understand he was tagged, but to not lay a tackle did not sit well with his coaches.
• Around the state leagues: Who starred in your club's twos?

Honourable mention: Connor Blakely, like Selwood has been snapped up by a huge number of coaches the last two weeks on the back of his awesome form. Now this rage is not at the player, but the situation and it is not a trade we will be reversing. Blakely did his coaches proud by returning to the field after dislocating his shoulder, only for it to pop out again almost straight away. He scored just eight points.
Piglet
Luke Ryan was an absolute beast in what was supposed to be a tough matchup for the rookie against GWS. Playing on many fields to replace Lloyd, he dominated in the absence of Blakely taking a whopping 14 marks and collecting 25 possessions for a score of 138. There is no way Lloyd will be getting his spot back there. Credit has to go to Alex Witherden again, what a star! He scored a lazy 103 from 28 touches.
• After the siren: Port's moment of footy perfection
The top five
Tom Hawkins: 158
Aaron Hall: 152
Taylor Adams: 151
Dayne Beams: 144
Daniel Wells: 143
Trade targets
Steele Sidebottom
Dayne Beams
Adam Treloar
Nat Fyfe
Michael Hurley
• The run home: Your club's road to September
Fantasy mailbag
How good was Witherden? Rocky was good. Pity he didn't break the ton!

— TheBoss_ (@bossyone79) July 30, 2017
When rookies were seemingly drying up, Witherden has been a breath of fresh air. What an absolute jet!
#aflfantasy @RoyDT @WarnieDT @CalvinDT went from 3 pts down to 2pts up after the siren thanks to the 💪's podcast advice. Cheers boys

— Brett Mitchell (@BrettMitchell72) July 30, 2017
Great work Legend! A win for the ages by the sound of it.
You know you stiff when you comeback and win by 35pts despite all the hassles and still dropout of the 8 by 0.46% 🤦🏻♂️

— Mathew Smart (@maxy_smart) July 30, 2017
It's a cruel game at times haha! One of the many reasons we love it. Enjoy the off season mate… after the bottom eight 'Tit-Ed' cup finals of course haha. For more, follow myself @RoyDT
Get expert advice from The Traders in the Fantasy Hub. Follow AFL Fantasy on Twitter and 'like' the Facebook page to join in the conversation.