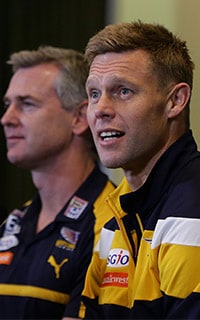 Another year would be one too many
Sam Mitchell
FOUR-TIME premiership star and Brownlow medallist Sam Mitchell has no doubt it is the right time for him to retire, declaring his passion to coach outweighs his desire to continue playing at West Coast.
The former Hawthorn champion made the announcement that he will hang up the boots at season's end at a media conference attended by his wife Lyndall and three children at Eagles' headquarters on Wednesday morning.
• The Chase: time for one more historic Sam Mitchell feat
Mitchell said retirement was a "reasonably simple decision, which I probably came to in the early part of the season" and he described his career as "an absolutely brilliant journey".
"It's no great surprise but it's time for me to hang up the little waddle and the little size nines at the end of the season," Mitchell said.
"The reason for me …. Monday mornings I wake up and I've got some coaching responsibilities and some playing responsibilities.
"The idea of opening my computer and doing the coaching side of things is a bit more exciting and the passion for that has outgrown the passion to jump in the pool and do my own recovery.
"I feel like the time for me is right."
He said he had announced his decision now to allow friends and family to attend the Eagles' last fixtured Melbourne match against St Kilda at Etihad Stadium on Sunday.
However, he was confident that West Coast would still make the finals.
"I'm really excited for what can happen in the next eight weeks," Mitchell said.
Mitchell will be remembered as one of the game's greatest midfielders, with his razor-sharp football brain and elite kicking skills shining through despite his lack of pace.
"I don't know if everyone watched the Bulldogs-Essendon game on the weekend, that was lightning quick," he said.
Sam Mitchell with the Brownlow Medal awarded after Jobe Watson handed back the trophy

"My mind is keeping me up with the game at the moment, but that won't last forever.
"If Simmo (coach Adam Simpson) said 'nah, we're desperate for you to play next year' I'd say 'thanks, but no thanks, mate'."
Simpson declared that Mitchell "goes down as one of the game's greats", describing him as "all class".
"I think you've got to look at what he achieved and very, very comfortably you could say he's one of the game's greats," Simpson said.
"His biggest asset is his brain and what he could do on-field and carry that body around for 15 or 16 years, multiple premierships, captain, Brownlow, All Australians, all the accolades are there.
"It will take time but I think he'll grow into a really good coach."
Sam Mitchell with family at Domain Stadium on Wednesday. Picture: Getty Images

Simpson said West Coast had not finalised its coaching structure for 2018, with Mitchell stepping into a full-time role next year.
Mitchell, 34, sensationally was traded by Hawthorn to the Eagles at the end of last season after 307 games and four flags with the Hawks.
At the time, it was confirmed that Mitchell would transition into a coaching role with West Coast after a period as a player, having agreed to a four-year deal with the club.
Mitchell didn't feel awkward announcing his retirement in Eagles colours, declaring that his Hawks exploits were his past and West Coast was his future.
"To the Hawks fans I would say … thank you because it was a huge journey that we went on," he said.
"I never felt anything but supported.
"Not one Hawthorn fan has ever come up to me and abused me and I can't imagine there's too many people who have left a football club could say that.
"I feel good that I've left them in a good position. Hopefully it's been a win-win (for both clubs)."
Mitchell was awarded the 2012 Brownlow Medal, along with Richmond captain Trent Cotchin, in a special ceremony in December last year after Essendon champion Jobe Watson returned his medal as part of the fallout from the Bombers' supplements saga.
Mitchell is the second Eagles Brownlow winner to retire in a week, with 2014 medallist Matt Priddis announcing last Friday that he would hang up the boots at the end of the season.
Mitchell with Hawthorn teammates after the 2015 Grand Final. Picture: AFL Photos
Mitchell's career has been a tale of overcoming the odds and finding a way to succeed.
He was overlooked in the 2000 national draft, but forced his way onto an AFL list after dominating for the Box Hill Hawks in the VFL.
After debuting in round five, 2002, he went on to win the '03 NAB AFL Rising Star award.
Mitchell became a premiership captain in 2008, was All Australian three times and last year won his fifth Peter Crimmins Medal as Hawthorn's club champion, second only to the immortal Leigh Matthews' eight.
"I think I could always just find a way," Mitchell said.
"Whatever the game threw at me, whether that was my body shape or I couldn't kick too far, I just always found a way.
"I feel like early in my career I was one of those guys who gave up the Saturday nights and when everyone else was out having fun, I stayed home and did the right thing.
"I'm really proud of that now.
"All those sacrifices you make in the early days of your career, I'm glad that I made them now.
"Sometimes it doesn't work out, but I feel like the universe looked after me and I had some success along the way – and hopefully a little bit more later this year."
Nearly said gonna miss ya around the club but remembered we have to have your short annoying ass around as a coach 🙄😂

— Nic Naitanui (@RealNaitanui) August 2, 2017
Mitchell has played 16 games for West Coast and helped coach centre bounces this year, even looking at stoppage structures on a laptop from the interchange bench during games.
Taking on a senior coaching role is not on his radar yet, with the thrill of helping others improve their football his focus in the immediate future.
"I'm genuinely excited to get my teeth into it," he said.
Sam Mitchell's AFL career at a glance
Age: 34
Height: 180cm
Weight: 84kg
Games: 323* (307 with Hawthorn, 16 with Eagles)
Goals: 69
Brownlow Medal: 2012 (shared with Trent Cotchin)
All Australian: 2011, 2013, 2015
Best and fairest: 2006, 2009, 2011, 2012, 2016 (all at Hawthorn)
Premierships: 2008 (capt), 2013, 2014, 2015
Hawthorn captain: 2008-2010
NAB AFL Rising Star: 2003
Draft history: Pick No.36 in the 2001 national draft
Read more
• The Chase: time for one more historic Sam Mitchell feat