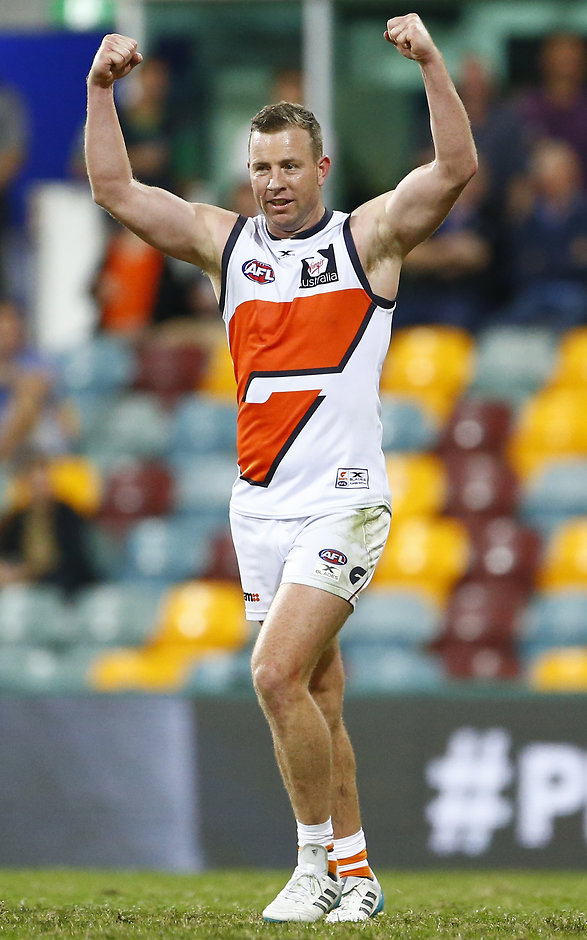 I feel very content that I'll be leaving the game with nothing left in the tank
Steve Johnson
GREATER Western Sydney veteran Steve Johnson has joined a long list of the game's biggest names to call season 2017 is last.
Johnson, 34, has battled a debilitating knee problem that has forced him to miss several games this season, and has struggled to perform at his usual high level on a consistent basis.
He joined GWS at the end of 2015 after 14 seasons at Geelong, but hasn't been able to replicate his debut year in Sydney, when he kicked 43 goals from 22 games.
The former Cat said on Thursday that he wanted to announce his intentions now to allow the Giants to concentrate on the last three games of the regular season and their upcoming finals campaign.
"With the recent spate of retirements I figured that people were going to start to look my way for obvious reasons, so for me it's just about confirming that this would be my last year," he said.
"Rather than dodging questions over the next six weeks, which is going to be really important for the footy club, I thought I'd knock it on the head."
Johnson backflipped on a decision to finish his career at the end of last season and said he had no regrets about playing on in 2017.
"It's pretty clear that it's been a real struggle with my body and not being able to back up week in, week out," he said.
"I've had games where I've played some decent footy but then I've had to have a week off, so it's been a bit of a grind.
"I feel very content that I'll be leaving the game with nothing left in the tank and I've gotten every last inch out of myself, so to some degree that's very satisfying."
The veteran said he wouldn't be reflecting on his outstanding career until the end of the season, and hoped he could play a part in another flag with his second club.
"I've been pretty lucky to play at a successful club where I got the opportunity to play in Grand Finals, and those memories are unbelievable," he said.
"I'd love nothing more than to get a fairytale finish here with a couple of goals in a Grand Final, but there's a long way to go before that happens."
A three-time premiership player with Geelong and the 2007 Norm Smith Medal winner, Johnson has played 289 games (253 for Geelong and 36 at GWS), and at his best was one of the game's most dynamic players.
Blessed with mercurial skills on both sides of his body and a razor-sharp footy brain, Johnson kicked 63 goals as a medium forward in 2010, and showed his versatility by churning out extraordinary numbers as a midfielder three years later.
Johnson celebrates the 2007 premiership with Jimmy Bartel. Picture: AFL Photos

Johnson famously finished just three votes behind winner Gary Ablett to grab fourth place in 2013 Brownlow Medal, and polled in 10 of his 16 regular season games – with suspensions interrupting his brilliant year - while playing six less matches than his former teammate.
GWS coach Leon Cameron said Johnson's influence on his playing group since arriving in Sydney had been profound, and even exceeded his own expectations.
"He's an extraordinary character," he said.
"He's had a massive impact here, he wants to play every moment as if it's his last and our young fellas have no doubt cherished every moment they've had with him.
Johnson gets to grips with Lance Franklin in the 2016 Qualifying Final. Picture: AFL Photos

"I only knew him from afar, but seeing him up close, he spends lots of time with our players and that really surprised me.
"I knew he loved footy, I just didn't know how much he really loved it.
"He's a fanatic and wants to impart as much knowledge on our players as he can, and we're really lucky to have had him."
Johnson will move into coaching in retirement and spoke with several clubs at the end of 2016 about assistant roles, but said he wouldn't be making any decisions about where he starts his post-playing life, be it with the Giants or at a Melbourne club, until the end of the season.
Superb from Stevie J! #AFLGiantsSwans pic.twitter.com/CQY28dIYyy

— AFL (@AFL) July 15, 2017
Cats coach Chris Scott described Johnson as "one of our favourites."
"He is not as good physically as he was in his prime, but he might be a bit smarter than he was in his prime," Scott said.
"It's amazing when you are a little bit limited how much you need to rely on your wily little tricks [and] over the history of the game if you talk about players with wily tricks, he's certainly in the conversation around the best."