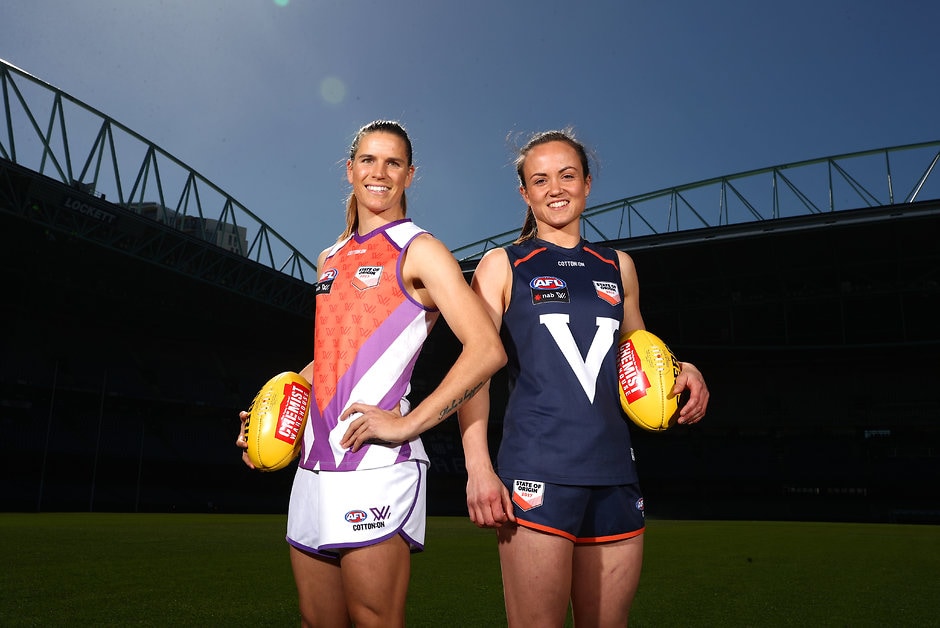 Having trouble watching? Please click here
WATCH the stars of the AFLW competition go head to head in the first NAB AFL Women's State of Origin match, at Etihad Stadium on Saturday night.
Victoria, led by Melbourne star Daisy Pearce, will take on an Allies team skippered by Adelaide premiership co-captain Chelsea Randall.
Players have been selected for their respective teams based on their states of birth, rather than their AFLW sides.
Pearce predicted the teams would play fast, attacking football.
"All the banter [between the players] is pretty light-hearted and we're looking forward to getting out there and playing with the best of the best," Pearce said.
"The thing that makes them such great players is their versatility, so where everyone will line up is a bit of a mystery. There's going to be some great battles wherever you look."
In a first for AFLW action, nine points will be awarded for goals kicked from outside 40 metres.
Entry to Saturday night's NAB AFL Women's state of origin match at Etihad Stadium is free. The match will be streamed live on AFL.com.au from 7.30pm AEST
The final 22 has been named for both teams, but not in positions. Below is a potential line-up for each side, and some of the clashes we'd like to see:
VICTORIA
Coach: Debbie Lee
Captain: Daisy Pearce
B: Lauren Arnell, Brianna Davey, Steph Chiocci
HB: Kara Donnellan, Melissa Hickey, Nicola Stevens
C: Karen Paxman
HF: Sarah D'Arcy, Jasmine Garner, Ellie Blackburn
F: Alicia Eva, Sarah Perkins, Moana Hope
Foll: Alison Downie, Daisy Pearce, Emma Kearney
Int: Sarah Hosking, Jaimee Lambert, Lauren Spark, Jess Dal Pos, Lily Mithen, Kaitlyn Ashmore
ALLIES
Coach: Bec Goddard
Captain: Chelsea Randall
B: Renee Tompkins, Leah Kaslar, Courtney Cramey
HB: Ebony Antonio, Chelsea Randall, Kirby Bentley
C: Elise O'Dea
HF: Kate McCarthy, Katie Brennan, Bianca Jakobbson
F: Jess Wuetschner, Tayla Harris, Sabrina Frederick-Traub
Foll: Emma King, Emily Bates, Emma Zielke
Int: Emma Swanson, Ebony Marinoff, Stevie-Lee Thompson, Dana Hooker, Jess Sedunary, Hayley Miller
What to watch for
Victoria's midfield blitz
The Vics have so many star midfielders, a potential 22 sees some forced onto the flanks through sheer weight of numbers. Ellie Blackburn and Alicia Eva can turn into dangerous forwards, while Kara Donnellan has the running capacity for a playmaking role across half-back. Carlton captain Lauren Arnell is another midfielder who is more than capable of holding down a spot in defence.
Allies go tall
The Allies forward line is enough to give Victorian coach Debbie Lee several headaches, loading up tall with Tayla Harris, Sabrina Frederick-Traub and the in-form Katie Brennan. The Bulldogs captain, who grew up in Queensland, has kicked 20 goals in her past three VFLW matches. And if the ball hits the ground, speedy Brisbane Lions pair Kate McCarthy and Jess Wuetschner and Adelaide's Jess Sedunary are ready to pounce.
Dream match-ups
Katie Brennan vs Melissa Hickey – two of the most athletic players in the game
Karen Paxman vs Elise O'Dea – Melbourne and Darebin (VFLW) teammates, usually dominate the middle as a pair
Tayla Harris vs Brianna Davey – the now-Carlton and St Kilda teammates to go head-to-head
Leah Kaslar vs Sarah Perkins – Kaslar probably won the battle between the two in the NAB AFLW Grand Final, but Perkins' team won the premiership