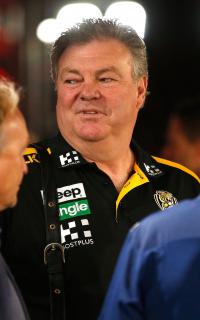 ONE OF the great scenes in one of the greatest TV shows of all, The West Wing, comes when the House of Representatives Speaker strides purposefully into a shell-shocked White House to take charge following the kidnapping of Zoe, the daughter of the US President.
"Relax everyone," orders Glen Walken, who is played by John Goodman. "Breathe regular."
A situation not unlike that took place at Richmond over the summer as Neil Balme came bounding through the door at Punt Road as the newly-installed head of football.
The Tigers were floundering after their 8-14, 13th place finish last year. The club was under siege and supporters were demanding answers.
Enter Balme, who was back at Tigerland in an official capacity for the first time since he played the last of his 159 games for the club in 1979. Since then he had coached Norwood and Melbourne and held key football management positions at Collingwood (twice) and Geelong.
The Cats won three flags in his time there, so while he wasn't necessarily viewed as the saviour when he returned as head of football, he knew a thing or two about successful teams in the modern era.
And his message wasn't far removed from that of the fictional US politician.
"There is calmness and experience when he speaks," Richmond president Peggy O'Neal said in a recent interview.
"When he came to the club last year, we were all pretty down and he made us feel better about ourselves straight away. He said, 'I don't think you're that far away'."
Balme revisited that first message to the leaders at Richmond on Saturday evening as he surveyed the raucous scenes following the 36-point win over Greater Western Sydney that booked the Tigers their first Grand Final berth in 35 years.
"It was my optimism more than anything," he said with a laugh. "But they had been close. They had three reasonably good years and just hadn't won a final, then one ordinary one.
"The club was in a pretty good place and you just had to make sure it was all pulling in the right direction.
"If you looked at their personnel, people were writing them off as no good at all but I didn't think that was the case. They just had some work to do," he said.
Balme, an imposing physical figure just like Goodman, is revelling in Richmond's revival this year. He was a celebrated – and fearsome – member of the great Richmond teams of the early 1970s and is delighted to be back. Call it a homecoming.
"No doubt about that whatsoever," he said. "I was pretty committed at the other clubs I was at, but there is something that extra special about this place. I did play here for 10 years."
There was no open yearning to come the full circle and complete his life in football at Richmond. "I never really allowed myself to think about it because a lot had to happen. And I didn't want to be calling up a favour, but it has worked out really well," he said.
What Balme also brings to the Tigers is a sense of history. He is one of the very few full-time staffers at the club with a direct link to the Tom Hafey era, and the philosophies that shaped the club then will also apply as the club gears up for its biggest week in more than three decades.
"Enjoy the week, look forward to it and embrace it," he said.
"One of the wonderful things I learned under Tommy is that you are made for this finals stuff. Embrace and enjoy it. This is why you're here.
"And that's what we have to get across. This is ours."
Eddie Betts and the Crows are also Grand Final bound. Picture: AFL Photos

And don't forget the Crows
It is hard to imagine the MCG being anything other than a yellow-and-black cauldron on Saturday for the Grand Final and most of the neutrals will likely throw themselves behind the Tiger cause for the next seven days.
But unusually for any sporting team from South Australia, Adelaide will come to the MCG with plenty of goodwill and respect. The resilience of the Crows is to be admired.
Adelaide is a club that just rolls up its sleeves and gets to work. The travails of the real world have hit the Crows more than most AFL clubs, and in the last five years Adelaide has had to deal, in order, with the deaths of assistant coach Dean Bailey, senior coach Phil Walsh, the wife of recruiting manager Hamish Ogilvie and the brother of ruckman Sam Jacobs.
They haven't had a top 10 draft pick in the last 10 years, and they've also had to watch with bemusement as Nathan Bock, Phil Davis, Jack Gunston, Kurt Tippett and Patrick Dangerfield, all close to or at the peak of their careers, have quit the club to play closer to home.
"We've had some hard times, but we've come out far better for it," noted star midfielder Rory Sloane. "We're certainly a much tighter group."
Sloane, Taylor Walker, Josh Jenkins and in particular Eddie Betts, all fit under the "good bloke" banner. You want to see them do well. You'd need a heart of flint not to be moved by the emotion felt by Eddie Betts on Friday night as he contemplated his first Grand Final in 13 years. How good would it be to see him win a premiership?
The shame for the Crows is that they're playing Richmond. The Tigers have captured the hearts of the neutrals (at least in Victoria) for the next seven days and they're not handing them back. Of course, if they were playing Collingwood or Hawthorn …
Other observations
1. Ben Rutten played 229 games for Adelaide between 2003 and 2014. He was an All Australian in 2005 and twice came third in the club best and fairest. But there will be no doubting where his allegiances will lie on Saturday and he is one of the interesting stories of this Grand Final. As Richmond's defensive coach, he needs to work out how to put the clamps on the highest-scoring team in the competition. Only Port Adelaide and Sydney conceded fewer points this year, so that is a good starting point.
2. The video replays and the consequences of the action don't look great for Trent Cotchin and there is every chance the Match Review Panel rubs Tiger skipper out of the Grand Final. He was magnificent on Saturday and the game would be the poorer for his absence. But we again ask the question of why the poor bloke (and Brandon Ellis for that matter) has to wait until Monday to learn his fate. Surely it is not too much to expect the MRP members to meet on the Sunday morning of Grand Final week to pass their judgement. Monday will be a day of swirling emotions for Tiger fans as they a) find out whether they can get a Grand Final ticket, b) perhaps lose their skipper for the game and c) see Dusty win the Brownlow.
3. Not sure whether there is really a clash between the jumpers of Adelaide and Richmond, but rules are rules. And Damien Hardwick put the issue in the right perspective when he said that he's be happy for the Tigers to wear "hessian bags" in a Grand Final. After 35 years, it should be the least of Richmond's concerns. Still, the Tigers might want to have the traditional home jumpers packed and ready at the MCG if they do win. That's the jumper they want to be holding up the premiership cup in and recorded for time immemorial.
Daniel Rioli did his famous name proud in the preliminary final. Picture: AFL Photos



4. He doesn't yet have the Norm Smith medals of his uncle Maurice and cousin Cyril, nor has he yet even collected a first premiership medallion, but Daniel Rioli has passed the first big test of the family. He stood up magnificently in a final with four goals on Saturday.
5. The opening bounce of the AFL Grand Final is the signature moment of the season. Savour it on Saturday because the evidence is growing that it will be the last. Now that incoming AFL football boss Steve Hocking can turn his full attention to his new position, the future of the bounce will be close to the top of his to-do list. And it looks shaky.
6. Look away, Carlton fans. Jacobs and Betts, or Shaun Grigg, will be a premiership player come Saturday night. All surplus to requirements at the Blues at one stage or another.