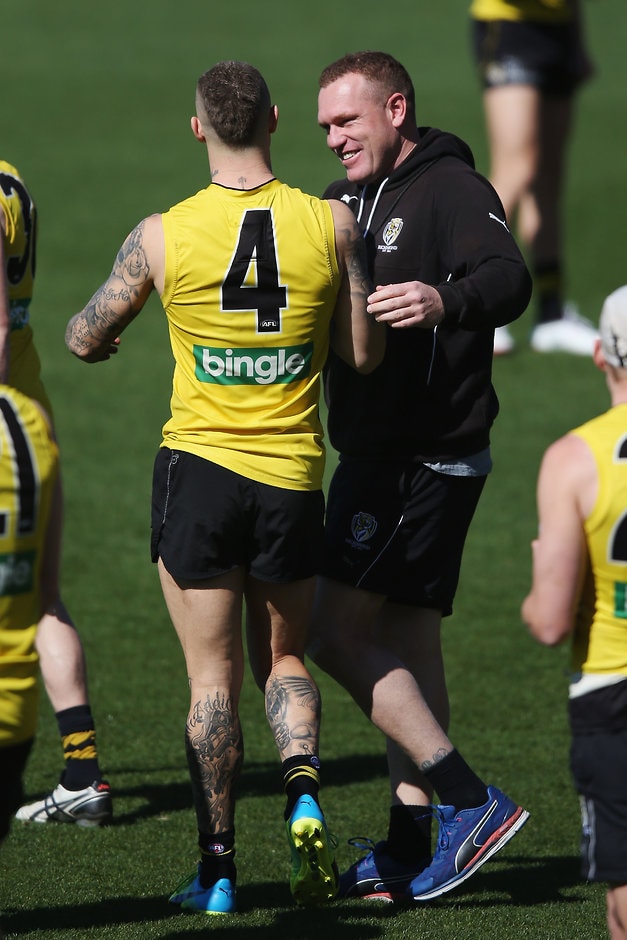 There's been a fair bit of noise all year and this week is going to be no different
Dustin Martin
THE LEAGUE'S newest Brownlow medallist Dustin Martin has taken to the training track with his Richmond teammates, whom he credited for his explosive, award-winning season.
Less than 12 hours after Martin's historic Brownlow win, it was business as usual at Punt Road, with the Tigers going through their paces ahead of Saturday's Grand Final against Adelaide.
Martin said it was the collective performance of the team this season that was the catalyst for his remarkable personal year, which has been dubbed by legend Leigh Matthews as the most dominant in history.
"I think the improvement of all my teammates and the whole team has certainly helped me get better," he said.
How 'Charlie' was won: Never in Danger?
"I just put it down to the rest of the guys chipping in, it makes it easier.
"They gave me a little bit of a clap in here earlier. I really do love these boys, and I'm just grateful to be at this footy club with such great people.
"It feels a little bit surreal, it's something I'm proud of, but I'm just concentrating on this week now and looking forward to that."
The player who went 2877 days between votes
The introverted Martin was again reluctant to offer expansive answers at his pre-training press call, with interest in his unique personality growing stronger.
He said he felt the attention surrounding his drawn-out contract negotiations this season, which were resolved earlier this month, made him confident he would cope with the increased focus this week.
Ten talking points from Brownlow night
"I think I've dealt with it pretty well all year," he said.
"There's been a fair bit of noise all year and this week is going to be no different.
"I'll just get in here and do the job.
"Obviously I don't love it, but you've got to do these things.
"I've just got to cop it on the chin."
There were no extended celebrations for Martin on Monday night after his win, with the midfielder even declining a drink on stage to toast his victory.
The medal itself was left on his bedside table on Tuesday morning, although he admitted he would "probably" give it to his mum, Kathy.
Martin has spoken to his father Shane, who has been deported from Australia to his native New Zealand, and fielded calls from a range of friends and family since his win.
"I had a few missed calls from 'Swanny' (Dane Swan) about 5am," he said.
"I've had a lot of messages and support, which has been good.
"I gave Dad a ring straight away, he's super proud, he's over there with his wife and step-daughters, so I'll give them a call at some stage today."
Dustin Martin enjoys a laugh at training at Punt Road Oval on Tuesday. Picture: AFL Photos

With the Grand Final looming, the Tigers have no injury concerns, although Bachar Houli trained with his right calf strapped.
Martin said he "hadn't really thought about" the game, but expected nerves to creep in as the week progressed.
He described the Crows as having had "a super season", but said the Tigers wouldn't be intimidated by their national anthem 'Power Rangers' stance they have used to stare down their opponents in their previous two finals.
"Once the ball is bounced, we'll worry about winning the footy," he said.
"That's the plan, so it won't bother us.
"When we made the top four, it was like, 'Why can't it be us?'
"We've worked extremely hard together and given ourselves the best opportunity."