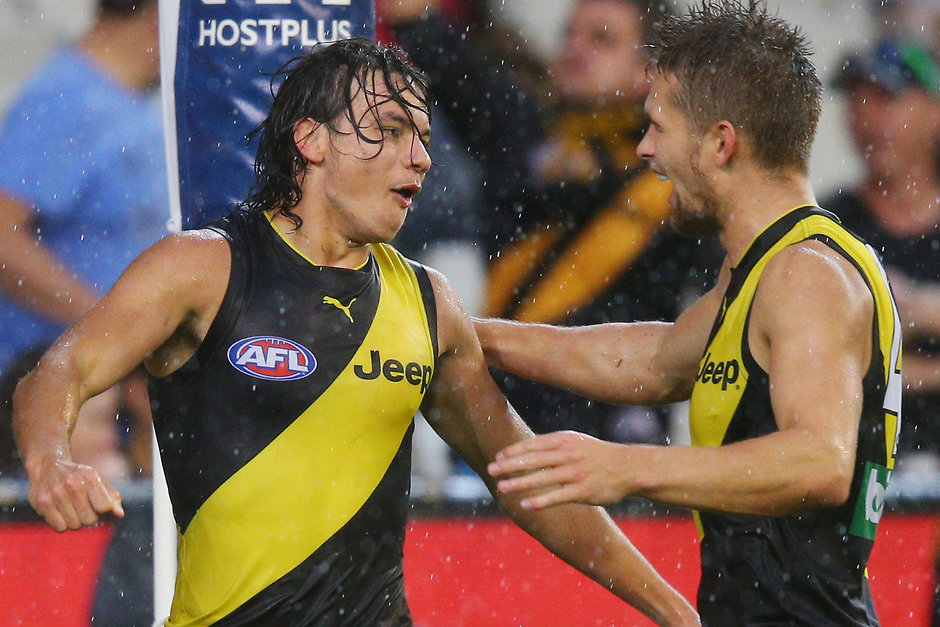 FIVE small forwards playing in the Grand Final on Saturday could set the agenda for football next season.
Adelaide's Eddie Betts and Charlie Cameron, and Richmond's Daniel Rioli, Jason Castagna and Dan Butler have turned any loose ball into a live grenade for opposition defenders.
They have shrunk their opponents' time and space and, in the process made tall or old players look out of place on a football field.
Between them the frenetic five have kicked 161 goals and laid 407 tackles this season, with 163 of those tackles applied inside their forward 50.
Rioli was a matchwinner in the preliminary final with four goals for the Tigers, while Cameron and Betts set the Crows on the path to victory with the first two goals of the game on Friday night.
2017's SMALLS

| Player | Goals | Tackles | F50 Tackles |
| --- | --- | --- | --- |
| Eddie Betts | 54 | 78 | 43 |
| Charlie Cameron | 28 | 98 | 30 |
| Dan Butler | 29 | 79 | 30 |
| Jason Castagna | 25 | 72 | 30 |
| Daniel Rioli | 25 | 80 | 30 |
The five players sit in the top 10 for most tackles inside the forward 50 this season and their impact is sure to be felt during trade period in 2017.
Brisbane Lions' triple premiership player Luke Power, who played both as a small forward and a small defender in Grand Finals, says both teams have benefited from having more than one forward putting pressure on and kicking goals.
"If you know you have got a couple of others around you who can do the same thing it makes it a hell of a lot easier because it lessens the workload," Power told AFL.com.au.
"They have all got legitimate speed and they can get after the opposition."
PRESSURE KINGS

| Player | 2015 F50 tackles | 2016 F50 tackles | 2017 F50 tackles |
| --- | --- | --- | --- |
| Eddie Betts | 35 | 46 | 43 |
| Charlie Cameron | 26 | 20 | 30 |
| Jason Castagna | DNP | 1 | 30 |
| Dan Butler | DNP | DNP | 30 |
| Daniel Rioli | DNP | 18 | 30 |
That speed has put the Tigers and the Crows into the top three this season for the average number of tackles inside the forward 50, with Richmond racing from last to first in that measure between 2016 and 2017.
This pressure has been particularly important for the Tigers as it has allowed them to be content with getting the ball forward in any manner possible rather than overthinking their method as they may have done in previous seasons.
Chaotic entries are as acceptable as finely tuned build-ups nowadays at the Tigers as teammates trust each other to fight for what is on offer rather than demand silver service.
Charlie Cameron helped destroy the Cats in Adelaide's preliminary final. Picture: AFL Photos

It may help them limit the effectiveness of Crows defender Jake Lever who relies on intercept marks to rebound possession, but is a little more vulnerable on the ground.
The Crows can either be slick or dirty depending on what the opposition allows them to be. They are at their most dangerous when able to break the angles and change lanes when coming out of attack, something that becomes more difficult when pressure is applied.
Although Betts and Cameron are classier and more experienced than the Tiger trio, Power sums up how important each player is to their team.
"Recovery and speed kills," Power said.
Hardwick makes his mark
Richmond coach Damien Hardwick finally moved his winning percentage as coach above 50 per cent when the Tigers defeated Geelong in the first final.
He leads Richmond into the Grand Final with a winning percentage of 50.83, the lowest winning percentage of a Grand Final coach since former St Kilda coach Stan Alves took the Saints into the 1997 Grand Final with a winning percentage of 46.2 per cent.
Hardwick would also become just the fourth person in AFL history to be part of premierships at three clubs, having played in flags at Essendon and Port Adelaide. He will join big names, Ron Barassi, Leigh Matthews and Mick Malthouse if the Tigers win.
Two coaches set to renew that Grand Final feeling
It's the first time since Leigh Matthews and Kevin Sheedy faced off as coaches in the 2001 Grand Final that both coaches had won multiple premierships as players, with Don Pyke playing in the 1992 and 1994 flags with West Coast and Hardwick playing in the 2000 flag with Essendon and the 2004 premiership with Port Adelaide.
44 Grand Final newbies, but plenty of family history
There is no Grand Final experience on either side for the first time since 1898: the very first VFL Grand Final.
But as per usual there is some family history to draw on when it comes to the feeing of playing in a Grand Final.
The grandfather of Adelaide's Hugh Greenwood was Peter Marquis who played in three premierships and four Grand Finals with Melbourne between 1955-58.
The father of Adelaide's Jake Kelly, Craig, played in Collingwood's 1990 premiership
Paul Seedsman's great grandfather Jim Sharp played in two flags at Fitzroy in 1904-05 and five Grand Finals
Of course, the late grandfather of Crows defender Daniel Talia, Harvey Stevens, played in Footscray's first premiership in 1954.
The grandfather of Richmond's Nathan Drummond, Tom, played in Collingwood's 1917 and 1919 premierships and losing Grand Finals in 1920 and 22. Drummond won't play as he is recovering from an ACL injury.
The father of Steve Morris (who played in the VFL this season), Kevin Morris, played in the Tigers' back-to-back flags in 1973-74 before playing with the Magpies in the 1979-80 Grand Finals.
The father of listed Crow Harry Dear, who is yet to debut for Adelaide, Paul Dear won the 1991 Norm Smith medal for Hawthorn.
Want to get daily video wraps during the finals?
Fire up the AFL Finals Assistant on Messenger and get:
daily finals video wraps

news alerts when the really big finals news breaks
finals fixture alerts
The tech-powered bot can also help you find all kinds of finals info, from ticket on-sale dates to the route of the Grand Final parade.
To start your conversation, search for 'AFL' within the Messenger app. Or, click here
$(document).ready(function(){ document.getElementById("interaction").innerHTML = ''; });