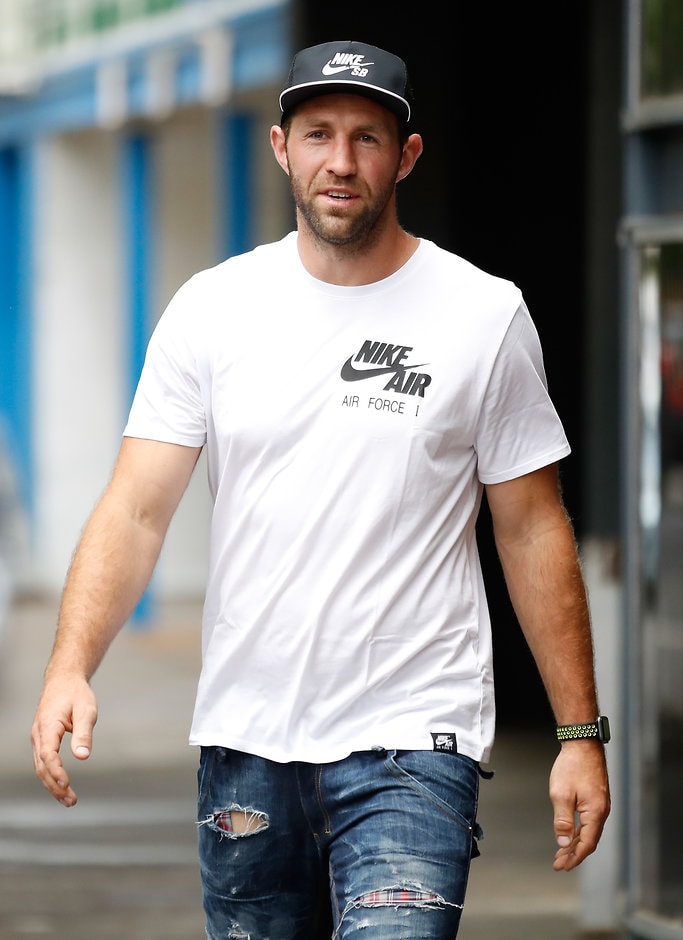 Footy's footy. Footy's my love. Footy's the thing I hate most but at the same time, I'll always go back to it
Travis Cloke
RETIRED forward Travis Cloke has opened up on his experiences with depression and offered wise words for Tom Boyd and Josh Schache, who will follow in his footsteps at the Western Bulldogs.
Cloke, 30, and the Bulldogs came to an agreement which saw the power forward retire with a year left on his contract, with Schache's trade from the Brisbane Lions seeing the Dogs have a glut of big men.
An integral part of Collingwood's 2010 flag, an introspective Cloke spoke to reporters about his challenges with depression not just for this season, even if he did not recognise the mental demons he was struggling with.
The rise and fall of Travis Cloke
"Social media's brought a whole new element to pressure and I guess I was probably fighting something for a few years. I probably matured a lot in the last couple of years that I didn't really know about, an issue that I was pretty naïve about," Cloke said on Wednesday.
"I probably pushed it away for a long time.
"Was this decision based off what I was going through this year? No, I think it was a decision between the Western Bulldogs and myself to have a bit of a chat. I'm a mature adult now, I'm not the 17-year-old kid that started in this industry 13 years ago.
"It's something that I'm disappointed with, the way my career finished."
WATCH: The best of Travis Cloke
The overwhelming nature of social media had Cloke concerned for what incoming players would face in their own careers.
"I feel sorry for the kids that are coming through now. I guess it's part of the industry. We're all here because media's what drives it, but you don't do it in the same way anymore," Cloke said.
"You can pick your phone up – we've all got them – and they're amazing devices but at the same time, they're bloody s*** for what they can do."
Cloke and Schache spent time together at Collingwood, when the former Lion was with the Australian Institute of Sport, and Cloke even housed Schache for a week.
The dual All Australian isn't bitter about the younger forward seemingly pushing him out, instead offering some sage words for the second overall draft selection in 2015.


Travis Cloke celebrates a goal in the 2010 premiership triumph. Picture: AFL Photos

"Learn from others. There's no right or wrong things to do and I'm not one to give advice on how to do things. I've done things wrong myself, but to me, it's just be honest, be upfront and realise that footy can be brutal," Cloke said.
"It's not always that shiny side we do see sometimes on the front page of the paper. Just take the good with the bad but also understand you do have those hiccups along the way that make you a better person."
Boyd has had his own struggles with depression but Cloke is confident the 22-year-old will thrive.
"He's obviously been fighting a battle himself and I guess that just shows the scrutiny that these young kids are under. I think he can be a fantastic focal point," Cloke said
"Getting Schache there, hopefully he comes on in the next couple of years, and the two of them can work really well together and the Dogs can recapture that form they had in that 2016 premiership year."
His wife Beccy is due to give birth to a baby girl next week, which is the only event Cloke can imagine surpassing playing in a Grand Final.
Football has long been his priority, but his relationship with the game was tumultuous.
"Sometimes three or four times in a day you can fall in and out of love with footy, but it's a game I grew up with," Cloke said.
"Dad played, my brothers played, I've been involved with Collingwood since I did work experience as a 14-year-old kid there. Started at 17 – I was still in year 11. I don't know any different.
"Footy's footy. Footy's my love. Footy's the thing I hate most but at the same time, I'll always go back to it."
As for next year, he might renege on a vow to never play local football, with brothers Jason and Cameron to line up for Hurstbridge in the Northern Football League in 2018.
He would certainly be a handy addition. Cloke played 256 games in total (10 for the Dogs) and booted 452 career goals, and holds the record for the most contested marks taken in a season, when he hauled in 95 in 2011.
Who he supports is not a simple question to answer.
"I've always said I love the Pies and I'll always be a Collingwood man. I was born in to the Collingwood family, along with Richmond, so I enjoyed their success this year as well but I've never really supported a side my whole life, even as a kid," Cloke said.
Congrats on a great career big fella. The dominant big man of the comp in your prime. Huge work rate. Great teamman. @travis13cloke 👏👏👏

— Nathan Buckley (@ncb_cfc) October 25, 2017
"I think it will come down to my mates, that's who I support."
Despite his storied exit 12 months ago, the Magpies will waste no time welcoming Cloke back into the fold.
"Travis was a magnificent player for the Collingwood Football Club ... when Travis was in full flight we were always a good chance to win," Magpies president Eddie McGuire told AFL.com.au.
"We wish Trav all the best for the rest of his life and more importantly we look forward to welcoming him back to the club.
"Trav's a Collingwood man and he'll always be welcomed back.
"His home is at Collingwood, we know he loves the club."
Well done big Clokey, fantastic career and a really bloody good teammates who gave it all. Off the field wouldn't meet a more caring bloke

— Scott Pendlebury (@SP_10) October 25, 2017
Cloke only managed 10 games for the Dogs. Picture: AFL Photos