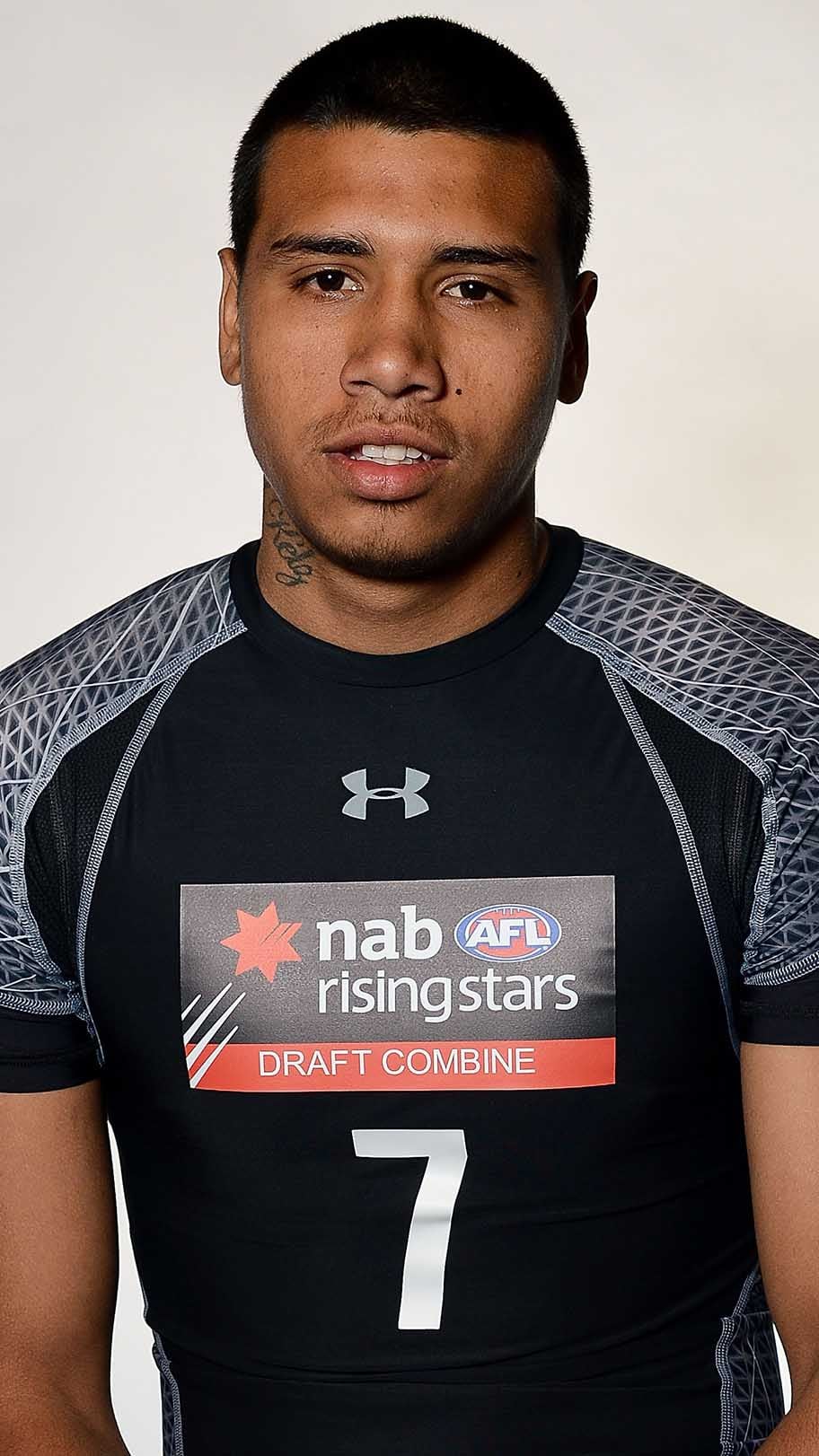 In my first couple of years, the difference between my best and my worst game was very far apart, and now my worst games are actually pretty solid.
Draft hopeful Tim Kelly
A GROWING family has influenced Tim Kelly's dedication to achieving his AFL dream, with the mature-age West Australian hoping for sixth time lucky in next month's NAB AFL Draft.
Kelly, a 23-year-old midfielder from WAFL club South Fremantle, doesn't have to look far for motivation when it comes to pushing his way onto an AFL list.
His cheeky, boisterous two-year old son Tykeem is about to become a big brother, with Kelly and partner of six years Caitlin expecting twin boys in January.
Speaking at last month's NAB AFL Draft Combine, Kelly acknowledged he had plenty to look forward to – but hoped the boys' arrival would coincide with the door finally opening on an AFL opportunity.
"I just want to be able to breathe footy," Kelly told AFL.com.au.
"The last couple of years I've really knuckled down on my training habits and just doing extras to make it happen.
"Each year, I've showed that I'm building my game. I think I've just shown that as the years have gone on, I've added something and that I'm working on things."
A change in mindset has helped the clearance machine set himself up for his best chance at being drafted yet.
He first nominated in 2012 when he was playing colts, but two substantial injuries – a torn oblique muscle followed by a knee - meant he couldn't push for a berth in that year's NAB AFL Under-18 Championships.
It was around then he was invited to a couple of state combines, but was never fully fit going into them because of niggling injuries that prohibited a consistent run of form.
He kept nominating for drafts while he played for South Fremantle, but didn't get a look in because of his off-season training approach.
"I was an outside prospect because I was hammered with injuries, but I'd showed what I could do in patches," he recalled.
"I never really got my hopes up, but in my first few years of league I did think it might happen.
"It made me want it more and work on my game, and I think I've really done that and improved as a player."
He's also grown as a person.
The penny dropped regarding his training habits; he realised he could enter pre-season training each year ahead of where he left off, rather than using the pre-Christmas block to get himself back to the fitness level he finished the season on.
He became a family man, which gave him a whole bunch of responsibilities his draft competitors have no idea about, and started working in case the footy thing didn't work out.
Now, he enters his sixth draft halfway through the fourth year of his electrical apprenticeship and as a soon-to-be a father of three – and also, in the best form of his life.
He ran second in the Sandover Medal this year, despite some heavy attention from the opposition, and was invited to his first-ever national combine.
A knee knock in the preliminary final meant he couldn't test, but he felt the opportunity to just be there – even as the oldest contender – meant his hard work was being recognised.
Now, he feels ready for whatever an AFL career has in store for him, and is prepared to move his young family wherever he needs to in order to make it happen.
"In my first couple of years, the difference between my best and my worst game was very far apart, and now my worst games are actually pretty solid," he said.
"Don't get me wrong, it would be challenging [to move], but it's something we've spoken about a lot leading up to this and we've got a lot of support.
"I've got full confidence in me and my little family that we'll make it work. I just really hope I get a chance."