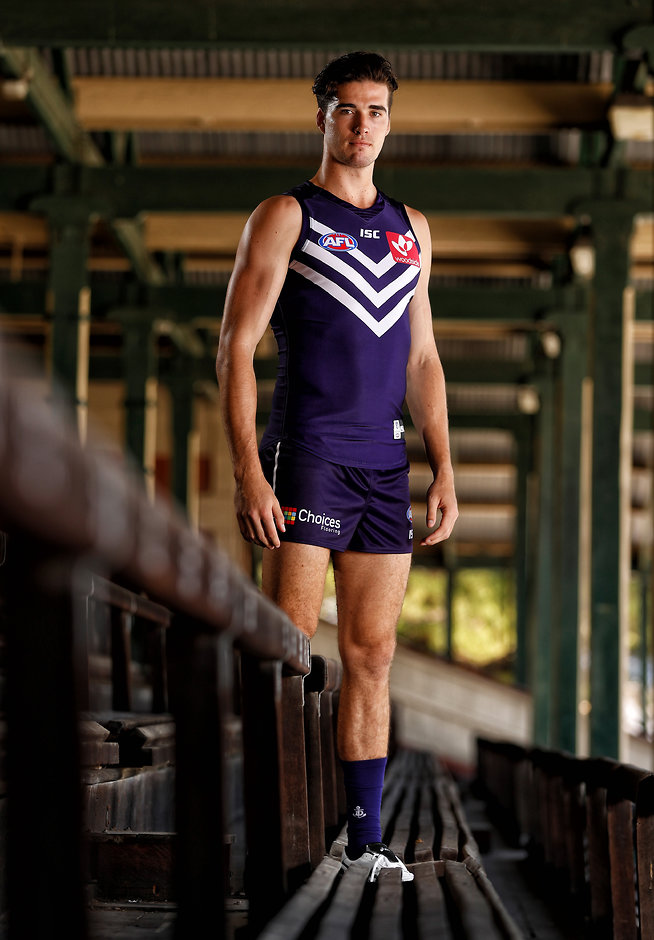 From my surgeons and doctors, they say it will be 100 per cent strong and it'll never happen again, so I trust them.
Docker Alex Pearce on his leg
LUCKLESS Fremantle defender Alex Pearce has been guaranteed he won't face further complications with his right leg and expects to be firing for Fremantle's round one clash against Port Adelaide next year.
Pearce played the last of his 21 career games in round nine, 2016, when he suffered a badly broken tibia against Richmond.
A plate was put into his leg after surgery and his recovery was on track to the point where in January, he was a fortnight away from returning to full training.
However, a mishap while doing an agility drill as part of his rehab caused him to suffer another crack where the bone had broken initially.
Infections along the way caused a weak spot and eventually ruled him out of the entire 2017 campaign, and Pearce has progressed slowly since.
On Monday, he was thrilled to again be training, after doing running sessions two-to-three times per week in the off-season.
There is no longer a plate in his leg, and while he does not yet know when a return to the main group will come, the 22-year-old has been told the troublesome area will not cause him any more concern.
"I am really confident that I'll be right. In the back of your mind, there's always some doubt but with any injury, you never know what's going to happen," Pearce said.
"From my surgeons and doctors, they say it will be 100 per cent strong and it'll never happen again, so I trust them."
The Dockers will be careful not to rush his comeback. After being drafted at No.37 in 2013, Pearce won the club award for best young player in 2015.
"We'll take it very slow after everything that's happened. There's no real timeline yet on when I'm due back fully training," Pearce said.
"I'll have some meetings over the next couple of days and find out when that is, but we've already sort of mapped out what that looks like, what my training looks like when I do get back. It'll be slightly modified just to get me through this whole pre-season."
Living with captain Nat Fyfe has been helpful, with the 2015 Brownlow medallist having suffered a similar injury.
"He's always there, a shoulder to lean on. (It's) invaluable really, to have someone like him who has been through it before," Pearce said.
Asked whether he would be back by round one, Pearce set his sights more optimistically.
"I'd hopefully be playing football before then," he said.