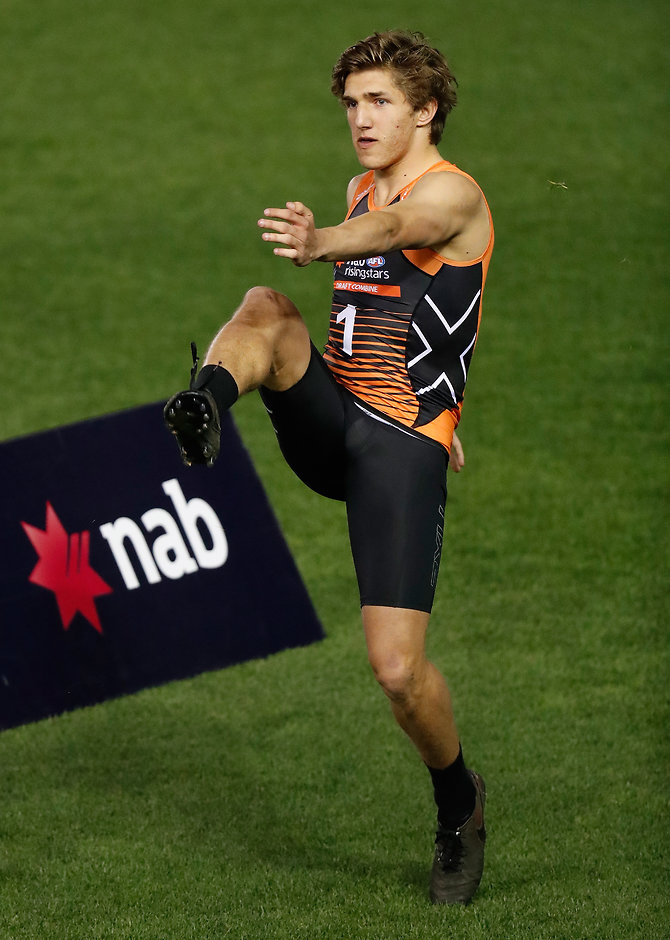 THE SAME question keeps being asked, but Zac Bailey can't answer it.
Recruiters want to know how a kid they didn't know at the start of the season has improved so much he was an All Australian at this year's NAB AFL Under-18 Championships.
U18: Bolter Bailey blooms at the right time
Bailey, 18, has come from so far back he played as an over-age member for the Northern Territory's under-16 side last year rather than in the under-18s.
"I can't explain it. It's just happened for me this year," Bailey told AFL.com.au.
"I missed the pre-season (at Norwood, because he went back to Darwin on school holidays), so that didn't help, but I did little things like changed my diet, which is hard to do living in a boarding house.
"I've been doing a bit of extra running and working on my kicking, but I can't really explain it."
Once pushed a little, Bailey sheepishly admits – with a chuckle – he started saying 'No' more often when his favourite dessert, pavlova, was dished up.
He was serious enough about his AFL dream to leave the Top End behind three years ago to attend Prince Alfred College (PAC), where Bernie Vince, Jack Trengove, Jack Viney and Aaron Francis graduated from.
Bailey's logic was he would have a greater chance of being spotted in South Australia.
The Demons connection at the school is obvious – former Melbourne footballer Luke Tapscott is also part of the PAC alumni – and they have been in contact with Bailey this year.
He is seen as a top-30 pick, and the Demons are armed with selections 29, 31 and 36, whereas Adelaide (39) and Port Adelaide (46) will need him to slide a bit.
Even Melbourne's first pick might be too late, with numerous other clubs increasingly interested in the midfielder.
Bailey runs 20m in less than three seconds and is equally at home rummaging under a pack as running away from one with his burst of speed.
He followed his All Australian carnival with a best-on-ground effort – accepting the Colin Steinert Medal – in PAC's victory over Henley in the South Australian All-Schools Grand Final in August.
Then came another eye-catching, 18-disposal showing in the NAB AFL Under-18 All-Stars game on Grand Final day a month later
"I really had no expectations at the start of the year, and didn't think I'd be in the position I am at the moment," Bailey said.
"It wasn't until after the Allies trial match that I thought I was a chance of getting picked up, but my confidence has gone up. I do feel like I've ticked a few boxes this year."
Bailey's stunning development has also given him the chance to consider how far he has come.
He played alongside future Geelong stars Brandan Parfitt and Nakia Cockatoo in the NT under-12 schoolboys' team, but the most lasting memory was of a West Australian opponent taking him out.
Bailey's on-field feats are now far more impressive, and he is only weeks away from joining Parfitt and Cockatoo as an AFL-listed footballer.