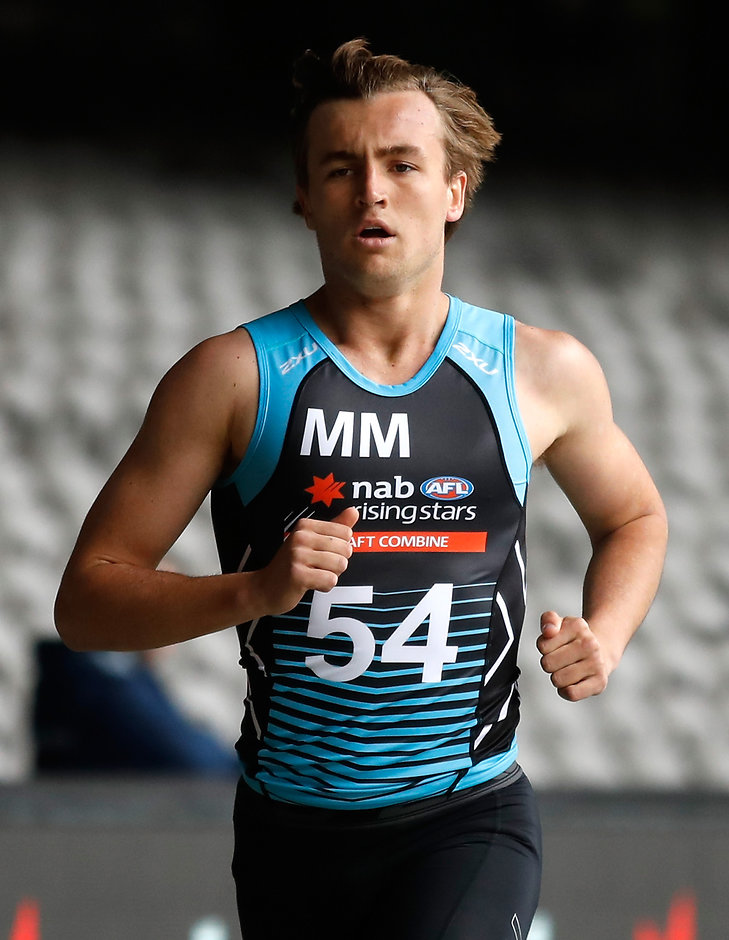 Wednesday, July 12, 2017
A WEEK before Vic Country's NAB AFL Under-18 Championships started with a trip to Sydney to face the Allies, Lochie O'Brien played for Geelong Grammar against Geelong College. He didn't think about resting ahead of the carnival; this was a school game he could not miss – and nor did he want to. His school team had been struggling for form and was already out of the premiership race in a cut-throat competition, but a win against the local rivals would cover some of their disappointment.
Early in the contest, O'Brien was tackled from behind and his knee was slammed into the ground. It didn't hurt so he didn't think to have it checked by a doctor after the game. A little bit of swelling was the only sign of an issue, but he presumed it was simply a corkie. However, when he got to Vic Country's camp five days later, set to line-up on half-back for the state side, he got a shock.
"I got up on the table to get my ankles taped and the physio said, 'What has happened to your knee? We're going to need to monitor that because I can't even see your knee cap'," O'Brien says.
"I trained and felt fine but Luke Power, our Academy coach, pulled me aside afterwards and said, 'What do you think is the right thing by your teammates?' I said, 'I feel fine but I'm nervous it won't hold up and one knock could have me off after the first quarter'. So, I didn't play."
O'Brien didn't realise then the impact the injury would have on his carnival. Now, a week after its conclusion, he's wrapping his head around the fact it didn't go to plan.
He's disappointed, a little down, and a tiny bit worried about what it will mean for his draft chances. The setback also continued what has been a frustrating year for the midfielder. "It just wasn't good enough," he says.
Vic Country had a bye after its first game, which was good for O'Brien's knee. Conversely, it meant he returned the following week against Vic Metro not having played for three weeks. It showed. He had just two touches in the first half, and couldn't get into the action. After half-time he caught up to speed and finished with 18 disposals, and provided good run and carry across the ground in his side's loss.
"I was trying hard, but the worse I was going early the more I started to think 'I've got to do something'. Thinking like that has never been good for me," he says.
Recruiters have described O'Brien as intense. "He speaks well and confidently and takes things seriously, but you can tell he's strong-minded," one club scout said.
"Sometimes that can work against kids who over-think things. Maybe that's happened a bit with Lochie this year as he's tried to build on last year."
O'Brien ahead of the NAB AFL Under-18 Championships. Picture: AFL Photos
His dad has also told him to relax a bit more. "He's always been driven and self-motivated. But we do try to tell him to turn it back a bit sometimes so he can enjoy the ride," Jason said.
He enjoyed the next game far more, gathering 18 disposals, six inside-50s and kicking a booming long goal in Country's loss to Western Australia at Etihad Stadium. He was able to show off his traits: his run and carry, his dash, his strong left foot and good decision-making.
But he followed that strong outing with his worst, a very quiet effort against South Australia in another loss for his side. In some ways, he was glad the carnival was over. But he also desperately wanted another few weeks to show his wares at a high level against good players.
"The knee injury was a hard thing to deal with and it did restrict me. But that's not an excuse, and I've said that to people. I still showed a bit of what I could do, but it wasn't nearly enough. I'm a bit worried that it could define my year. You want to play well against the best and that didn't happen," he says.
"The fact I didn't play as well as I could've, or hoped to, at least gave me the opportunity to seek more feedback from coaches and see what I really need to work on."
Most of the feedback has centred on winning more of the ball rather than getting it fed out to him. At school level he tried to make this a focus in an inside midfield role, but he was quickly shifted to half-back and even closer to goal, where his coaches wanted to make the most of his kicking skills. He knows there's a perception of him as an outside player, and he doesn't think it's fair.
"A few people my age have called me soft, and because I'm an outside player you get labelled that. But I don't feel like I'm soft, I'll fly back into a pack any time happily," he says.
"But I'm not as aggressive as some and I think once that clicks for me and I become more assertive on the field, then my football will go to the next level. I need to show a side to me that isn't just the kicking-running-attacking one. It has to be the nitty-gritty stuff."
He's become used to the scrutiny and attention. Growing up in Mildura as an aspiring athlete meant he was regularly in the local papers for his achievements, and that community still tracks his progress closely. That started when he was 12. But he's found this year different. He recently banned himself from using social media for a few weeks to stop him from clicking on draft analysis articles, knowing what he was going to read about himself before he'd even opened the link.
Recently, Greater Western Sydney visited Geelong Grammar for interview sessions with Dow, Brander, Daniels and O'Brien. The Giants asked O'Brien to rank the four players from best to worst. "You can't win that question. I said we're all different players with different strengths, so I couldn't say one was better than another."
O'Brien has made waves while at Geelong Grammar. Picture: AFL Photos
Recruiters, too, are having trouble placing O'Brien after a season in which some prospects have continued to improve and performed well while he has struggled for continuity and consistency.
"He's probably in the latter stages of the first round now, or maybe in the second round. He's still a very good player and you can see how his traits would translate to the AFL," one recruiter said.
"Every club needs a set-up kick out of half-back or the wing, and his endurance means he could step in comfortably."
O'Brien's self-belief has been shaken a little by his year. Before the carnival, he thought he still sat inside the best 15 or so players in the draft pool. Now, he's not as sure. He's giving his knee another rest this weekend, but still feels he has plenty to prove in the final two months of the season ahead of November's draft.
"The fact is, I've set myself up to be drafted and if it doesn't happen I'm going to be pretty disappointed because it will come down to what I've done or not done through the season," he says.
"There's still time to remind everyone about what I can do."
Tuesday, October 24, 2017
LOCHIE O'Brien is at Mildura library, having headed back to his family home to concentrate on his studies ahead of his year 12 exam period. It's 12pm and he plans to spend the next five hours getting a couple of practice exams done and then completing an essay. O'Brien is one of the youngest there, and certainly the only person on the cusp of an AFL career. He doesn't expect many other schoolkids to come by for the afternoon.
"It's 'muck-up' day at the local high school, so I don't think they'll be anywhere near here," he says.
O'Brien is fully focused on his studies, primarily to achieve the score he is searching for, and partly because it takes his mind off the draft.
The 18-year-old's season finished at the MCG on AFL Grand Final morning, when he played in the NAB AFL All Stars clash ahead of Richmond's victory over Adelaide. It was a good ending; he had 21 disposals, kicked a goal and was effective with his touches. When O'Brien plays well, he makes things look easy and uncomplicated. He's the player forwards want to lead to.
He had had a bit of time to prepare for that game, as his season ended with the Bendigo Pioneers four weeks earlier. O'Brien spent the final three games of the TAC Cup season with the Pioneers and pieced together some solid outings, mainly across half-back. That stint followed the end of his season with Geelong Grammar, which saw the team win only three games in a disappointing campaign.
With his season complete, O'Brien is buoyed by his recent games and hopes they are recognised a little more than some of his down performances have been.
O'Brien in action for the Bendigo Pioneers. Picture: AFL Photos
"I was pretty happy with my year apart from the nationals. I think when people look back and judge my year that's the main thing they've been assessing, and that's where it's let me down," he says.
"It's pissed me off a bit that it seems that's the only thing people look at. People aren't judging me as one of the better players in the draft just because of the way I went over a three-game period."
With that in mind, O'Brien knew he had to make every post a winner when he got a chance. So, he saw the NAB AFL Draft Combine earlier this month as an opportunity to prove his outstanding athletic traits again. He eyed the running events to make a statement, and did that in the 2km time trial, which he completed in 6:12 (anything around the six-minute mark is considered elite at AFL level).
He watched on as Dylan Moore, another likely draftee, surpassed his time in a later heat with 6:09, but he was still pleased to have highlighted his top-end running power.
"I was very nervous going into it and I put a fair bit of pressure on myself being the last event and it's my strongest event as well. I was happy with my run and felt really good about it," he says.
"I knew when I hadn't broken six minutes that I was a chance to be chased down and Dylan ran a great time."
O'Brien was interviewed by 12 clubs during the week – a couple even got him in for a second chat – but he's no clearer on where he will end up. He feels like West Coast has an interest; the Eagles asked for his parents to attend an interview with them in Melbourne over the weekend, while Carlton, Fremantle and North Melbourne have also spoken to him numerous times across the season. He seems most likely to be picked late in the first round or the second round.
He likes the idea of the Blues. He spent his NAB AFL Academy placement with the club on its training camp on the Gold Coast at the end of last year and already knows people there. But he is equally happy to move interstate – a point he has made clear to his managers, Robbie D'Orazio and Paul Connors, if they are asked by clubs how O'Brien would feel about that switch.
"I really like Carlton after my two weeks there and I've got a few really good friends there through the Vic Country program. I wouldn't mind going over to Perth. I really don't mind," he says.
"When clubs come and ask about it, (managers) have to answer that question pretty truthfully and I said, 'Please tell them I want to go'. The fact you're starting afresh somewhere appeals to me. The weather will be better anywhere outside of Geelong as well, so that would be a bonus. It would be an opportunity to make new connections and that's something I really enjoy doing."
O'Brien wouldn't change much if he had the chance to start his draft year all over again.
He's matter-of-fact, opinionated but measured, realistic and mature.
"I should have listened to my body more when I was sore. That's about it," he says.
That said, O'Brien is proud of the work he's put in to this point of his career and feels if he's drafted he'll have deserved his chance.
On November 16, he will finish his final exam, put his pens down and then have eight days to think about the next stage of his life. He feels ready for it.
"It's really exciting to hopefully get into a club, stick to one program and see how I go," he says.
"I've wanted it forever and hopefully it's the start of my next 10 years of my life."
Want more Going Places?
• Lochie O'Brien part one: The country kid who's a self-described 'lion'