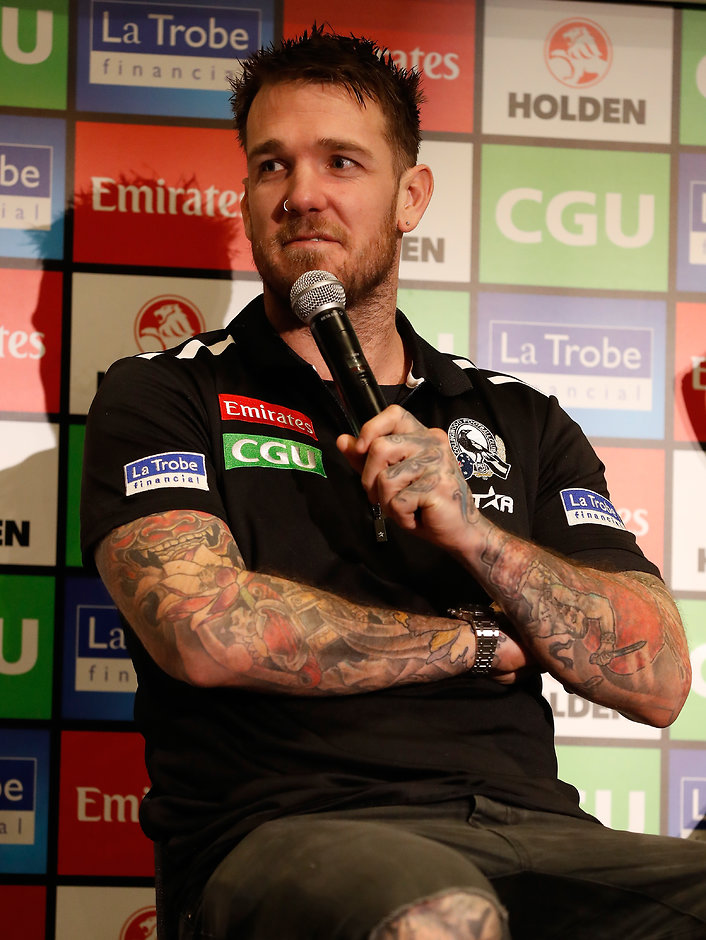 I'll give something back to them … it'll be a bit of fun
Dane Swan
BROWNLOW medallist Dane Swan is going back to where it all began, confirming he will play a handful of games for his junior club Westmeadows in 2018.
Swan, 33, says he'll return to the field for the Essendon District Football League club in 2018, after injury forced his AFL retirement in 2016.
"I'll probably sign with Westmeadows, my old club," Swan told Triple M.
"It doesn't mean I'll play every week, as I'll be travelling. I'll give something back to them … it'll be a bit of fun.
"My cousin is going back there, my uncle is on the board and my other cousin plays there.
"I might play one or I might play 10 games, but hopefully it gives them a boost."
Swan grew up in the northern Melbourne suburb, a short walk from the Tigers' home ground.
He played his junior football at the club, alongside the Tigers' newly-named senior coach Grant Smith, who won three junior and three senior best and fairest awards as a player.
Club president Gareth Hanlon confirmed Swan had agreed to play for Westmeadows, with exact details yet to be revealed.
"It is very special to have some on come back to the club who started their career at the club," Hanlon told the Star Weekly.
"We've been lucky to have a number of players play at the highest level including Corey McKernan, Andrew Welsh and Swanny, and to get one back is massive for the club."
Swan's decorated AFL career ended after his foot became trapped under Sydney's Zak Jones in round one, 2016.
He broke three bones, including a fracture to his Lisfranc joint, and suffered syndesmosis ankle damage as well.
It was an injury described by medical specialists as something typically seen in car crash victims.
He had surgery and went through the rehabilitation process, but retired in August that year, saying he felt like "if I kicked a footy, my foot would smash into 1000 pieces".
Since his retirement, Swan has travelled extensively and is set to balance his playing commitments next year with a group tour venture that takes participants to a variety of US sporting events.
He is also overseeing the rebuild of the Albion in South Melbourne, the pub he co-owns that was the subject of an arson attack in 2015.
Swan played 258 AFL games after being drafted from the Calder Cannons in 2001, including the Magpies' 2010 premiership.
Westmeadows will open its season against Jacana under lights on Friday, April 13, before a big round two clash with rival Tullamarine at the Tigers' home ground.