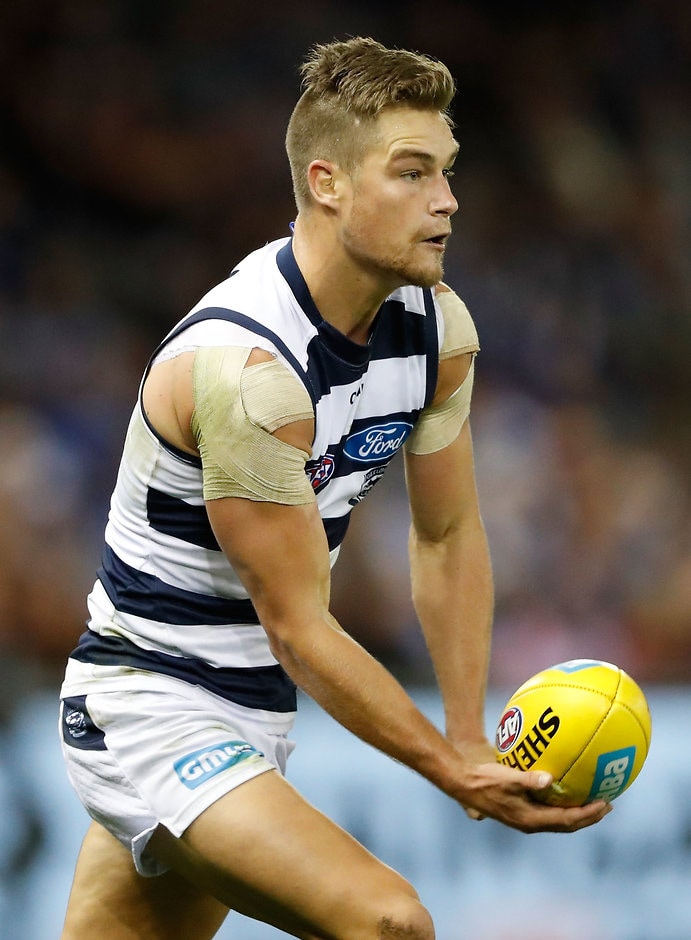 In two months, they told me twice I wasn't going to be there
Tom Ruggles
LEARNING to love the game again is Tom Ruggles' goal for 2018, as the discarded Cat returns to the Geelong Football League and tries to put the heartbreak of his abrupt delisting behind him.
The 25-year-old, who recently signed a two-year deal with local club Leopold as a playing assistant coach, remains devastated with how his career with the Cats ended last month.
He harbours no ill feelings towards the club that gave him two years on its list, and in fact, remains grateful he was given a chance as a rookie in the first place.
But, along with Leopold president and family friend Brendan Thompson, Ruggles is struggling to comprehend why it ended so quickly after he was told two hours before the NAB AFL Rookie Draft it was all over.
"It was a bit hard to take. I mean, in two months, they told me twice I wasn't going to be there," Ruggles told AFL.com.au this week.
"I'm still disappointed with only being able to have two years in the AFL system and now it's all over.
"I have no regrets for what I did. I laid everything out there.
"Obviously life goes on and we move on now."
Ruggles was first delisted on October 30, but was told he could keep training at the club with the possibility he would join Matthew Hayball as delisted Cats to be re-drafted as rookies.
He took the Cats up on their offer and trained alongside his close friends, occasionally running into coach Chris Scott.
That was the last time he saw Scott, as he trained on his own after pre-season officially started on November 20 and the first-to-four-year players came back in force.
A meeting with list manager Stephen Wells and football manager Simon Lloyd on rookie draft day then severed his final connection with the club.
"Leading up to the rookie draft, I was pretty hopeful, but I think it was about 3 o'clock that day they rang me and asked if I could come in and meet them," he said.
"They told me that they were going in a different direction and they weren't going to use their pick on me.
"They didn't tell me they were going to go with [ex-Bulldog and Bomber] Stewart Crameri, but I obviously found out a few hours later.
"They just said they had a bit of depth now in the role I play, and said I was the only one coming out of contract that plays that position, which was their reasoning."
Tom Ruggles celebrates his first win in round three, 2016. Picture: AFL Photos

Thompson, who has welcomed Ruggles back into the Leopold fold after he played for the club in 2014, also can't understand the Cats' decision.
After 18 promising games in his first year, Ruggles battled injuries in his second season; first, a concussion in round four against Hawthorn that saw him return in the VFL.
Then, he broke his collarbone in round 13 and missed six weeks.
"He probably struggles to understand, like I do, his age and the amount of games he'd played," Thompson said.
"A lot of people are struggling with what they've done, and hopefully it pays off for them.
"If it doesn't, it might be a bit of egg on the face stuff, but we'll wait and see, I suppose.
"For Tom, he's just turned 25, he's had a couple of injuries, but when he plays, he plays good football, he's hard at it and uncompromising.
"At the end of the day, he was good enough to be picked up two years ago and you just wonder why he wouldn't have got that one last opportunity."
Ruggles will join Billie Smedts, fresh from one season at Carlton after six at Geelong, as 2018 Leopold recruits, along with the club's new coach, Guy Morphet.
He will combine his playing duties with his level two coaching course, and resume full-time work as a landscape gardener after Christmas.
Now, Ruggles just wants to get back to loving football, and believes he will in 2018 after an encouraging first training session at Leopold last week.
But he also refuses to close the door entirely on his dream of playing in the AFL.
"It's shown in the last five or six years players are getting picked up a lot later and clubs are starting to look at players who can come in and fill a spot and help win a premiership," Ruggles said.
"They're starting to look for role players who are a bit mature and ready to come in.
"I think there's always that aspect to look forward to, and you just never know what will happen.
"But, if I could go back and knew this was going to happen, I'd do it all again and change nothing about it.
"It's disappointing it's ended so quickly, but I'm still thankful for the opportunity I got."