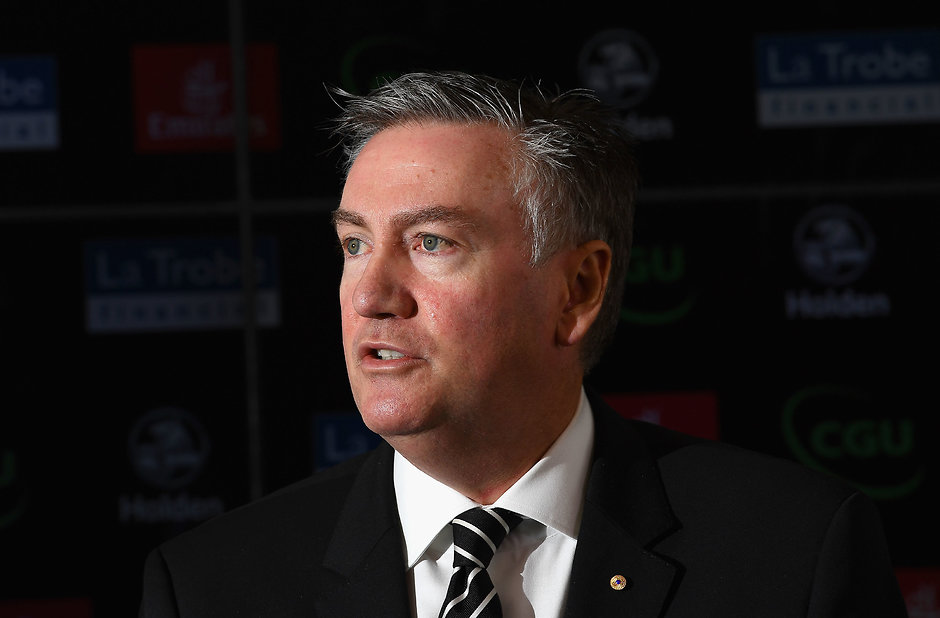 COLLINGWOOD president Eddie McGuire has urged the AFL to tread carefully when considering whether it reduces interchange rotations further, believing it could drive players to take performance-enhancing drugs to meet the demands of the game.
After introducing an interchange cap of 120 in 2014, the League tightened rotations to 90 in 2016 while also abolishing the sub rule.
McGuire has long railed against a reduction in rotations, saying in 2012 that the AFL was "driving players into taking EPO" by considering an interchange cap as a solution to congestion in the game.
He repeated his warning on Thursday morning, saying a further slashing of rotations from 90 would be a dangerous move by lawmakers, potentially forcing athletes to find illegal ways to perform at required levels.
"When the AFL brought in the limitations on the interchange, the first thing I said at the presidents' meeting was you're going to drive people into looking at taking EPO," McGuire said on Triple M on Thursday.
"When I said that everyone went nuts, but it seems night follows day, so that was always a big issue.
"I don't think it's happened, but I still think you've got to be careful when you're driving athletes into a position where they have to think about [how they can get fitter when there's nowhere else to go]."
EPO is a performance-enhancing drug used to reduce fatigue and improve endurance, while also aiding the healing process of muscles.
McGuire urged the AFL to "keep our game as natural as possible" and mitigate against the temptation to use illegal methods to stay ahead of the game.
"When you've slept in an oxygen tent, when you're not drinking, when your skinfolds are down and you're still gasping for air and your tongue's hanging out at the 10-minute mark of the last quarter and the coach is saying, 'Get on and run', they're the things you look at and say, 'Gee, we've got to be careful'," the Collingwood president said.
"We don't need to play in the international level, so we can be as hard as we want to on our drugs in footy and I think the AFL are doing a pretty good job, but I'd toughen up even further."
Richmond legend Kevin Bartlett is a long-time advocate for reducing rotations, believing the interchange bench had been hijacked by coaches as a tactical tool.
St Kilda champion Nick Riewoldt has supported a drop in rotations to 40 a game, saying it would stretch the ground and help key forwards, putting an emphasis back on endurance – rather than power – running.