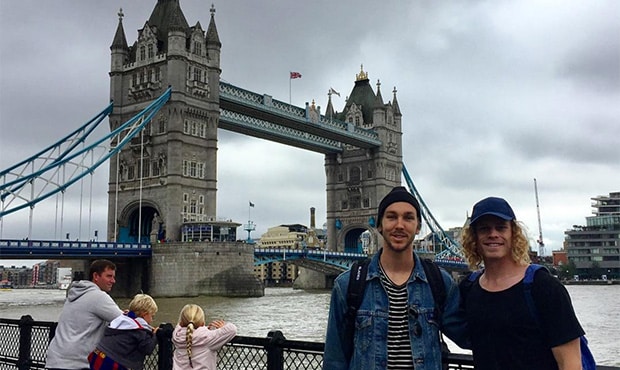 A SPONTANEOUS trip to Europe mid-year has helped motivate Greater Western Sydney pair Matt Buntine and Adam Kennedy through a lonely off-season.
Buntine had his right knee reconstructed in April after results from a scan on a separate issue revealed he'd been carrying a partially torn ACL for years.
Kennedy had the same procedure on his left knee around three weeks later after his leg buckled against St Kilda at Etihad Stadium in round seven.
It meant that the defenders spent plenty of time together looking on as the Giants charged towards another finals series.
In the early stages of their rehabilitation and battling the mental demons that go with the painful recovery, the defenders decided to skip the country with the blessing of senior coach Leon Cameron and GWS head of athletic performance David Joyce.
Buntine told AFL.com.au that the rehab room is a horrible place to be at footy clubs.
"The trip was a great way to mentally escape football because it was a pretty dark and gloomy time, just coming to the club to do cardio and watching the boys play on weekends," he said.
But it was no holiday for Buntine and Kennedy after Joyce hooked the players up with Dan Lewindon, Head of Performance Science and medicine at British Tennis.
The Giants spent nine days in London with Lewindon at BXR gym, home of world heavyweight boxing champion Anthony Joshua, and were quickly shocked out of their jet lag.
"The training snuck up on us, we thought it would be more focused on our knees but at the first session 'Kenners' was spewing, so we got our butts kicked a little bit," Buntine said with a laugh.
"But it was great to train at BXR which was a phenomenal facility, and get stimulated by working hard in a different environment."
Huge thanks to @chhplondon & @BxrLondon for hosting @GWSGIANTS rehab session today.. absolutely amazing place pic.twitter.com/0NDnD1RUi2

— Dan Lewindon (@DanLewindon) August 19, 2017
Buntine and Kennedy's time in London also included a guided tour of the state of the art facilities at Premier League giants Arsenal, thanks to former Port Adelaide fitness guru Darren Burgess, who is now working with the Gunners.
The duo then continued their program while taking in the sights of Barcelona, before getting some down time sailing around Croatia, leaving the players refreshed for the tough challenges that were awaiting them back home.
"It was really tough sitting on the sidelines watching the team, and I'm not a great watcher, but after we got home and saw the boys playing finals, it really motivated us to get back," Kennedy said.
Already close mates before their surgeries and both foundation Giants, Kennedy said working side by side with Buntine at the club while the rest of the team were on their end of season break, has been extremely beneficial.
"Having him throughout this experience has definitely helped me because I can go off track every now and then, but he's so diligent with everything he does, so he gets me back into it," he said.
"We both have good and bad days and we kind of know now when one of us needs a pick me up."
The pair has also sought advice from teammates Jonathon Patton and Tim Mohr, who both went through multiple knee reconstructions at the same time.
"Speaking to 'Jonny' and 'Mohry' about the partnership they had, they said it helped them so much," Buntine said.
"We speak to them regularly because I think once you do a knee, you go out of your way to check on your mates, and they've been amazing in that aspect.
"We pick their brains about what they found helped them, and watching them come back and playing so well is also great motivation."
Buntine and Kennedy both hope to increase their rehab in the new year with a view to hopefully getting cleared to get back on the field early in the season.