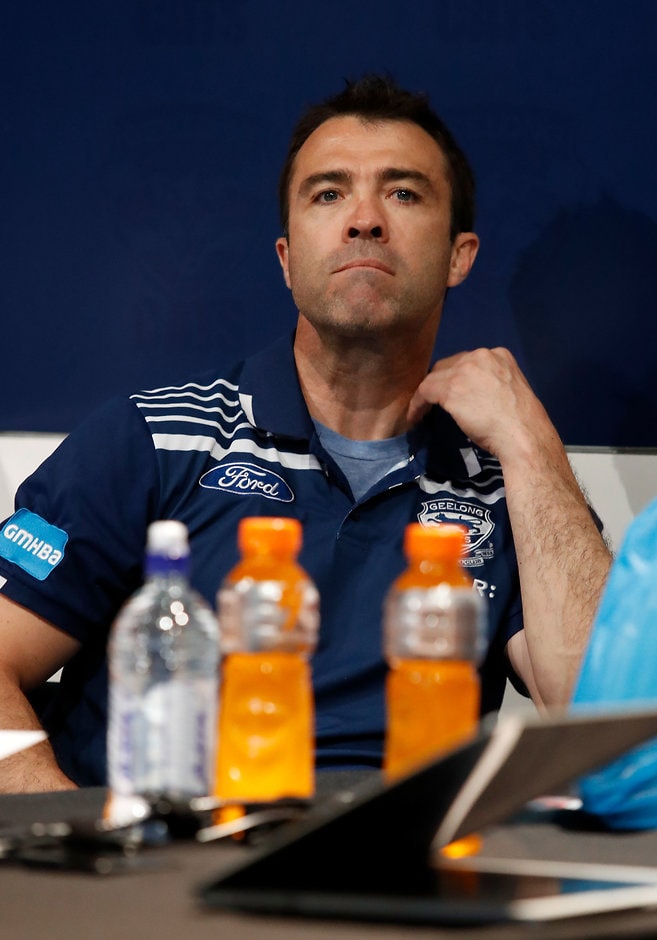 CHRIS Scott has defended his coaching approach, labelling criticism that he lacks a 'plan B' as "unsophisticated clichés".
Scott was challenged by a member from the audience at Monday night's Annual General Meeting, saying that he lacked imagination in the coach's box and his coaching staff were too slow to halt the momentum of opposition teams once they got a run on.
The member asked a similar question at last year's AGM to then director of coaching Simon Lloyd who was filling in for Scott who was on leave at the time.
"I asked the question last year – Chris wasn't able to be here – a lot of people at times get a bit frustrated that we don't seem to make a move for quite a while — or have a plan B — I'd just like to hear you elaborate on that," the member said.
"I know I'm going in the past again."
Scott, who clearly took umbrage at the question being asked, replied forcefully but calmly.
"We make a lot of changes every week," Scott said.
"We would almost never play the same team twice. We move players forward and back.
"With respect, I think it's very difficult from the stands to see the nuance and the subtlety that's going on out there.
"I'd like you to be specific around what sort of changes you'd like to see."
The member relayed instances from 2016, dating back to a pre-season match with Collingwood where the Cats allowed the Pies to kick 11 goals in one quarter and through to the 2016 preliminary final where Geelong gave up seven goals in the opening term against Sydney.
"That's what triggered my questions then (last year). What are we doing about those sorts of things (the run-ons)?" the audience member said.
"Have we got a plan B? When do we make changes?"
The Geelong coach was quick to reply to the member's question: "I appreciate it's hard to see (the changes being made in the coach's box)," Scott said.
"It's difficult for people who don't have access to all the information that we have access to to see what we are actually doing ... and some of the shifts that are being made.
"Our coaching staff work really hard for every contingency. It's not just a matter on game day of trying to adjust on the run to things that happen.
"A lot of preparatory work goes into those sort of things, and I can tell you we make a lot of changes.
"I mean, to be frank, I think some of the things you are bringing up are just quite unsophisticated clichés.
"We lost five games for the year last year through the home-and-away season and I think it's not really acknowledging the points that (president) Colin (Carter) and others made about the difficulty of the competition.
"We completely acknowledge that we're not quite good enough right at the moment."
At that point, the member tried to interject, to which Scott said: "Excuse me, I didn't interrupt you. Can you please sit down?"
Scott continued, "We're working on those things and we improved last year. I don't want to spend too much time talking about 2017, but we have some significant things we need to improve going into this [season]."
At the end of his spiel, Scott received a round of applause from the crowd who were impressed with the conviction the coach had displayed in answering the supporter's question.