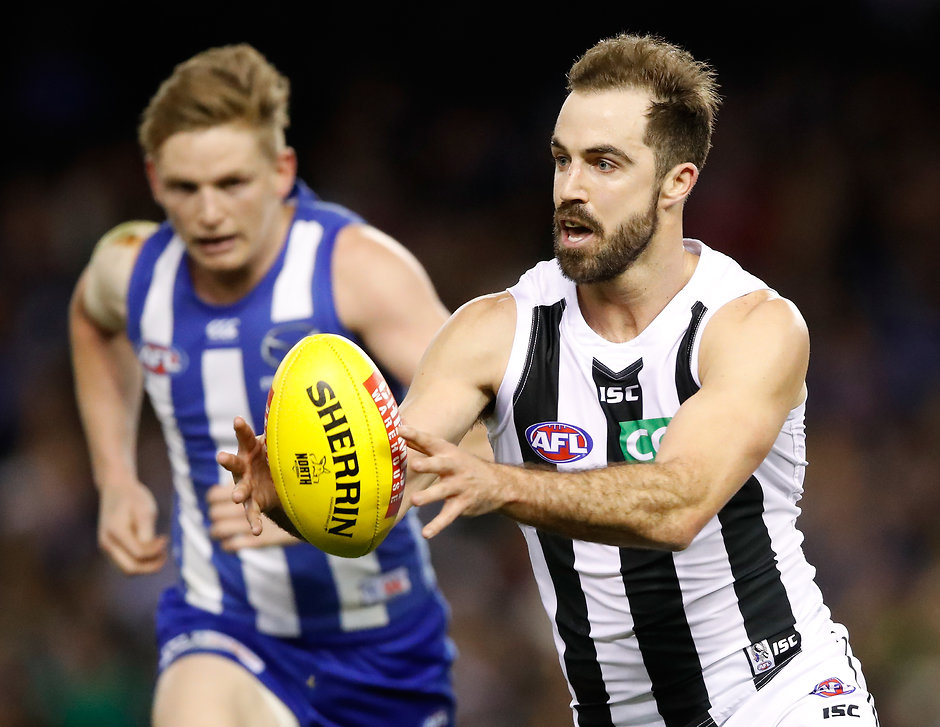 FROM the great Dane Swan to the evergreen Scott Pendlebury, Collingwood has always been a great breeding ground of AFL Fantasy superstars. Last year the club had five players averaging over 105, the most out of all teams.
Steele Sidebottom (MID, $745,000) was one of those players who once again had a sensational year. He has now averaged over 102 in five of his past six seasons and is as reliable as it gets.
Fitting in that category as well must be Adam Treloar (MID, $761,000). Although he dropped his average from 112 to 108, he still ranked as one of the best midfielders for the season.
After not playing a game for several years, Matt Scharenberg (DEF, $548,000) made a successful return to the AFL managing 10 games at an average of 78. He had a hot patch towards the end of the year where he averaged 97 over a four-week period, and should continue to improve his Fantasy numbers next year.
However, 2017 was a season to forget for the Pies as injuries decimated their squad. Only five players managed to play all 22 games and with a new season around the corner, they have hit the track hard aiming to improve on their nine wins.
Click here to subscribe on iTunes.
Sadly in 2018, we cannot select Taylor Adams (MID, $808,000) as a defender, but with that said… you can still select him.
Adams can now only be picked as a pure midfielder and because of this, many Fantasy coaches will look elsewhere, making him a unique starting option in all forms of Fantasy footy.
Adams finished the 2017 season averaging 120 in his last seven games and reached 145+ on three occasions.
Apparently, Jack Crisp (DEF, $622,000) is one to watch.
Crisp has averaged 91 in the past (88 last year) and was one of five players who featured in all 22 games last season. In fact, this is the third year running where Crisp has played all 22 games. He is rumoured to be coming off the half-back line next year, as he did for the last 10 games of 2017 when he averaged 96.
In 2016, Daniel Wells (MID/FWD, $544,000) played 18 games at an average of 88. Last year, Wells was hampered all season with calf injuries and is approaching pre-season this year with much more caution.
Wells averaged 77 from his 10 games in 2017, and although he's not on my radar, he could be a late option in Draft. He is listed as a forward and let's not forget his round 19 performance against the Crows that saw him with 143 points from 34 touches.
So… who is Sam Murray (DEF, $170,000)?
Murray has spent the past two seasons with Sydney and in this time, he failed to make an AFL appearance. He made the prestigious NEAFL Team of the Year after averaging 22 disposals and 79 points from his 18 games.
Where he fits with Collingwood is anyone's guess. But he is a defender at the basement Fantasy price of $170,000 and surely Collingwood have a plan for him. Surely.
Brody Mihocek (DEF, $170,000) is a 24-year-old key defender who was a standout player in the VFL and is a cheap bench option to keep an eye on over the JLT Community Series. Jaidyn Stephenson (MID/FWD, $260,000) was selected with Collingwood's first pick in the NAB AFL Draft and should feature at some point in 2018. He's expected to play forward or even off a wing and can rack up the points.
You want consistency? You want durability? Then look no further than Scott Pendlebury (MID, $767,000).
Before missing six games last year, Pendlebury had only missed one game in the past four seasons. This is a man who has been and still is a Fantasy beast, not dropping his average under 106 in the past eight years.
Many said last year that his best football is behind him. They were wrong and they will be again.
In Classic this year, starting with Brodie Grundy (RUC, $748,000) could equal disaster. This might seem a ridiculous statement considering he is coming off two seasons where he has averaged 101 and 106 but we have learnt that the "Mason Cox (RUC/FWD, $418,000) Effect" is real.
Grundy averaged just 89 in games Cox played last year, and when you compare that to the 115 he averaged when Cox didn't play, you can see the picture I'm trying to paint.
Collingwood have already talked about using Cox more than his nine games last year and if this is true, Grundy should not be in your team in round one.
Get expert advice from The Traders during the pre-season in the Fantasy Hub. Follow AFL Fantasy on Twitter and 'like' the Facebook page to join in the conversation.