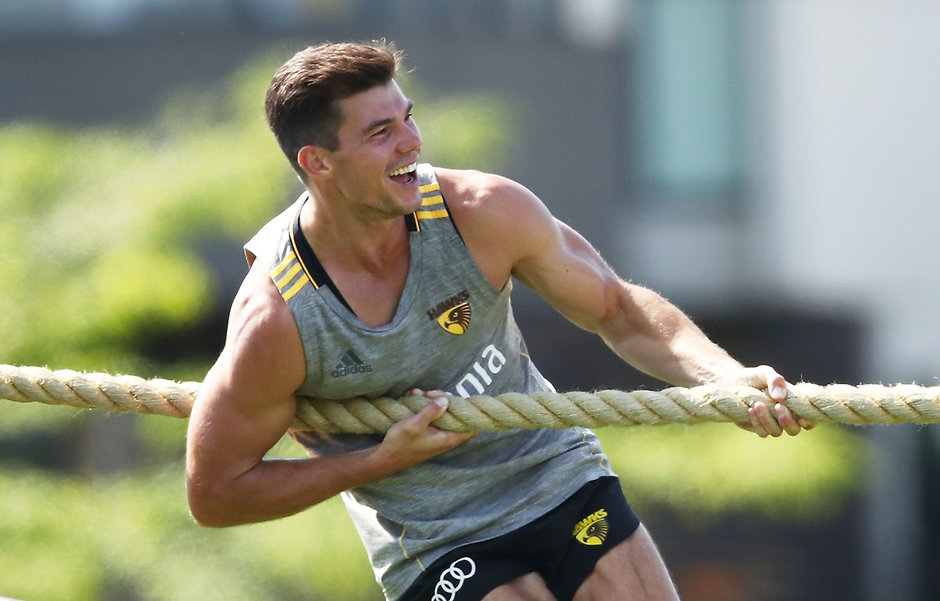 AFTER saying goodbye to Sam Mitchell and Jordan Lewis prior to last season, the last of the 'Big Three', Luke Hodge, has gone as well - cementing the fact that a new era has begun.
With that, opportunities are aplenty and the Hawks will be hoping to challenge again in 2018 so there may be a few interesting options worth considering, including the under-priced Cyril Rioli (FWD, $543,000) who is coming off a season ruined by injury.
Click here to subscribe on iTunes.
Tom Mitchell (MID, $896,000) has a nasty price tag, and yes, I did double check it. I am however, very comfortable writing about him in the 'lock' section because he is worth every cent.
Coming off an AFL Fantasy record-breaking season where he was the latest player to be snouted, this Pig became one of the safest captain options after consistently displaying a huge ceiling with nine scores over 130, highlighted by a 177.
He recorded a career-high average of 127 from 22 games and hasn't missed a game for two seasons. When you consider his two-week quiet patch was scores of 94 and 99, you can imagine what his other scores looked like for the year.
Jaeger O'Meara (MID, $438,000) has spent time on my 'never again list' but I can honestly say he is back off it.
I know there are many past owners of O'Meara shaking their head right now but the fact is, if … and it's a big if, he gets his body right, he is a genuine star and will be a walk-up selection for me.
He is once again discounted after playing only six games last year but the Hawks fitness staff have a good history of managing injuries and I'm tipping we see a lot more of the O'Meara that scored 101 in round 23.
James Sicily (FWD/DEF, $523,000) has a hefty price tag, but there is an argument that he is under-priced after he finished the year in sensational fashion following a move to half-back.
In the last six weeks of the season he only had one score under 90 to go with four tons. There was one absolute stinker in that time as well when he copped a tag and spat the dummy, giving away seven free kicks.
His upside is huge and may be worth bumping up your Draft list.
There is always excitement about a new club bringing out the best in their recruits but I think we can expect about the same from Jarman Impey (FWD, $403,000).
He has averaged 57 the past two years and the 60-point mark looks fair for 2018. Wrong price, pass.
David Mirra (DEF, $170,000) I love a mature-age recruit, especially when they are basement price. Mirra was selected with pick 23 in the rookie draft after another strong year as captain of the Box Hill Hawks.
He already has a good understanding of the Hawks structures and gameplay, which along with his leadership skills could have the 26-year-old in the running for a game.
Grant Birchall (DEF, $485,000) has often been considered Mr Reliable from a Fantasy perspective with the expectation he will play 22 games and average in excess of 80.
Unfortunately, it didn't run to plan last year and Birch managed only five games which makes him eligible for a nice discount. If he is tracking well during the pre-season, he is worth a look.
If you are thinking Ty Vickery (FWD, $339,000) is due for a breakout season, you are probably right, but save yourself the disappointment, the big fella called it quits and has retired.
Get expert advice from The Traders during the pre-season in the Fantasy Hub. Follow AFL Fantasy on Twitter and 'like' the Facebook page to join in the conversation.