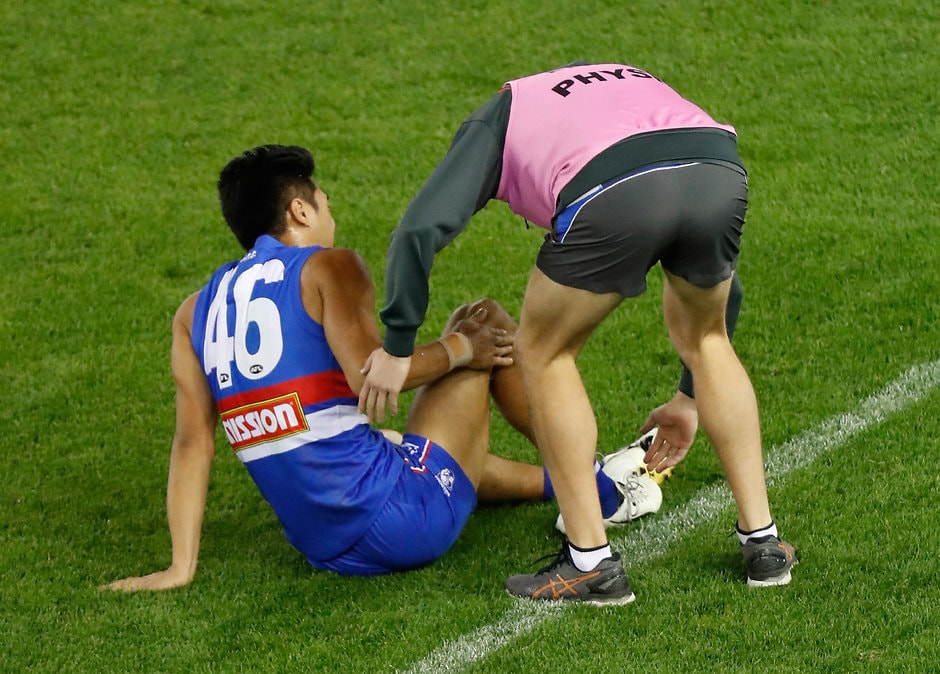 Running out on the oval for the first time was kind of a highlight of my year
Lin Jong
RUNNING is something Lin Jong will never take for granted again, after overcoming a knee injury that was as much a psychological challenge as it was physical.
The Western Bulldogs midfielder tore his right anterior cruciate ligament in June when Melbourne co-captain Nathan Jones collided with his leg when attempting to smother Jong's kick.
The 24-year-old needed a full reconstruction, and it wasn't until Grand Final week he was given the all clear to run again.
Now with an eye on a round one return, Jong has spoken about the dark times that came with his injury, which coincided with the Dogs' plummet from premiers to a bottom-eight side.
"It's just such a relief to run again," Jong told AFL.com.au.
"Running out on the oval for the first time was kind of a highlight of my year.
"In rehab, you always feel like you can do more than what you're currently doing, but at that point in time, I was just happy to run, and then happy I felt really good after it."
Jong was helped off the field with his right leg dangling lifelessly after the impact with Jones, with a searing pain shooting through his joint.
But as he got closer to the rooms, the pain ceased, which made him think he'd escaped serious damage.
"I thought it was just a corky," he said.
"In the rooms, they do a test where they can figure out in a few seconds if the ACL is ruptured.
"I didn't think it would be that at all, so when they told me, it was devastating. I broke down in tears."
Jong then spent a surreal three quarters watching the Dogs get mauled by the Demons, and trying not to think about what was in front of him.
"I was just in my own head, trying not to think about what the next steps were," he said.
"There was a lot of grieving for myself, and thinking, 'Why did this have to happen to me?'"
It was a week before Jong had the operation. A cut near where the incisions would go raised the risk of infection, so he had to wait.
He went into the club once during that time, while he dealt with the reality that his ligament was in pieces despite still being able to walk and run normally.
Jones apologised via text, although Jong said he knew the tough Demon didn't intend to inflict such a serious injury when he launched himself at the ball.
Despite all that, nothing prepared Jong for the post-operative pain. He'd had operations before, but this was next level.
"It was shocking. You lie down a lot, so when you get up the blood rushes down your leg and it's just one of those pains that doesn't leave you, you remember it," he said.
"Once you get up, it's always throbbing, and then you sit down and it's another five minutes or so before it stops.
"Things like just going to the toilet and the fridge … it was just a nightmare."
After six weeks, the Dogs told Jong to get away and clear his head.
He still couldn't run, so there wasn't much point hanging around the club as the Dogs' season continued to slip away.
Jong went on a few small trips down to Rye and Phillip Island with his girlfriend and some friends, and even just rested at home instead of meandering around Whitten Oval.
It helped. After persisting through the slow, monotonous stages of rehab, he came back to light at the end of the tunnel; he was given the green light to run again, just as his teammates went on their post-season break.
Now, it's all about round one. AFLX on February 17 might be too soon, with Jong slated for full training some time in February, but after being sidelined for over eight months, he's prepared to wait some more; even if that delays his return to the playing field by a few weeks.
"The hardest part is behind me now," he said.
"I know the goal is round one, and hopefully I'll play some JLT games, but in my head, I know plans don't always work out perfectly.
"My knee is the priority and playing is second.
"I still played 12 games last year, so I really don't feel like I've been too unlucky."