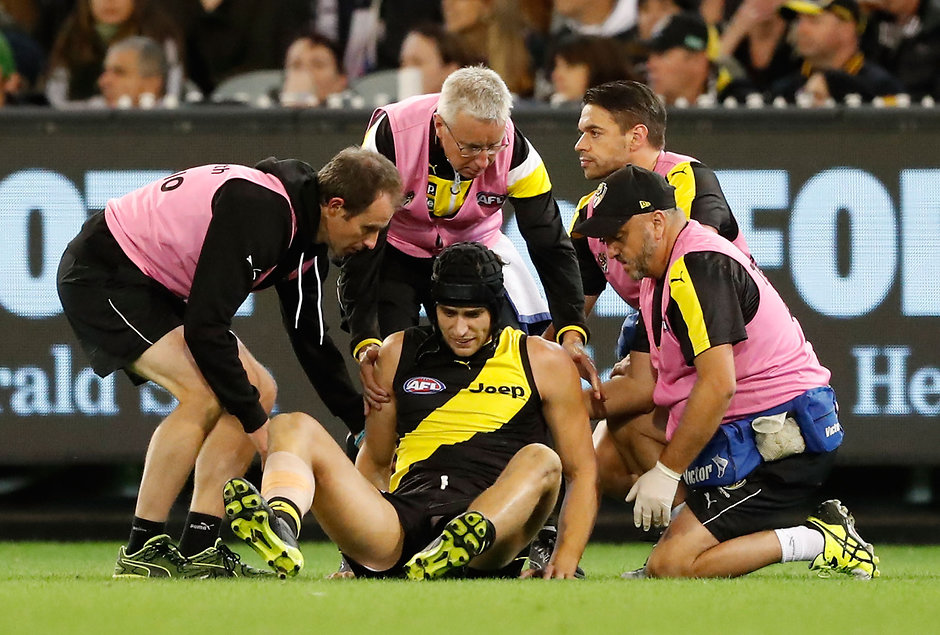 It certainly wasn't something I had been contemplating and only arose two weeks ago
Retired Tiger Ben Griffiths
RICHMOND key forward Ben Griffiths has retired to take up a college scholarship as an American football punter.
Griffiths has earned a full four-year scholarship with the University of South California and told Tigers teammates of his decision on Thursday morning before training.
The 26-year-old's announcement shocked the club given his position on the list and the Tigers' hopes he could rebound from a torrid 2017.
However, he left on Thursday with the club's best wishes and support, with football manager Neil Balme thanking him for his eight years of service.
Griffiths suffered dual concussion injuries last season, playing one game in 14 weeks before a shoulder injury sidelined him for another four games late in the season.
The 200cm forward had suffered a string of concussion injuries over multiple seasons and there were fears that his most recent setbacks could end his AFL career.
Griffiths said he had not been contemplating the move until an opportunity arose over the Christmas break.
"Ultimately the opportunity was too good to refuse," Griffiths said on the club's website.
"It certainly wasn't something I had been contemplating and only arose two weeks ago.
"It was tough telling my teammates and coaches this morning but they understand and support my decision."
Griffiths was recruited by Richmond with pick No.19 in the 2009 NAB AFL Draft, playing 63 games in eight seasons.
He signed a contract extension until the end of the 2018 season in September 2016.
Griffiths follows in the footsteps of ex-Saint Arryn Siposs, who joined college football powerhouse Auburn University on a football scholarship.
Former Fremantle player Max Duffy will also play as a punter this year with the University of Kentucky after quitting WAFL club West Perth to pursue his American football dream.
Griffiths' former Richmond teammate Ben Lennon is pursuing a US college scholarship with the help of Prokick Australia, which helps players make the transition to NFL punting careers.