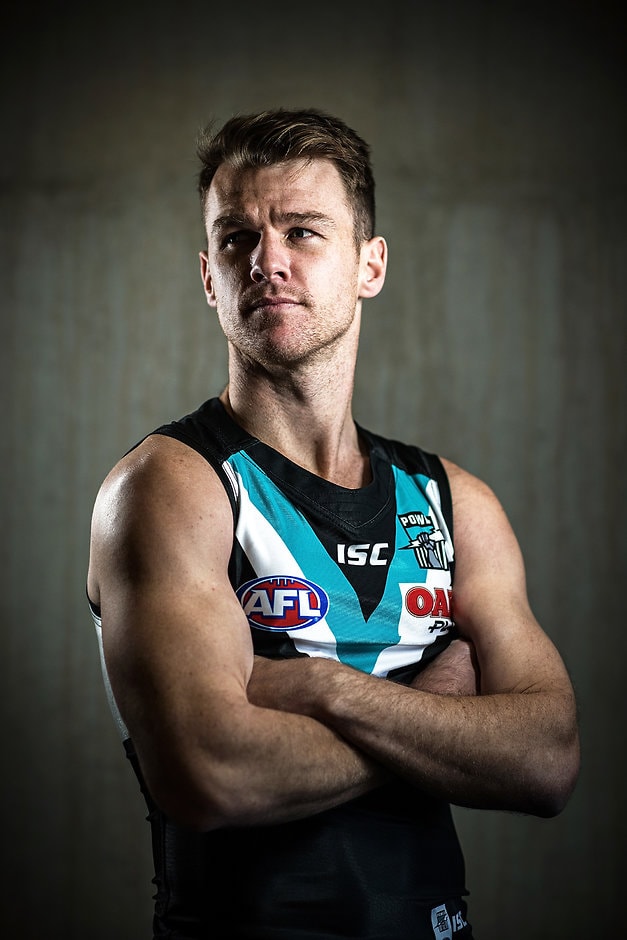 PORT Adelaide has decided to challenge midfielder Robbie Gray's one-match suspension for a high bump on West Coast's Jeremy McGovern during Sunday's JLT Community Series clash.
The Power risks paying $10,000 to the AFL if the challenge on Tuesday night at the AFL Tribunal is unsuccessful.
Port Adelaide's decision represents the first test for the League's new judicial system, which sees match review officer Michael Christian as the sole arbiter of match day incidents.
Christian handed Gray a one-match suspension for his bump, with the hit graded as careless conduct with medium impact to the head.
Under the new system introduced for 2018, clubs can challenge a suspension at the AFL Tribunal and risk a $10,000 fine, rather than an extra week on the sidelines as was previously the case.
If the club fails at the Tribunal that fine would fall under the football department soft cap, presenting a significant deterrent if it is already close to the cap.
Gray arrived at a disputed ball a split second after McGovern in Sunday's pre-season clash in Adelaide, but Christian believed he had elected to bump rather than brace for contact.
"His eyes moved from the ball to McGovern and if he was genuinely contesting the ball I'd like to see his hands down contesting the ball rather than shaping to bump," Christian said.
"I think he had other alternatives, rather than shaping to bump and bumping … the option was there to genuinely contest the ball and he elected not to.
"When you elect to bump you must do it fairly, and if you make contact with the head in a careless manner then that is when there may well be a penalty forthcoming."
Gray made high contact with his right shoulder, ending McGovern's day despite the star Eagle being "pretty coherent" on the bench and keen to play on after being assessed.
Port Adelaide will go to the tribunal to contest the one-match ban handed to Robbie Gray for engaging in rough conduct against West Coast's Jeremy McGovern.

More to come. #weareportadelaide pic.twitter.com/SXJ7DxT1lY

— Port Adelaide FC (@PAFC) February 26, 2018
Christian used a West Coast medical report to determine the medium impact grading, rather than high, which would have resulted in a two-match ban for Gray.
Power teammate Paddy Ryder was also cited and can accept a $2000 fine for striking West Coast midfielder Andrew Gaff.
The incident, which was assessed as careless conduct with low impact to the body, falls under the new fine structure for 2018, which increases with each offence.