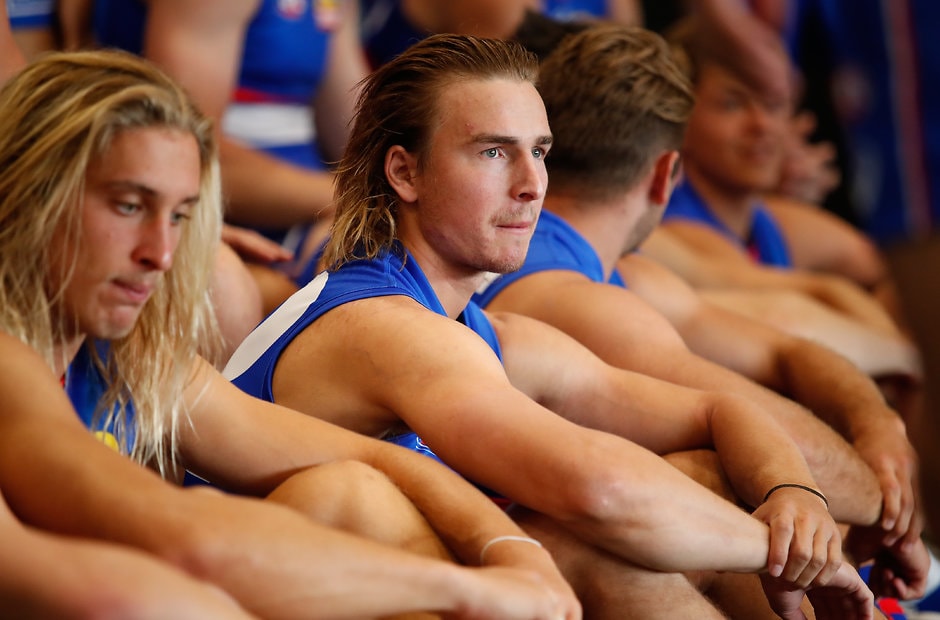 I did think the worst straight away, and there was about a minute (of panic), but the physio tested (my knee) out and there was no swelling.
Mitch Honeychurch
MITCH Honeychurch was due for some luck, and the tenacious Bulldog finally found some.
After being starved of senior opportunities since being drafted with pick No.60 in the 2013 NAB AFL Draft, Honeychurch strung together six-straight games midway through 2017 before an "annoying" facial infection left him in hospital and halted his most prolific and promising chapter of his career.
Now, feeling as confident as he has in his time at the Dogs, Honeychurch was carried from Whitten Oval during last weekend's intraclub match with the belief fortune had deserted him again.
An innocuous tackle was the culprit this time around.
"I did think the worst straight away, and there was about a minute (of panic), but the physio tested (my knee) out and there was no swelling," a relieved Honeychurch told AFL.com.au.
"Luckily enough, there was no damage when I got a scan on Sunday, so I needed a bit of luck and I got it on the weekend."
His lack of continuity at the Dogs had him thinking long and hard at the end of last season about an offer from Greater Western Sydney to be the selfless team man to complement its star-studded list.
Honeychurch is admired by all at the Dogs for his hard-nosed and team-first approach, but there isn't a storage of those types at the club, and that left the then unsigned 22-year-old torn.
"I didn't have a contract in front of me at the end of last year from the Bulldogs, so GWS came knocking on the door," Honeychurch said.
"I was thinking of going up there, and they needed a small forward, but it didn't eventuate, and the Bulldogs ended up offering me a one-year contract.
"It's was a tough one because moving up to Sydney would have been a pretty big move and I was pretty keen to stay with the club."
Delighted to be a fifth-year Bulldog, Honeychurch's modus operandi is to adhere to Luke Beveridge's flexibility mantra and cement a dual-role as a defensive forward and an attacking wingman.
Improving his kicking has also been a key focus over his productive pre-season.
And despite only having the security of a one-year deal, the Vermont product is confident he has a bright future in the red, white and blue.
"It will be fifth year now and I've only played (22) games, but I'd like to think I'll play a lot more games this year and have more of an impact," he said.
"It's not necessarily a make-or-break year for me, I've just got get some continuity in my footy and the rest will take care of itself.
"I think round one is (a realistic target) because I feel as fit as I've ever been and think I can take my game to the next level in 2018.
"I just need to grab my opportunity."