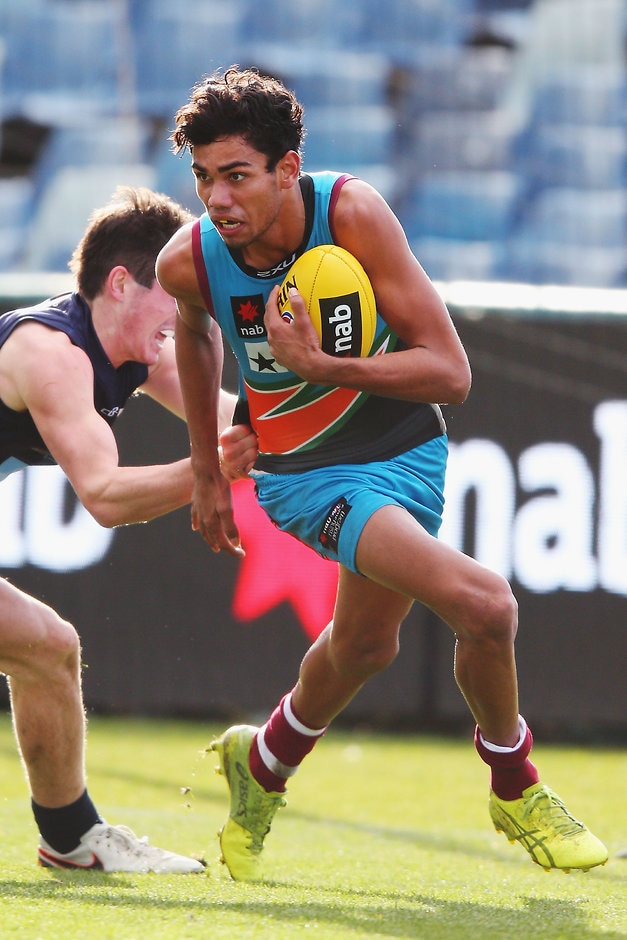 If the League wants its draft night to attract more attention and be entertaining for fans, the growing amount of players who are already tied to clubs works in opposition to this
AS THE AFL continues to work on ways to enliven its draft night, it has an issue on its hands. Its product is becoming compromised.
As AFL.com.au reported last week, this year's draft pool looms as a big one for father-son prospects with more than 15 players eligible to join clubs under the rule.
A few may be early picks, however not all will end up on AFL lists. But add on a selection of northern Academy picks, plus a far greater proportion of top-end Next Generation Academy than ever before, and some recruiters believe there could be as many as 20 players who attract a bid during this year's drafts..
NGA Academies: What region does your club have?
If the League wants its draft night (potentially even two nights) to attract more attention and be entertaining for fans, the growing amount of players who are already tied to clubs works in opposition to this.
Of course, the number of father-sons will change from year to year. Last season saw only two taken in the national draft – Patrick Naish (to Richmond at pick No.34) and Tyler Brown (to the Pies at No.50).
Draft's bounty of sons, brothers, cousins
But the likelihood is that clubs will generate more and more NGA prospects in their respective zones as extra time and resources are placed in that development area.
This year could be the first time a top-10 pick comes out of a club's NGA, with North Melbourne having access to Tasmanian talent Tarryn Thomas. Collingwood also has first call on Isaac Quaynor from its Academy zone and some scouts view him as a possible top-20 selection.
The revised bidding system that was introduced in 2015 for father-son and northern academy players also applies to the NGA prospects, and will keep clubs honest with the top picks. It also has a safeguard in place where the finishing ladder position has a direct influence on how many academy players a club can draft inside the top 20, with top-four clubs only able to take one each draft.
But later on, with their 20 per cent points discount, it is easy for clubs to match a bid without impacting the position of their leftover picks. And despite the foxing of clubs closer to the draft, the best prospects will always end up at their nominated homes.
The Next Generation Academy is well intentioned. It was introduced by the League in a bid to develop more opportunities for players from multicultural and indigenous backgrounds. The AFL felt the best way to do it was by assigning regions of Australia to the 14 clubs outside of New South Wales and Queensland.
They had to incentivise it for clubs to full engage in the program, and granted the clubs first rights to players who come out of their NGA programs if they meet the required criteria in their 18th year.
Future picks: Why the Suns want Eagles to plummet
The AFL will counter that the NGA is doing its job by producing more players out of markets it previously did not have great representation and that, instead of compromising the pool, it is actually growing the numbers of players up for grabs.
But with that, it has also bred more predictability for a draft night that AFL boss Gillon McLachlan admitted last year the League hasn't quite perfected.
Lots of things are under consideration for the annual intake of players, including breaking the draft into two nights, while live trading of picks during the draft appears likely to come into effect this year.
But as the AFL considers all of its plans, including where to actually stage this year's draft, it has to also keep an eye on whether its programs are healthy for a draft system that is its central equalisation plank.
AFL DRAFT VALUE INDEX
| ROUND ONE | ROUND TWO | ROUND THREE | ROUND FOUR | ROUND FIVE |
| --- | --- | --- | --- | --- |
| Pick/Pts | Pick/Pts | Pick/Pts | Pick/Pts | Pick/Pts |
| 1. 3000 | 19. 948 | 37. 483 | 55. 207 | 73. 9 |
| 2. 2517 | 20. 912 | 38. 465 | 56. 194 | 74. - |
| 3. 2234 | 21. 878 | 39. 446 | 57. 182 | |
| 4. 2034 | 22. 845 | 40. 429 | 58. 170 | |
| 5. 1878 | 23. 815 | 41. 412 | 59. 158 | |
| 6. 1751 | 24. 785 | 42. 395 | 60. 146 | |
| 7. 1644 | 25. 756 | 43. 378 | 61. 135 | |
| 8. 1551 | 26. 729 | 44. 362 | 62. 123 | |
| 9. 1469 | 27. 703 | 45. 347 | 63. 112 | |
| 10. 1395 | 28. 677 | 46. 331 | 64. 101 | |
| 11. 1329 | 29. 653 | 47. 316 | 65. 90 | |
| 12. 1268 | 30. 629 | 48. 302 | 66. 80 | |
| 13. 1212 | 31. 606 | 49. 287 | 67. 69 | |
| 14. 1161 | 32. 584 | 50. 273 | 68. 59 | |
| 15. 1112 | 33. 563 | 51. 259 | 69. 49 | |
| 16. 1067 | 34. 542 | 52. 246 | 70. 39 | |
| 17. 1025 | 35. 522 | 53. 233 | 71. 29 | |
| 18. 985 | 36. 502 | 54. 220 | 72. 19 | |