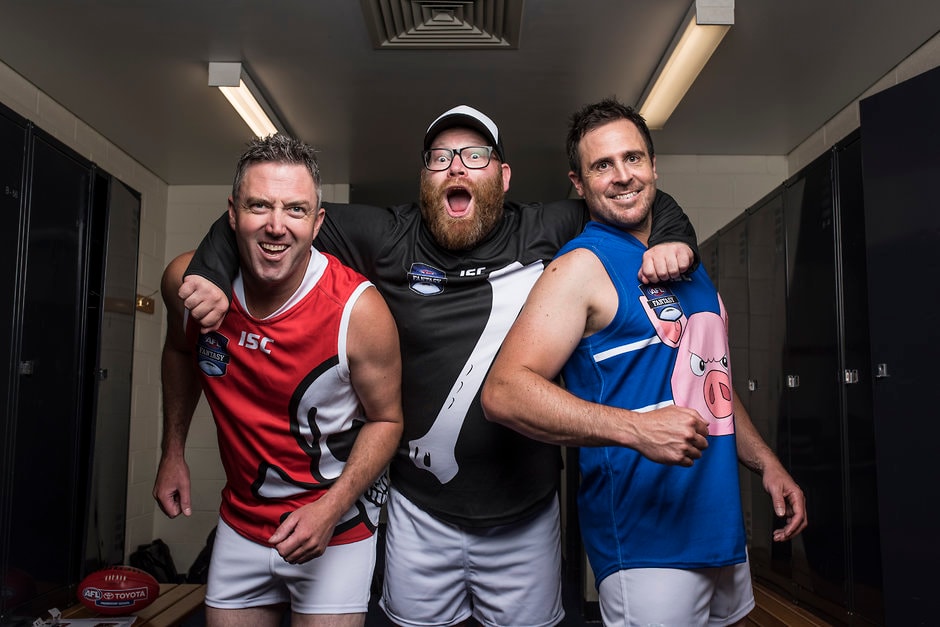 IT WAS a case of no spreadsheet too detailed, no prospectus unsullied, and no personal sledge left unspoken, as AFL.com.au's finest Fantasy minds faced off with The Traders this week in our annual draft.
It took just 90 minutes for the 16 coaches to pick their squads, and leave their opponents cursing what might have been.
Got an AFL Fantasy team yet? Pick your side now
The format was three defenders, four mids, one ruck, three forwards and four bench spots of any position.
Who came out on top? You be the judge. Here are the coaches' thoughts on their selected squads.
Download The Traders' complete AFL Fantasy Draft Kit
Paul Bastin (AFL.com.au producer) - Bring Back Didak
Defenders: Bachar Houli (pick No.56), Zach Tuohy (5), Brayden Maynard (137)
Midfielders: Scott Pendlebury (24), Dylan Shiel (105), Jack Ziebell (120), Shaun Higgins (152)
Ruckman: Max Gawn (9)
Forwards: Isaac Heeney MID/FWD (41), Jarryd Roughead (88), Caleb Daniel MID/FWD (169)
Bench: Tom Scully MID (184), Ben Reid DEF/FWD (201), Tom Phillips MID (216), Eddie Betts FWD (233)
After a fruitless search for Alan Didak on the list I decided to follow Cam Noakes' lead and buck the midfield-first trend by locking in Melbourne ruckman Max Gawn with pick No.9. Pretty sure I saw eyebrows being raised in the office but my logic was to grab a high-quality goliath and rely on the depth of midfield options later in the draft. Having the Rolls Royce Scott Pendlebury still available at pick No.24 briefly swayed my focus on filling the forwards and backs, while the news that Bachar Houli would miss the Tigers' final JLT match due to a calf strain moments after picking him must surely be the stitch-up of the draft. There is certainly strong leadership amongst a squad that boasts three club captains, so I'm expecting consistency and unwavering dedication from this group.
Best pick: The prospect of watching graceful gut-runner Dylan Shiel gliding around picking up points from selection No.105 is a standout - the Giants midfielder is a star of the competition.
The one I missed: I had earmarked Allen Christensen to occupy my last forward spot but I couldn't prevent the Roman Empire from claiming the Lions' returning gun two picks prior to me in the eighth round.
Click here to subscribe on iTunes.
Ashley Browne (AFL.com.au senior reporter) - Person of the Boot
Defenders: Jason Johannisen (80), Jeremy McGovern (113), Tom McDonald DEF/FWD (144)
Midfielders: Rory Sloane (16), Patrick Cripps (17), Jack Macrae (48), Liam Shiels (145)
Ruckman: Tom Bellchambers (112)
Forwards: Tom Lynch, ADEL (49), Josh Kennedy, WC (81), Jack Riewoldt (176)
Bench: Cyril Rioli FWD (177), Mark Blicavs MID (208), Shaun Burgoyne MID (209), Jordan Roughead RUC (240)
This team is based on limited research and 'gee, he looks primed for a good year' hunches based on some track whispers and some scouting of the JLT matches. But Rory Sloane will be an accumulator as long as his work at breaking the tags continues, while Patrick Cripps is a beast, a ball winner who will go forward and kick goals. He is Carlton's best player and is due an uninterrupted season. Liam Shiels is an underrated midfielder, but who loves to tackle. I'm counting on him. I'm also placing some store in Jeremy McGovern, who can take plenty of marks, but also swing forward and take some grabs and kick some snags.
Best pick: Jason Johannisen. The Dogs will deploy him this year as an attacking weapon.
The one I missed: James Sicily. I had him all queued up and he went just before my selection as Roy pounced. Gun.
The Traders review JLT Community Series week two
Ricky Cahn (Telstra product manager) - McDowell's Picks
Defenders: Jarrod Harbrow (115), Matt Suckling (142), Jayden Hunt (174)
Midfielders: Nat Fyfe (14), Bryce Gibbs (19), Dyson Heppell (46), Jack Steven (110)
Ruckman: Toby Nankervis (51)
Forwards: David Mundy FWD/MID (78), Robbie Gray (83), Jesse Hogan (147)
Bench: David Swallow MID (179), Mitch Wallis MID/FWD (206), Scott Lycett RUC (211), Cam O'Shea DEF (238)
I keep looking at my team and thinking how did I pull that off? My strategy was go hard at the mids early and then, because all the rucks were flying I jumped in and took Nank the Tank in the fourth round. I'm big on Fyfe this year and pulled the trigger early, and to get Jack Steven when I did was a pleasant surprise that will come back to bite a lot of people. I'm hopeful Mundy and Gray get enough midfield time to lift their averages above 90, and whilst my backline is being held together by a piece of string, I'm backing myself to find someone in free agency throughout the year.
Best pick: Cam O'Shea - is he the new Docherty...?
The one I missed: Angus Brayshaw - as a defender, if he stays fit he's one that will really hurt me throughout the year.
Calvin (The Traders) - Calvinator
Defenders: Matt Scharenberg (103), Jasper Pittard (135), Tom Langdon (167)
Midfielders: Tom Rockliff (7), Mitch Duncan (26), Connor Blakely (58), Dan Hannebery (90)
Ruckman: Ben McEvoy (39)
Forwards: Devon Smith (71), Darcy Parish MID/FWD (122), Charlie Dixon (154)
Bench: Ricky Henderson MID (186), Aaron Mullett DEF (199), Josh Dunkley (218), Mason Cox RUC/FWD (231)
OINK! OINK! To snap the Fantasy Pig himself, Tom Rockliff, at pick No. 7 was a steal … or so I thought. The next day I hear that he won't play any pre-season games and then I started to sweat. Either way, I will have him for the long season ahead together with Mitch Duncan who was an oversight by the other coaches in the second round. Connor Blakely is every chance to get defender status by round six and when he does, he will be a luxury switch down back and then I can add another midfielder into the mix. I jumped on Essendon's new recruit Devon Smith in round eight, not because I wanted him, I did it just to spite the Warne Dawg. Dan Hannebery was drafted in the top 10 last year after averaging 108, something people have obviously forgotten about. I selected him at pick No.90 and although he's under-done at the moment, he'll be right come finals time.
Best pick: Josh Dunkley as a bench option with pick No.218. Fresh off a game high 104 points in the first round of the JLT, he could be a keeper.
The one I missed: In the third round, the rucks started to diminish and I panicked, leaving behind Jack Billings and jumping on Ben McEvoy.
Calvin innocently suggests a trade for Brodie Smith

Mitch Cleary (AFL.com.au reporter) - Masai Warriors
Defenders: Kade Simpson (35), Jeremy Howe (62), Angus Brayshaw DEF/MID (126)
Midfielders: Patrick Dangerfield (3), Dayne Beams (30), Lachie Whitfield (94), Trent Cotchin (99)
Ruckman: Sean Darcy (131)
Forwards: Jack Gunston (67), Tim Taranto MID/FWD (158), Hugh McCluggage (163)
Bench: Ed Langdon MID/FWD (190), James Aish DEF/MID (195), Braydon Preuss RUC (222), Jake Stringer FWD (227)
It was panic stations five minutes out from my debut, 2 per cent phone battery and no charger in sight. Lucky my No.1 priority, Danger, slipped through to pick No.3. Then I went for a mix of young and old. Kade Simpson's ageless body should see him scoop all of the Sam Docherty kicks from the back half. Despite being only 28, it feels like Dayne Beams has been around forever, but he's ready to return to his 2012 heights. I've put my faith in a couple of second-year players, bucking the trend of second-year blues. Surely Ross will play Darcy and Sandi (please Ross) and Taranto/McCluggage is left field, but both will get more of the Sherrin. Forget the Hamish and Andy act in WA, Angus is the Brayshaw to watch this year. Braydon Preuss will be the ruck everyone is chasing six weeks in - nice trade bargaining power! And Jake Stringer? I just couldn't resist with my final pick.
Best pick: Lachie Whitfield will crash through the ton in 2018.
One I missed: Alex Witherden could be the highest-ranked defender this year behind Rory Laird.
Chris Correia (AFL.com.au sub-editor) - Ross' Bosses
Defenders: Alex Witherden (72), Paul Seedsman DEF/MID (136), Steven May (168)
Midfielders: Dayne Zorko (8), Steele Sidebottom (40), Seb Ross (89), David Zaharakis (104)
Ruckman: Paddy Ryder (25)
Fowards: Travis Boak MID/FWD (57), Alex Neal-Bullen (121), Josh Jenkins (153)
Bench: Jordan Lewis MID (185), Callum Sinclair RUC (200), Nick Graham MID/FWD (217), Robbie Tarrant DEF (232)
I was reasonably happy to start mid-pack with pick No.8, so a gun ruckman or midfielder was my first priority. I had my eye on Brodie Grundy but after he was snapped up I decided to go for Lions star Dayne Zorko. Although I was pleased to get Alex Witherden, the one I missed went just one pick before when Calvin took Devon Smith at No.71. Smith starred in the Bombers' first JLT Community Series game with 93 points from 81 per cent time on ground, so I'm expecting his 2017 average of 81.6 to rise.
Best pick: Alex Witherden after he slipped to No.72. He averaged 88.4 points in defence last year and I'm backing the NAB AFL Rising Star favourite to take his game to another level under the tutelage of Luke Hodge.
The one I missed: I was trumped when Calvin took Devon Smith at No.71. The former Giant is set for plenty of midfield minutes this season.
Tyson Densley (AFL.com.au social media team) - Bont's Goats
Defenders: Ryan Burton (63), Luke Hodge (95), Dane Rampe (162)
Midfielders: Zach Merrett (2), Marcus Bontempelli (31), Joel Selwood (34), Scott Selwood (130)
Ruckman: Tom Boyd (194)
Forwards: Jeremy Cameron (66), Tom Lynch, Gold Coast (98), Luke Breust (159)
Bench: Adam Saad DEF (191), Cam Pedersen RUC/FWD (127), Luke Davies-Uniacke MID (223), Charlie Cameron FWD (226)
It's a midfielder's game, and my first three picks all went straight to the engine room. After he anchored my side last year, I couldn't go past Zach Merrett off the top with the second pick overall. While Bont and Joel Selwood help form a nice trio, the addition of Joel's brother Scott was an auto-pick brain fade, rather than some sort of package deal. A pre-season trade looks an option there, but Scott's 99.9 average from last year's 11 games is somewhat comforting. If Tom J Lynch, Jeremy Cameron and Tom Boyd - yes, I'm a Dogs fan still watching the 2016 Grand Final weekly - can kick bags every week, opposition backlines will be nervous. I'm backing Ryan Burton, Luke Breust, Adam Saad and Charlie Cameron to beat their projected season averages, but everyone's on notice in this side.
Best pick: While he didn't exactly slip, I was pleased to see Marcus Bontempelli still on board when my second pick eventually rolled around at No.31. A big year ahead for the Bont.
The one I missed: Lachie Whitfield was snapped up the pick before my sixth selection, and would have rounded out my midfield nicely. I later had to accept Scott Selwood on auto-pick, adding to the frustration.
Lee Gaskin (AFL.com.au reporter) - The Lethal Weapons
Defenders: Dylan Roberton (68), Josh Smith (100), Pearce Hanley DEF/MID (125)
Midfielders: Dustin Martin (4), Marc Murphy (29), Shaun Grigg (157), Jack Redden (164)
Ruckman: Jarrod Witts (36)
Forwards: Toby McLean MID/FWD (61), Christian Petracca MID/FWD (93), Tom Papley MID/FWD (132)
Bench: Shannon Hurn DEF (189), Rhys Stanley RUC/FWD (196), Rory Atkins MID (221), Will Langford MID/FWD (228)
I walk off the plane, turn my phone back on, and find out I've landed the 2017 Brownlow medallist with my first pick. Nice work by Tim Roman, on my behalf. Only concern will be Dusty playing more forward time and less in the guts, but he's a match winner in any case. Once back online, I targeted another premium midfielder (Marc Murphy) before going for a quality ruckman in Jarrod Witts, who had a breakout season last year with Gold Coast. From there, the aim was to add forwards who would roll through the midfield (Toby McLean and Christian Petracca), while Dylan Roberton finds plenty of it in defence. I was grabbing a coffee when my seventh-round pick was due, leading to Josh Smith's selection in the backline. No disrespect, but I couldn't spot him in a line-up, let alone an AFL team. Pearce Hanley is a bit speculative, Tom Papley's another of those mid-forward types and Shaun Grigg landed in my lap when I ran out of time picking another player. Those 60 seconds sure fly by.
Best pick: Apart from Dusty, I reckon Jack Redden could be a bargain basement pick-up after getting him in the 11th round. He should play a more prominent role in the Eagles' midfield after the retirements of Matt Priddis and Sam Mitchell.
The one I missed: Would've loved to have got Elliot Yeo to shore up my defence and was ready to pounce with my third-round pick, before Michael Rogers pounced on him at pick No.33.
Matt Jeffries (Telstra product specialist) - Grundy & Coke
Defenders: Rory Laird (10), Luke McDonald DEF/MID (74), Tom Cutler (170)
Midfielders: Lachie Neale (23), Josh Kennedy, Sydney (55), Jarryd Lyons (119), Dom Sheed (151)
Ruckman: Zac Smith (87)
Forwards: Michael Barlow (42), Justin Westhoff MID/FWD (106), Charlie Curnow (138)
Bench: Daniel Wells MID/FWD (183), Jaeger O'Meara MID (202), Nick Haynes DEF (215), Liam Picken FWD (234)
I was tossing up going with Lachie Neale with pick No.10 but thought I'd roll the dice on Rory Laird in the hope that Neale would slip back to me at No. 23 … and he did. Laird is probably the best non-mid in the game so happy to have him lead the backline each week. I missed the ruck rush but still landed Zac Smith in the sixth round. I'm banking on big improvements from Curnow and Sheed and don't mind Wells sitting on my bench for the 7-12 quality games he'll be playing this season. Liam Picken at pick No.234 is on the belief that he, like the Dogs, will return to form in 2018 and whilst I've been burnt by O'Meara in the past, I'll give him another chance to sort himself out. Really hoping Josh Kennedy doesn't go '2017 Matt Priddis' on me as he felt a steal at pick No.55.
Best pick: Lachie Neale at No.23 felt too good to be true. He averaged 100 in his 'down year' in 2017.
The one I missed: I was all set to grab Michael Walters at No.87 when he got pinched two picks earlier. Love his upside and dual-position eligibility. I had a mini-tantrum and avoided a forward out of principle, and ended up locking in my ruck that round.
Cameron Noakes (AFL.com.au chief sub-editor) - POWP
Defenders: Heath Shaw (69), Bernie Vince (92), Callum Mills (101)
Midfielders: Luke Parker (28), Ollie Wines (37), Chad Wingard MID/FWD (60), Bradley Hill (156)
Ruckman: Brodie Grundy (5)
Forwards: Kieren Jack MID/FWD (133), Jordan de Goey MID/FWD (124), Jack Watts (188)
Emergencies: Jack Newnes MID (165), Jackson Trengove FWD (197), Billy Hartung MID (220), Touk Miller MID (229)
I know what you're thinking. Bernie - vincible. Kieren - hack. Heath - not sure. Jordan - de Gone. Jack - what? Billy - ha, ha. Yes, on the surface it looks like my strategy was to pick the players that no one wanted. However, save such thoughts for the obvious and superficial. Dig a little a deeper and you'll soon see the secret science behind the names. What's that? You still don't see it? As Ross Lyon says, 'Yeah, look, it's a results business, it's a confidence game, and beauty is in the eye of the beholder. It's not rocket science, though. Do you think it's rocket science? What's your name? You're quite brilliant, aren't you?'
Best pick: Hmmm ... I don't have one. Luke Parker better have a bloody good year.
The one I missed: Tom Mitchell … but I guess everyone is saying that. Oh, and I was little annoyed I left Michael Hibberd on the table - went for a midfielder hence why my backline is a little creaky.
Michael Rogers (AFL.com.au sub-editor) - Red and Blue Bloods
Defenders: Elliot Yeo (33), Brandon Ellis (64), Daniel Rich (160)
Midfielders: Tom Mitchell (1), Luke Shuey (96), Nathan Jones (97), David Armitage (161)
Ruckman: Todd Goldstein (32)
Forwards: Luke Dahlhaus MID/FWD (65), Blake Acres MID/FWD (128), Taylor Walker (129)
Bench: Ben Cunnington MID (192), Jake Lever DEF (193), Ryan Lester MID/FWD (224), Paddy Dow MID (225)
Let's be honest: when you've got pick one, there's no decision to be made. I duly nabbed Tom Mitchell and was thrilled to get Todd Goldstein in the second round, followed by Elliot Yeo immediately afterwards at 33. You can always get 90-point mids, but premium rucks and defenders are tougher to find. I've got high hopes for Luke Shuey (pick 96) but I'm not thrilled with my forward line, which depends largely on Tex having a big year. However, I'm confident my blue-collar engine room (Mitchell, Nathan Jones, Ben Cunnington, David Armitage) will get the job done.
Best pick: Luke Shuey with pick 96. With Matt Priddis and Sam Mitchell gone, I expect Shuey to pick up the slack with some big tons.

The one I missed: Chad Wingard. I love the Chad. Everyone loves the Chad. Turns out Cam Noakes loves the Chad just as much as me, and swooped four picks before me in the fourth round.
Tim Roman (AFL.com.au sub-editor) - Tanking Early
Defenders: Christian Salem (75), Andrew McGrath (107), Sam Mayes (139)
Midfielders: Gary Ablett (11), Brad Ebert (43), Dom Tyson (171), Luke Dunstan (182)
Ruckman: Nic Naitanui (54)
Forwards: Sam Menegola MID/FWD (22), Jack Martin (86), Allen Christensen (118)
Bench: Aaron Sandilands RUC (150), Marcus Adams DEF (203), Ben Keays FWD (214), Jack Graham MID (235)
Menegola, Nic Nat, Gaz and, er … Christian Salem. As a spine it looks more than serviceable on paper, but if Ablett and Naitanui play 40 games between them this year, I should probably switch to buying lottery tickets. I have yet again clambered aboard the Jack Martin Fantasy train - I forget how many years I've done this but surely he stays fit and tops a 90+ average this season? Sam Mayes falls into a similar category, as does Luke Dunstan. Inevitably, it'll be a season of crossed fingers and broken dreams. But if I've also got a ticket in the no flash, no risk, no recognition sweepstakes - and his name his Brad Ebert.
Best pick: Happy to get Allen Christensen at 118, despite the obvious injury risk. No reason my third-ranked forward shouldn't average over 80. Well, apart from three-years of history.
The one I missed: Was eyeing 2016 Fantasy superstar David Armitage in round 11, before Mike Rogers snapped him up. Enraged, I picked his beloved Demon midfielder Dom Tyson, but only time will tell if revenge clouded my judgement.
Roy (The Traders) - destroy
Defenders: James Sicily FWD/DEF (77), Kade Kolodjashnij (84), Shane Biggs (148)
Midfielders: Taylor Adams (13), Aaron Hall (52), Jack Viney (116), Ed Curnow (141)
Ruckman: Stefan Martin (20)
Forwards: Toby Greene (45), Mitch Robinson MID/FWD (109), Steven Motlop MID/FWD (173)
Bench: Nic Newman MID (180), Brandon Matera FWD (205), Caleb Marchbank DEF (212), Jarrad Waite FWD (237)
It felt like a long wait for pick No.13 to come around, especially considering that captains are 'on', but I was lucky that Taylor Adams was left and it took me half a second to lock him in (that's 58.5 seconds faster than Mitch Cleary's average selection time). The beauty of Adams is he not only offers a great captain but he will likely receive dual-position status by round six.
Best pick: Although some will feel that I went early on Stef Martin at No.20, it's my favourite pick as I have him earmarked to return to an average over 110.
The one I missed: When round nine rolled around, I thought Charlie Curnow was set to sign a contract at destROY only to have him stolen at the last minute by Matt Jeffries.
Warnie discovers a hidden cash cow under Roy's AFL season guide

Josh Schonafinger (AFL.com.au social media team) - The Doodlebugs
Defenders: Michael Hurley (53), Shane Savage (108), Hamish Hartlett (149)
Midfielders: Matt Crouch (12), Clayton Oliver (76), Callan Ward (117), Isaac Smith (140)
Ruckman: Sam Jacobs (21)
Forwards: Jack Billings (44), Michael Walters MID/FWD (85), Rory Lobb (172)
Bench: Tom Liberatore MID (181), Lewis Taylor FWD (204), Alex Sexton DEF (213), Richard Douglas MID (236)
Not my strongest ever performance on draft day, but I also didn't smash a phone or break a computer, so not my worst either. I didn't know who I'd be left with at pick No.12, but I was very happy to select Matt Crouch, who at 22 will only keep improving. I probably went too early with Sam Jacobs in hindsight, but I didn't want to get left with the scraps in the ruck. Having a gun on each line was something I wanted to get out of the way ASAP, and in the process I gambled a bit on injuries with the selections of Billings and Hurley, but both should see some JLT action and put my mind at ease. Very happy with my midfield, which is full of capable players including Clayton Oliver and Cal Ward. I'm going to start Libba on the pine so he can get the end-of-season celebration plans started, for when The Doodlebugs inevitably walk away with the title.
Best pick: I managed to get Clayton Oliver with my fifth pick, No.76 overall. Should be able to build on his 101 average and help lead the Demons to more September disappointment.
The one I missed: I forgot that I really wanted Tom Papley until I saw him snatched up by Lee Gaskin with the 132nd pick. D'oh.
Ben Sutton (AFL.com.au sub-editor) - Wylie's Buzzmen
Defenders: Michael Hibberd (38), Jack Crisp (70), Luke Ryan (DEF)
Midfielders: Josh Kelly (6), Andrew Gaff (59), Brad Crouch (102), Jack Steele (166)
Ruckman: Billy Longer (134)
Forwards: Lance Franklin (27), Kane Lambert MID/FWD (91), Sam Gray (123)
Bench: George Hewett MID/FWD (187), Liam Duggan DEF (198), Rhys Mathieson MID/FWD (219), Koby Stevens MID (230)
With captains in play, an elite midfielder was first order of business and with pick No.6 I had no hesitation in welcoming Josh Kelly to the Buzzmen. The plan to get a ruckman with one of my next two picks proved disastrous as all the good ones were quickly snapped up, so I happily took Lance Franklin and Michael Hibberd - who both should be top three in their position. With midfielders running deep, I was keen to fill other positions first and have high hopes for Jack Crisp in the Pies' Fantasy-friendly game plan. I finally cracked on a ruckman in the ninth round with Billy Longer the best of a bad bunch. I expect his numbers to increase as he will likely be the sole big man in the Saints' lineup. I wasn't rapt with my last starting midfielder, but Jack Steele loves a tackle so there could be upside there.

Best pick: I'm hoping it's Brad Crouch at 102. Plenty of risk with his injury history but if he stays on the park he can easily average over a ton.

The one I missed: I had my eyes set on young Demon Alex Neal-Bullen in the eighth round but was trumped by Ross' Bosses two picks before me.
Warnie (The Traders) - Warne Dawgs
Defenders: Jake Lloyd (50), Ryan Clarke (111), Nathan Wilson (175)
Midfielders: Adam Treloar (15), Stephen Coniglio (47), Brendon Goddard (79), Lachie Hunter (114)
Ruckman: Matthew Kreuzer (18)
Forwards: Joe Daniher (82), Josh Caddy MID/FWD (143), Brett Deledio (146)
Bench: Dion Prestia MID (178), Brayden Fiorini MID (207), Hayden Crozier FWD (210), Bailey Williams DEF (239)
In a 16-coach draft with captains on, I needed a big gun midfielder to make my skipper and with pick 15, I was stoked that Adam Treloar was still on the board. Surprisingly, a couple of rucks went in the first round. The best from last year - Matthew Kreuzer - was still available after the turn and I wasn't going to be stuck with a ruck that I didn't rank in the top half-a-dozen. Rightly or wrongly, I pounced a bit earlier than I expected as I wanted another suitable captain option with my second pick. Fortunately Stephen Coniglio was available and I believe he is going to score 110, so he may be called upon if needed for double points. Some dual-position additions could come into play with my squad. Brendon Goddard is half a chance to be a defender at some point this year. If he does, happy days, if not, that was a bit of a reach to grab him at No.79.
Best pick: Snapping up Hayden Crozier on my bench, who may actually play early on if Brett Deledio isn't right, is huge as he'll gain DEF status in round six.
The one I missed: I was lined up to grab Devon Smith with my fifth selection, but I should have kept my mouth shut with Calvin in the room who took him a few picks ahead of me. Gutted.