NORTH Melbourne has outclassed Melbourne at the MCG to continue the longest spell of club domination in recent history.
For the 12th straight time, the Kangaroos emerged victorious over the Demons, winning 15.17 (107) to 10.6 (66) on Sunday.
After an error-strewn first half, North Melbourne put the foot down in the third term, kicking seven goals in a dominant spell to end the contest.
"There were some things that we were really disappointed with in terms of the way we played," he said.
"We've got to hold ourselves to a high account because that's what really good teams do and we're not a really good team yet, so we've got to keep striving to become one.
"Opportunities going forward we had a few 12-point plays where we not only squandered an opportunity to score for us but we opened ourselves up on the rebound.
"Again, really good sides don't do that."
Demon Bernie Vince's 41 touches and three goals were in sharp contrast to the Kangaroos' even spread.
They had 12 goalkickers in a twilight clash that will help Roos coach Brad Scott erase the memory of their loss to Adelaide last round.
The Demons went goal-for-goal with the Kangaroos in the first term but were hampered by turnovers.
North Melbourne's first five goals all started from Demon errors, though the Kangaroos weren't much better themselves in the second term.
Time after time, players from both sides turned over the ball by hand and by foot, with Scott Thompson even missing his hand in an attempted handball.
Melbourne recovered to kick three straight goals and stay in the contest.
Two goals down, Melbourne started well after the main break with Chris Dawes converting after a strong tackle on Shaun Atley.
But from that point the Kangaroos were utterly dominant, with Jack Ziebell and Atley's goals starting the rout.
Lindsay Thomas, Andrew Swallow and Aaron Black then put North Melbourne clear with majors in a five-minute burst.
Debutant Ben Brown, playing in the No. 50 guernsey, was mobbed by teammates when he kicked his first AFL goal and their sixth in a row.
North was rampant, and even out-tackled the Demons despite dominating possession.
Exemplifying the Demons as a team in transition, last week's hero Christian Salem didn't have a possession until deep in the second quarter and was substituted in the third.
"It's certainly not as good as we've been playing. I just thought some of our guys looked really tired tonight, some of the young guys," he said.
"We're getting to the middle of the year, that's the mental challenge for teams where we are is getting up week-in, week-out.
"I thought we went away from some of the real basic things we've been doing really, really well."
Midfielder Jordie McKenzie will also be heavily scrutinised for a raised elbow, which laid out Thomas in the second term.
Kangaroos debutant Ben Brown gets the obligatory Gatorade shower post-match. Picture: AFL Media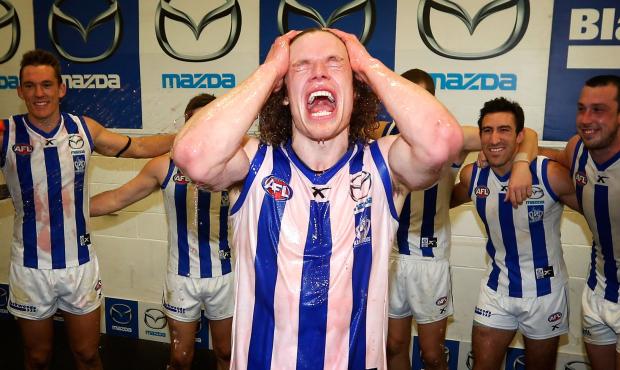 MELBOURNE 3.0 6.0 8.4 10.6 (66)
NORTH MELBOURNE 4.5 7.8 14.12 15.17 (107)
GOALS
Melbourne: Vince 3, Dawes 3, Frawley, Bail, Pedersen, Riley,
North Melbourne: Greenwood 2, Thomas 2, Mullett 2, Ziebell, Nahas, Harvey, Petrie, Cunnington, Atley, Swallow, Black, Brown
BEST
Melbourne: Vince, N. Jones, Cross, Dawes, Watts, Dunn
North Melbourne: Greenwood, Harvey, Atley, Firrito, Petrie, Ziebell
INJURIES
Melbourne: Robin Nahas (suspected broken collarbone)
North Melbourne: Nil
SUBSTITUTES
Melbourne: Aidan Riley replaced Christian Salem in the third quarter
North Melbourne: Leigh Adams replaced Robin Nahas (collarbone) in the second quarter
Reports: Nil
Umpires: Fleer, Bannister, Rosebury
Official crowd: 26,615 at the MCG