INJURIES to Paul Duffield, Michael Barlow and David Mundy have soured Fremantle's hard-fought 18-point win over an impressive Melbourne outfit at Fremantle Oval on Thursday afternoon.
The Demons tested the Dockers in hot, oppressive conditions in Perth but the home side held firm in the last quarter to win 0.9.7 (61) to 0.6.7 (43) in front of a very healthy crowd at Fremantle's training base.
Click here for full match stats and coverage
Duffield's injury appeared the most serious. The veteran defender had to be helped from the ground in the last quarter while clutching his left arm and immediately walked slowly to the rooms with the club doctor.
Michael Barlow was subbed at three-quarter time due to a right ankle injury he appeared to sustain in the first half. David Mundy was subbed out in the last quarter and had ice applied to his left foot.
However, after the match Fremantle coach Ross Lyon insisted the injuries were 'nothing dramatic'.
Matthew Pavlich and Matt Taberner starred up forward for the Dockers kicking three goals apiece. Lachie Neale (28 possessions) and Stephen Hill (23) ran riot in the midfield.
"There was a bit to like," Lyon said.
"I thought both teams competed well in difficult conditions. It was a very hot day and I thought both teams as they fatigued fumbled, and execution probably let them down and us at times.
"There is still a bit of work to do across the board."
Nathan Jones worked tirelessly for Melbourne all night gathering 23 possessions and kicking a goal. Dom Tyson also impressed in the second half. Heritier Lumumba showed what a valuable addition he is to the Demons squad with a polished display across half-back and through the midfield.
Ben Newton made a bright start but had to be subbed at half-time due a cut to his head.
Melbourne coach Paul Roos was really pleased with his side's effort.
"I think that was the key for us to try and get effort for long periods, and longer than we did last year.
"We were playing against a very good side and apart from the second quarter I thought our effort for three quarters was really good. I thought we tackled hard and competed, and that's what we wanted to get out of today."
The Demons started well in the opening term, troubling the Dockers with their quick hands and run through the middle. Newton made an exceptional start for his new club gathering eight touches and kicking a goal for the quarter while his skipper Nathan Jones was everywhere with 10 possessions and a goal. But the Dockers fought back with goals to Taberner, Pavlich and Crozier to cut the margin to a point at quarter-time.
The Dockers talls took over in the second term and fed off the supply of Stephen Hill who gathered 11 touches for the term. Nick Suban and Lachie Neale were influential as well. Pavlich kicked two goals for the quarter to have three by half-time and Taberner also had two to go with his eight possessions and three marks.
The Demons fought back from a 25-point half-time deficit to kick three goals to none in the third term and trim the margin to just five points at the last change. Lumumba's influence was profound, hitting Hogan lace out to set up the youngster with his first goal on return. Hogan also crashed a pack to allow Dean Kent to crumb and snap truly off the left foot.
Aaron vandenBerg kicked a goal with his first kick after coming on as a sub after half-time.
However the Demons ran out of steam in the last quarter. Goals to Taberner and Chris Mayne steadied the Dockers as they finished far stronger.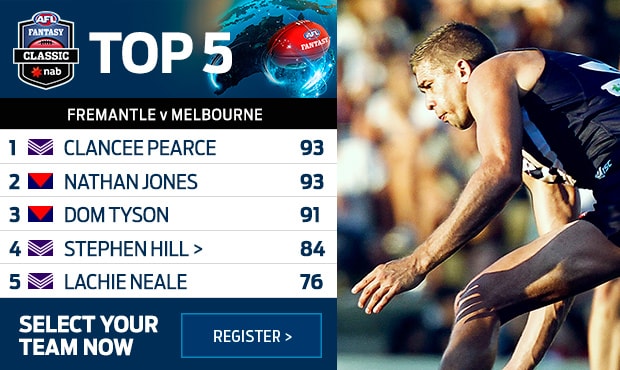 WHAT WE LEARNED
Fremantle: The Dockers trialed three talls in the forward line for most of the night. It worked exceptionally well in the first half as Matthew Pavlich and Matt Taberner combined for five of their seven goals to half-time and Pavlich was allowed more one-on-one opportunities. It was less effective in the second half.
Melbourne: The Demons have worked hard on their offensive ball movement in the pre-season and they were electric with quick hands and run through the midfield. They kept the ball moving by hand at all costs and troubled the Dockers with their run. They have improved their skills and executed them reasonably well. They looked organised in defence although they were stretched for size by the Dockers in the second term particularly.
NEW FACES
Fremantle: Connor Blakely was Fremantle's only new face on Thursday night. The midfielder started as a sub and did not appear until the last quarter. He only got one kick.
Melbourne: Heritier Lumumba looks a fantastic pick up for the Demons. He provided wonderful leadership, a cool head across half-back and through the midfield. His run and decision-making stood out. Ben Newton was very good for a half kicking a goal and gathering 13 tuches before he was subbed out with a cut to his head. Jeff Garlett was busy across half-forward without really breaking the game open. Sam Frost worked his way into the game with seven possessions in the third term. Aaron vanderBerg started as the sub and kicked a goal with his first kick.
Paul Duffield winces in pain as he is helped from the field by a trainer. Picture: AFL Media.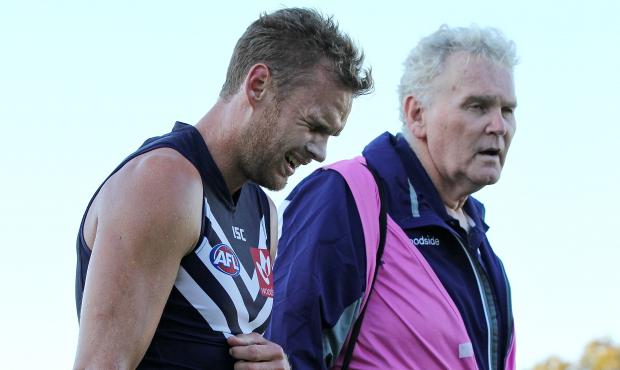 FREMANTLE 0.3.2 0.7.4 0.7.5 0.9.7 (61)
MELBOURNE 0.3.1 0.3.2 0.6.6 0.6.7 (43)
SUPERGOALS
Fremantle: Nil
Melbourne: Nil
GOALS
Fremantle: Pavlich 3, Taberner 3, Crozier, Walters, Mayne
Melbourne: Newton, Dawes, Jones, Kent, Hogan, vandenBerg
BEST
Fremantle: Hill, Taberner, Neale, Pavlich, Mzungu, Sutcliffe
Melbourne: Jones, Lumumba, Tyson, Cross, McDonald, Newton
INJURIES
Fremantle: Barlow (right ankle), Mundy (left ankle), Duffield (rib cartilage)
Melbourne: Newton (cut head)
SUBSTITUTES
Fremantle: Blakely replaced Barlow at three-quarter time; Smith replaced Mundy in the fourth quarter
Melbourne: McKenzie replaced Newton at half-time; vanderBerg replaced Jetta at half-time
Reports: Nil
Umpires: Farmer, Dalgleish, Stephens, Edwards
Official crowd: 8000 approx. at Fremantle Oval