ADELAIDE star Rory Sloane nailed two third-term supergoals, including a booming shot on his non-preferred foot, to set up a comfortable 24-point win over Port Adelaide at AAMI Stadium.
The game was evenly poised at the main break with both sides exchanging momentum swings, but the Crows iced it in the third quarter with seven unanswered goals to open up a 49-point lead on their way to the 0.13.15 (93) to 3.13.12 (117) victory.
Click here for full match coverage and stats
Emerging midfielder Cam Ellis-Yolmen (27 disposals) was superb again with his clearance work, while 2010 club champion Richard Douglas (22 disposals, two goals) was at his best when it mattered.
Crows coach Phil Walsh said fans got a taste of what his brand of football would look like in 2015.
"That's part of the vision that I hope to bring to this club - that we can keep the ball down our end and bring not just pressure but manic pressure on opposition teams," Walsh said after the game.
"At times today we weren't able to do that and Port still moved the ball really well.
"We might need another pre-season, we might need a little bit more training, but I was really happy that today we were able to do it for maybe 70 per cent of the time."
Port skipper Travis Boak (33 possessions) did everything he could to drive his side, while Robbie Gray (29 disposals) and Ollie Wines (32 possessions) both played tough, contested games.
A supergoal from captain Taylor Walker in the opening term sparked the Crows and their superiority around the stoppages and at the contest helped them out to an early lead.
But their inaccuracy in front of goal again hurt, which allowed the Power to take a narrow lead into the first break with John Butcher and Gray both kicking two goals.
Both sides promised there would be no holding back in the pre-season showdown and several heavy collisions early kept the intensity humming.
As he did against Geelong, Ellis-Yolmen showed his development with 12 first-term possessions, while Gray and Boak were also busy.
Walker's strength and aggression again sparked the Crows early and his second six-pointer halted the Power's momentum late in the quarter.
Wines was a beast inside with 11 possessions (seven contested) for the term and 19 for the half, 17 of which were handballs.
Douglas stepped his game up a notch in the third and Matthew Wright was finding teammates in great positions as the Crows controlled the game with seven unanswered goals.
Sloane hit a long left-footed supergoal before slotting one on his right and David Mackay, Tom Lynch, Josh Jenkins and Patrick Dangerfield all added their names to the goalkicking list.
Almost 75 per cent of the quarter was played inside Adelaide's forward half.
Port kept fighting to the end, though, and Butcher kicked his fifth goal with an incredible dribbling volley on the outside of his right foot.
Majors to Jay Schulz, Wines and Aaron Young helped reduce the final margin to a respectable 24 points.
Power coach Ken Hinkley was thrilled with some of his side's movement from defence, but urged it to be braver in round one against Fremantle.
"Adelaide defended us really well, which is great credit to them and we just weren't at our bravest," Hinkley said.
"That's what AFL does; if you're just a little bit off – you only need to be a second off – you look like you've slowed right up.
"I thought some of our transition was quite elite at times but we just didn't challenge them enough."
Ollie Wines dishes off a handball under heavy pressure from Luke Brown. Picture: AFL Media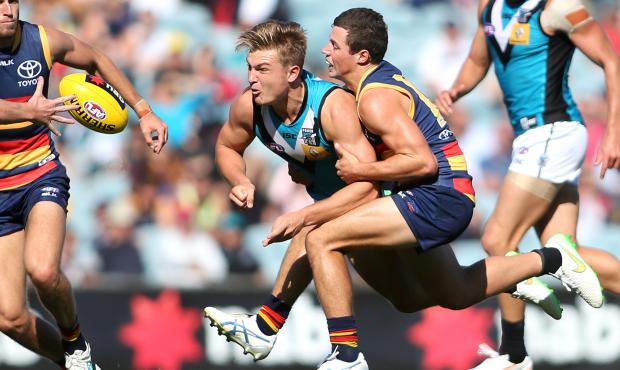 WHAT WE LEARNED
Port Adelaide: Entering the final year of his contract, forward John Butcher desperately needs a big year to keep his AFL dream alive. Really, he just needs to kick straight. The tall forward's pressure in attack is great and his hands are sound – as has been the case since 2011 - but his kicking has always let him down. Saturday was a step in the right direction; he slotted five goals from six shots in a performance that should give him some confidence ahead of the start of the season.
Adelaide: Goalkicking was an issue last year, it was an issue last week against Geelong and it was an issue early on against the Power; the Crows could have had Port on toast at quarter-time but 1.2.5 just doesn't cut it at the elite level. Encouragingly though they proved they have the skill to capitalise on opportunities and nailed 10 of their next 13 scoring shots (including two supergoals) to open a handy lead.
NEW FACES
Port Adelaide: The Power fielded an experienced side, with Tom Clurey the only player who didn't feature with some sort of regularity last year. He was subbed into the game in the third quarter and while he didn't star, he was good enough to keep Richard Douglas quiet in the final term.
Adelaide: As was the case against the Cats, Cam Ellis-Yolmen's size and speed at the contest was a huge asset to his side. His clearance work set up numerous scoring opportunities and his 27 possessions were surely enough for a round one spot. Kyle Cheney was solid in defence with 13 disposals, rookie defender Jake Kelly didn't find much of the ball as a shut-down defender and a quarter for rookie forward Keenan Ramsey wasn't enough for the youngster to have any impact on the game.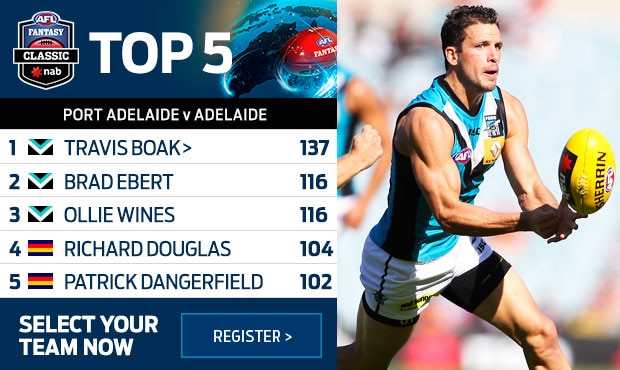 PORT ADELAIDE 0.5.1 0.7.4 0.7.11 0.13.15 (93)
ADELAIDE 1.2.5 1.6.8 3.11.9 3.13.12 (117)
SUPERGOALS
Port Adelaide:
Adelaide: Sloane 2, Walker
GOALS
Port Adelaide: Butcher 5, R Gray, Young, Schulz 2, Ebert, Wines
Adelaide: Walker, Douglas, Lynch, Betts 2, Wright, Dangerfield, Mackay, Jenkins, Jacobs
BEST
Port Adelaide: Boak, Wines, Ebert, Butcher, Polec, Broadbent
Adelaide: Douglas, Ellis-Yolmen, Sloane, Talia, Dangerfield, Lyons
INJURIES
Port Adelaide: Nil.
Adelaide: Crouch (foot)
SUBSTITUTES
Port Adelaide: Tom Clurey replaced Cam O'Shea in the third quarter; Paul Stewart replaced Jack Hombsch in the third quarter.
Adelaide: Jake Kelly replaced Brad Crouch in the second quarter; Keenan Ramsey replaced Taylor Walker in the fourth quarter.
Reports: Nil
Umpires: Margetts, Medlin, Meredith, Foot
Official crowd: 13,971 at AAMI Stadium