WHEN Shaun Burgoyne appeared at his first media conference in Hawthorn colours, he hobbled to face the microphone on crutches.
It was at Etihad Stadium in October 2009, and it followed the trade that brought him across from Port Adelaide. Count superstar Luke Hodge among the Hawk faithful with their eyebrows collectively raised.
"When they first said we were getting 'Shauny', my first thought was, 'Yeah, he's a good player, but aren't his knees shot?'"
It was a legitimate question. Burgoyne struggled through just nine games for Port in 2009. Alberton wasn't a happy place to be that year, with Mark Williams showing signs of a coach who had stayed too long, while the appointment of Dom Cassisi as captain had also caused ripples.
Burgoyne, repaired knee and all, decided it was time for a family adventure and moved to Victoria. He insists it had nothing to do with missing out on the Port captaincy, but was more about a family precedent. Burgoyne is married to Amy, whose father Greg Phillips was a Port Adelaide star in the SANFL who moved across to Collingwood for four years and 84 games in the mid-1980s.

Over 30 could be Hawks' prime: Burgoyne
"That planted a little seed in his mind, if it ever eventuated, that he would love the opportunity to play football in Melbourne," Hawthorn coach Alastair Clarkson told the AFL Record.
It was always going to be to Hawthorn if he did move. The Hawks offered stability and familiarity with Clarkson, an assistant at Port when Burgoyne started there, along with fitness coach Andrew Russell, assistant coach Geoff Morris and player Brent Guerra, also Port Adelaide alumni.
The Hawks' playing stocks helped too. "Their list gave me the best chance of winning a premiership," Burgoyne said. "That's just being honest."
Clarkson remembers telling Burgoyne it had to be a three-year commitment otherwise it would be a wasted exercise, and that some backwards steps were needed with his rehabilitation in order to prolong his career.
"We were able to convince him that the same fitness guy who had worked with him at Port could put together a program that would be advantageous for him to play footy for the long term and not just have a short-term impact," Clarkson said.
It meant Burgoyne didn't play his first game in brown and gold until round 8, 2010. A fractured jaw in the VFL in a warm-up game delayed his debut that little bit further, and Hawthorn fans with a keen memory will recall his first game was the day Sam Mitchell tackled Richmond's Shane Tuck as he was steaming in to kick what would have been the match-winning goal.

Had Tuck kicked it and the Tigers won, it has since emerged that Clarkson would likely have been sacked immediately after. Had Russell walked out in support, who knows how long Burgoyne would have lasted at Hawthorn?

Shaun Burgoyne celebrates his fourth premiership with Cyril Rioli. Picture: AFL Media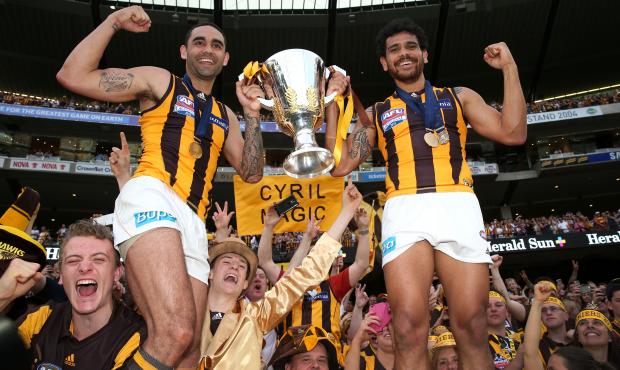 Since that day however, Burgoyne has been remarkably durable and the Hawks remarkably successful. He has played 142 of a possible 146 games since that debut game and Friday night's match against Adelaide – his 300th – will be his 64th in succession. The Hawks hold a 77 per cent winning rate with him in the side.
"I have always had complete confidence in my body and what I have wanted to achieve," he said of his ability to play almost every week since joining Hawthorn. "It's been about general maintenance and listening to the right people about what I need to do to play.
When at his best for Port Adelaide, Burgoyne was one of the elite clearance players in the competition. His combination with ruckman Brendon Lade was a joy to watch.
Yet Clarkson understood from the start that Burgoyne's long-term value to the Hawks was to use him only sparingly in that role. He already had centre-square warriors Mitchell, Hodge, Brad Sewell and Jordan Lewis at his disposal, so Burgoyne offered real tactical options.
As the coach explained, "There's a lot of spinning, turning and running in the midfield, and if Shaun had to play there every week at some point it would break him down."
So in a team where flexibility is the key, Burgoyne became the poster-boy.

"My first association with Shaun was when he was an elite full-forward," Clarkson said.
"In the second year of my involvement at Port he was a rebounding half-back flanker and then he evolved into a midfielder, so I knew he had the capability of playing in any position outside of the ruck."
So versatile has Burgoyne become that the boffins at Champion Data say he has long been the hardest player in the AFL to ascribe a set position, although in the last two years, he has started an increased number of centre bounces somewhere in the backline. In 2015 that figure grew to 61 per cent.
Burgoyne admits as much. "It's a week-by-week proposition. It depends on who we're playing, who's injured and how we're going, but I generally start down back and then we see how the game is unfolding."
But he has the knack for being where the action is and providing some brilliance just when it is needed. It could be a hard-won clearance, a relieving intercept mark, a crunching tackle or an important goal. At 33, he is still lightning-quick off the mark. The player known to teammates and supporters as 'Silk' rarely fails to deliver, and there is little wonder Hawk fans like to call him their "break glass in case of emergency" player.
His reputation for clutch-time quality preceded him to Hawthorn. In the dying moments of the frantic 2004 Port-St Kilda preliminary final, it was his desperate lunge that pushed Guerra (then with the Saints) off the ball and kept him from kicking the goal that would have levelled the scores with just seconds to go.
He was a great player at Hawthorn from the start, but it was his masterful final quarter in the 2013 preliminary final that endeared him to the Hawk faithful forever. A hero was needed and Burgoyne took charge during those pulsating final 30 minutes, keeping a cool head at a time when others lost theirs. When he calmly slotted the winning goal, he helped end an agonising 10-game losing streak to the Cats.
Even a fortnight ago, when down to the Western Bulldogs by three points and desperately needing a clearance, it was Burgoyne who won a disputed ball, charged out of the centre and found James Sicily, who kicked the match-winner.
"If you want someone to stand up in big games, the first person you look at is Shaun," said Hodge, who remembers unsuccessfully chasing Burgoyne up and down the MCG when the two were opponents.
Added Clarkson, "The bigger the occasion, the better the play we get from Shaun and he has been a significant player for us in many big games. We put a highlights package together of our players when they reach milestone games and there won't be a player in the competition who won't look forward to watching Shaun's.
But is it merely a co-incidence that it's Burgoyne who commands the ball just when his team needs it?

"I tend to be in the right place at the right time," he admitted. "But tight games like those, they're the ones you want to play in."
He's now a four-time premiership player and too diplomatic to try and compare the 2004 triumph with Port Adelaide with those won at Hawthorn over the last three years. "They're all special in different ways and I love them all. My four kids (sons Ky and Percy and daughters Leni and Nixie) tell me they get a medal each, so they're all very happy."
But he is more forthcoming about the 300-game milestone, and how what he hoped would be three years at Hawthorn instead turned into seven and quite possibly more.

Burgoyne leads the Hawks from the ground. Picture: AFL Media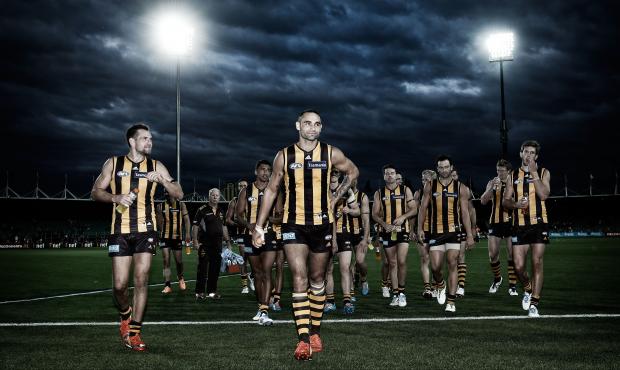 "I feel unbelievably lucky. I have had a couple of injuries along the track so this is something I never thought I'd get to. I play footy to play finals and win premierships. I have never really set myself for individual milestones. It's all about the team," he said.
"But 300 games is great for my family and the unbelievable support and love and care they've given me."
Outside of footy, Burgoyne works one day per week with the diversity team at the AFL and this year he became chairman of the AFL Players' Association's indigenous advisory board.
He replaced Adam Goodes, whom he called "an unbelievable leader" in that role, and is relishing the challenges it presents.
"I see myself as a role model, not just for indigenous players but kids all across Australia," he said.
"We're fortunate to have set up this board to help the clubs and the AFLPA understands what the players are going through and what they need. The challenges indigenous players face are a bit different, and if I can help through the board I will.
"It's something we take very seriously and will become a bit more vocal about as we go along," he said.