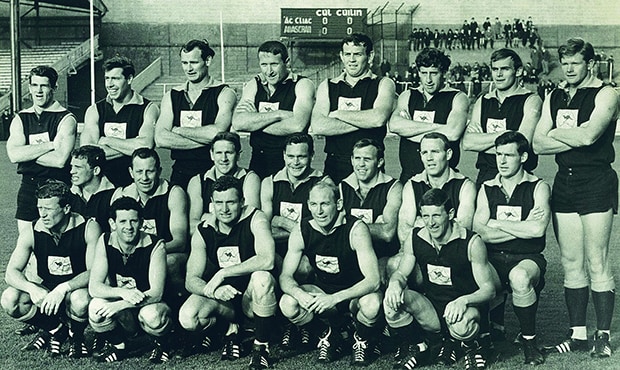 A CHANCE meeting at the three-quarter time huddle at an amateur football game has led to one of footy's great untold stories making its way to the big screen.
The Galahs is the story of the team with the same name that traveled through Ireland, London and the United States at the end of 1967 to play a series of Gaelic football matches.
The team was entirely drawn from the VFL and featured some of the biggest names in the game at the time, including Ron Barassi, Bob Skilton, John Nicholls and Ken Fraser.
The team manager was Harry Beitzel, the former League umpire turned commentator and impresario.
The movie was the brainchild of writer and broadcaster Tony Wilson. It was barrister Rob Heath who approached him at a University Blacks game, and less than three years later the premiere was staged at the 2016 Melbourne International Film Festival.
Wilson interviewed all but a couple of the team members as well as Beitzel for the documentary and said his amazement at the magnitude of the trip grew with every encounter.
"It was a self-funded trip, not endorsed by the VFL and it featured the best players of the era," he said.

"Some of them didn't have passports and some of them had never before left Victoria.
"They went to Ireland and didn't play a composite team, but the best team in the competition and won, with rules much closer to Gaelic football than the international rules of today. Then they went to New York and were beaten up by a team made up of Irish police officers.
"Some of these guys won't be around for much longer, so I wanted to get them to tell their stories while they could. It has been so much fun to make the film."
An encore screening of The Galahs will take place on Sunday at the Lido Cinema in Hawthorn at 4pm. Barassi will be appearing as will some of his memorabilia from the tour, which will be auctioned next month together with all his collectables from his lifetime in football.
"He said he will be bringing his hat and his jumper," Wilson said.
Further screenings will take place at the Backlot Cinema, Haig Street, Docklands on September 3 at 6.30pm and 8pm. It runs for 55 minutes.
For more information visit www.thegalahs.com