EVERY year the NAB AFL Draft Combine gives hopefuls from around the country one final chance to impress.
So who took their chance this year? Here's AFL.com.au's rundown of the Combine, which wrapped up on Friday after prospects spent the week in Melbourne testing in front of recruiters and meeting clubs.
Who boosted their stocks?
It was Finn Maginness (pictured) who stood above all. The Hawks haven't given any guarantees to their father-son prospect about next month's AFL Draft, but he's done a good job to make sure they don't overlook him.
The midfielder recorded an excellent 2.96-second run in the sprint, and then backed it up by coming second in the 2km time trial with a time of 5:51 (which was 13 seconds quicker than the previous record). Maginness also finished in the top-10 of the Yo-Yo, showing he has a genuine speed and endurance mix as a contested ball-winner. Maginness looks a first-round pick.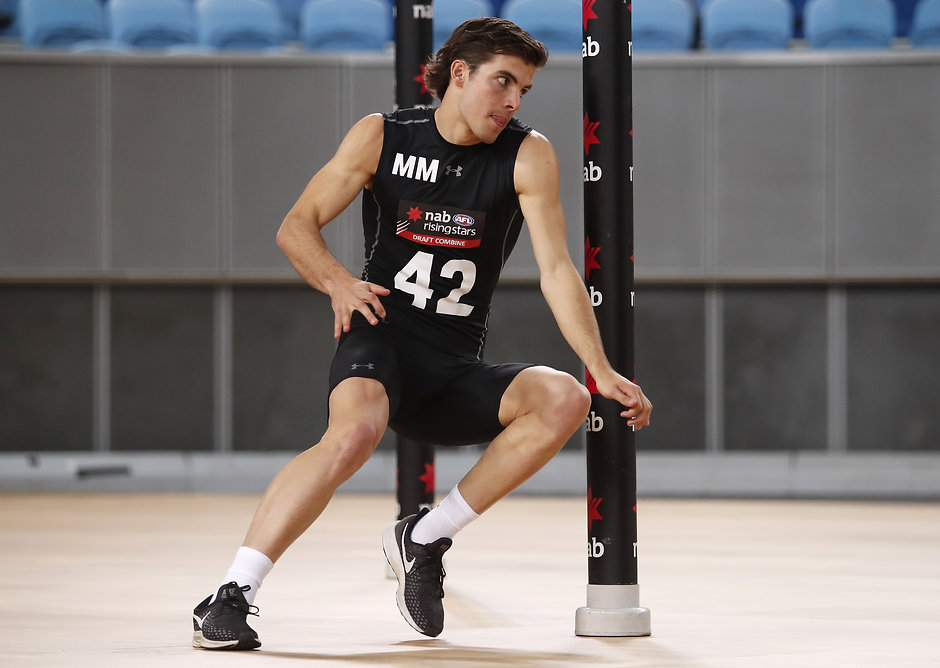 He wasn't alone in impressing. Miles Bergman battled shin splints to highlight his leap (he won the standing vertical jump and came second in the running jump), capping what has been an exciting end to the season for him. He shapes as a possible top-20 selection.
Sam Philp enjoyed a good week, winning the sprint test (2.87 seconds), while Connor Budarick was another who pushed his credentials by being among the top-10 for the agility and Yo-Yo tests. Budarick is headed to the Suns as an Academy pick.
Another player who could be on the way to Gold Coast is Northern Territory talent Malcolm Rosas. The small forward put forward a good week of testing to give himself a chance (2.95 seconds in the sprint and 8.5 seconds in the agility test).
NT prospect Malcolm Rosas has tested the quickest so far in the 20-metre sprint. 2.92 seconds for the small forward. pic.twitter.com/xz4fElpaao

— Callum Twomey (@CalTwomey) October 2, 2019
Sam Flanders' hopes of being a top-10 pick were increased. His explosive streak came through the tests – he was among the best for the vertical jump and agility – and backed it up by reaching level 21.3 in the YoYo.
Harrison Jones' athleticism as a tall forward came through, Jeremy Sharp showed a blend of speed and gut run, Jack Mahoney returned from injury to highlight his tank, and Hugo Ralphsmith highlighted why, despite an inconsistent season, he is a player of interest with good results (top-10 finishes in the sprint, time trial and vertical jump).
Who didn't test?
About a quarter of the Combine invitees were unable to get out there due to injury.
Of the likely early picks, Brodie Kemp is still recovering from his knee reconstruction so he watched on, while other potential top-10 picks Fischer McAsey (foot stress fracture), Deven Robertson (shoulder), Tom Green (knee) and Liam Henry (kneecap dislocation) were also forced to sit things out.
Possible top-20 tall Josh Worrell is three months into his rehabilitation program from a shoulder reconstruction, while Sam De Koning (pictured) was still nursing an ankle injury he suffered late in the year.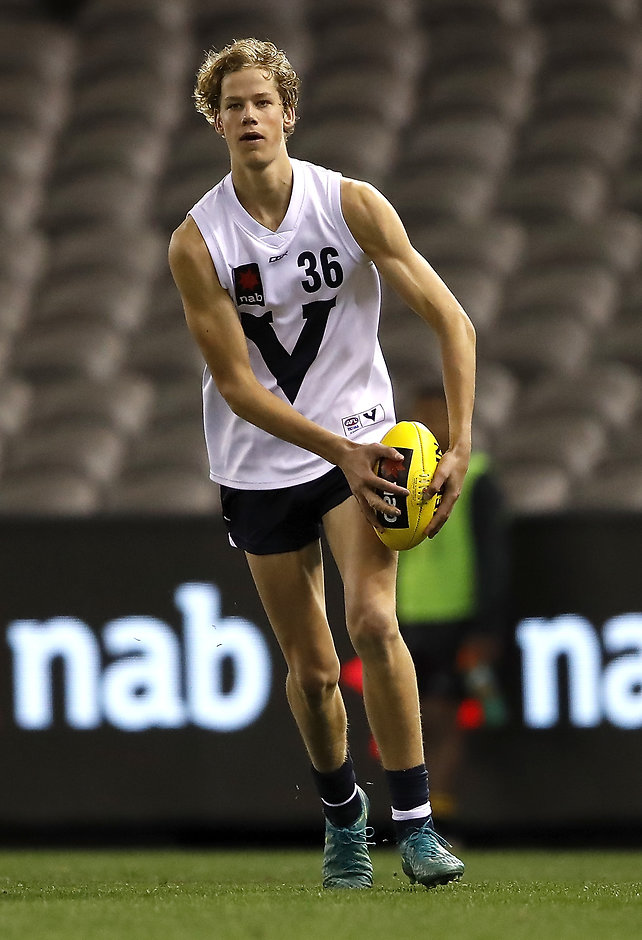 Talented forward Dylan Williams was another unable to get out there due to the stress fracture in his back that saw him miss the end of the NAB League season.
Jack Bell (ankle), Liam Delahunty (kneecap), Riley Garcia (ACL tear), Josh Honey (hip), Mitch O'Neill (medial ligament tear) and Jake Pasini (shoulder reconstruction) were also ruled out, while Flynn Perez bounced around the Combine but couldn't test as he nears the 10-month mark of his recovery from a knee reconstruction.
Brock Smith's glandular fever meant he didn't get out there, while Ryan Sturgess (ankle reconstruction) and Isaac Wareham (medial ligament) were also unable to show their wares.
What does it mean?
More for some players than others. For the prospects who have missed significant chunks of this season with injury, the Combine is a good chance to show clubs what they can do, or at least remind them of their strengths.
One player to do that was Cooper Stephens. The Geelong Falcons midfielder has been out since April with a broken leg, but the contested ball-winner had set himself for a big Combine. He was the equal winner of the Yo-Yo test, and also ranked highly for the running vertical jump, showing his power.
Mitch Georgiades (pictured) missed the full season with an ongoing quad injury but has fully recovered and could be a bolter after his testing results. The 191cm tall forward from Subiaco came fourth in the 20-metre sprint (2.925 seconds) and was solid in the Yo-Yo as well (level 20.8).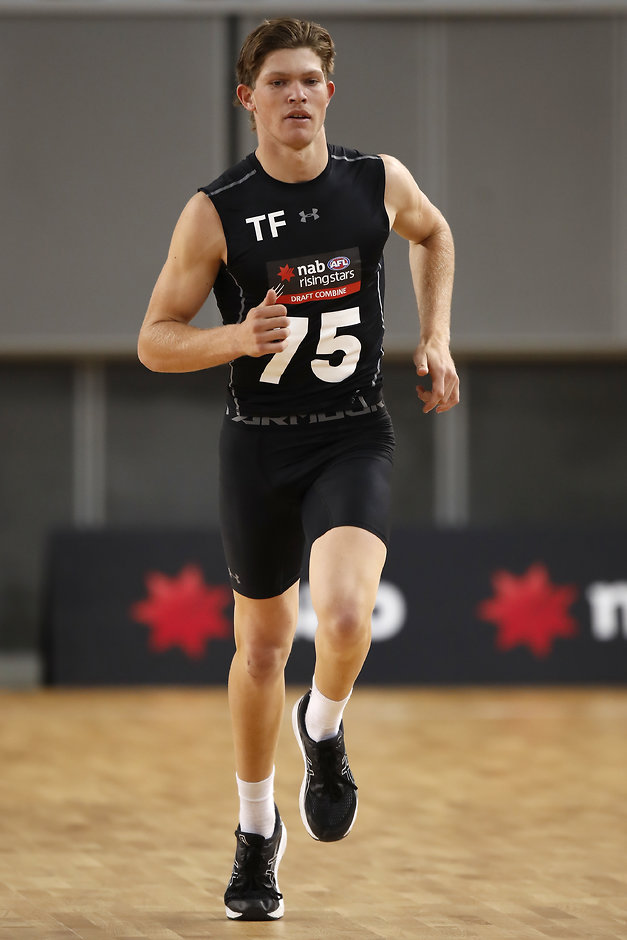 His Combine performance, plus the talent he showed as a bottom-ager last year, could see him push up the ranks after this week.
For back-end draft types, the Combine gives players a chance to show clubs their trick – the attribute that separates them.
In the case of WA rebounder Ben Johnson, that meant his power – he ran 2.89 seconds over 20 metres and came third in the vertical jump.
For Brady Rowles, it was his jump (he won the running vertical and came second in the standing), which clubs can add to his draft qualities after he's played predominantly as a midfielder.
Will it shape the early picks?
Matt Rowell (pictured) and Noah Anderson, the near certain top-two picks, had little to prove but still tested fully. They are competitors, and both registered times of 6:17 in the time trial.
Rowell did the sprint in 3.1 seconds and ranked about midway in the agility too, while Anderson did the sprint in three seconds flat and also beat Rowell's agility time (8.4 seconds). But it didn't really matter what they did this week, with their positions at the top of the draft all but assured.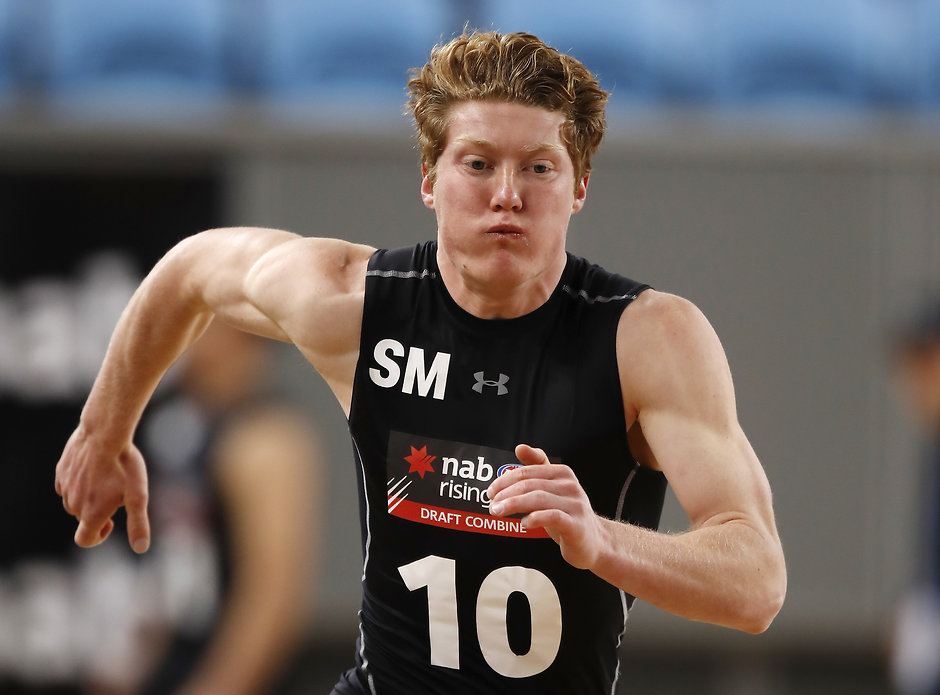 After that it's interesting. Flanders, Caleb Serong, Lachie Ash, Dylan Stephens and Hayden Young were among the likely early selections to test, with Young taking out the agility test (7.94 seconds), and Ash and Stephens also did well in pace and endurance tests.
The results are unlikely to sway recruiters with their top choices. By now they have studied these highly-rated prospects for up to three years, so little this week would have surprised scouts with their performances.
Who will rise from here?
The draft position of ruckman Luke Jackson is fascinating. Clubs within the top-10 are considering taking the talented West Australian, while others are keen to get picks high enough to nab him. It would break with a trend, but he's ready to play and has some special skills for a ruck.
Cody Weightman also has fans very early in the piece. The small forward is creative, crafty and classy, and can be a match-turner around goal. His rise has been consistent across the season.
South Australian half-back Will Day (pictured) is another who could rise sharply. Day hasn't got the physical development of other players but finished his season well and has the upside clubs are looking for.