There will be a lot of very sad, very disappointed and maybe even disenfranchised people (among) the Essendon family. However, we must rebuild
Essendon chairman Paul Little
ESSENDON chairman Paul Little has vowed to rebuild faith in his wounded club to ensure it becomes "wiser and stronger".
There is likely to be more pain before the healing begins but, as Little emphasised at AFL House on Tuesday night, the Bombers finally have some clarity regarding their future.
Crash landing: Kicked out of finals, lost draft picks, fined $2m

Asked how the club planned to make it up to its members and supporters, Little admitted: "That's a very good question.
"We have now got to re-establish (and) rebuild their confidence in us. I've no doubt that there will be a lot of questions that people will want answers for, and from, and about … So there's a lot of work to do (and) the work starts tonight …
"There was an acceptance by all parties that we really have to get on with the future. We can no longer dwell about the mistakes that have happened and whether they've been accurately recorded … We must move on."

Click here for the full coverage of the Essendon supplement saga
Little said it was "an incredibly tough time" for all Essendon people and that he shared their pain.
"There will be a lot of very sad, very disappointed and maybe even disenfranchised people (among) the Essendon family. However, we must rebuild and we will rebuild," he said.
Little said he hoped the players would also "forgive us for the mistakes we've made".
He maintained his view that
players would not be served with infraction notices
by ASADA.
"Do we know everything? No. Do we know a lot about what happened? Yes. What we know we are comfortable with; what we don't know, our belief is that there weren't any substances taken that were illegal or illicit," he said.
The coaching issue is a complex one.
James Hird has been suspended for 12 months, after which he will resume his post, with the Bombers
securing him for multiple seasons as part of a new deal
.
"James is very keen to continue his coaching with Essendon, and the … club is very keen to have James Hird continue," Little said.
Adding to the unusual nature of the arrangement, Hird's ban will expire on August 25 next year and Little expects he would rejoin the Bombers' coaching panel for the finals, providing they made it that far.
Below: CEO Andrew Demetriou and chairman Mike Fitzpatrick announce the penalties. Picture: AFL Media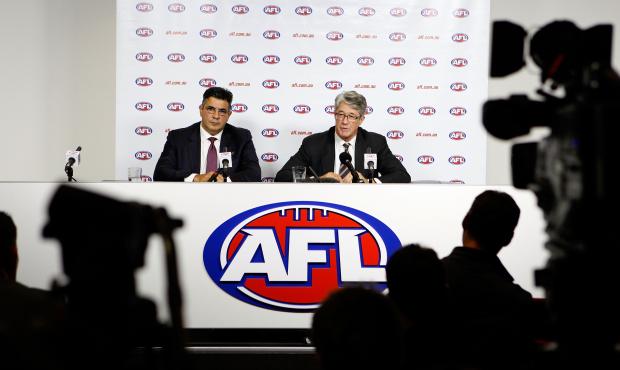 The Bombers will soon start looking for an interim coach to guide the club next year in Hird's absence.
Little said three candidates have already offered to fill the role, but he refused to identify them.
When asked directly if senior assistant coach Mark Thompson (who has been fined $30,000 for his role in the scandal) was a volunteer, Little reiterated that he didn't want to individualise.
The futures of both Thompson and suspended football manager Danny Corcoran had not been discussed, he said.
However, Little revealed that the list of three volunteers for the coaching position didn't include assistant coach Simon Goodwin, who will coach the Bombers in their final game of the season against Richmond at the MCG on Saturday night.
"We haven't approached anyone yet because until tonight it wasn't obvious to us whether this was going to be a 12-month situation or perhaps a shorter one should James have contested the charge," he explained.
One of the candidates might well be Kevin Sheedy, the four-time Essendon premiership coach and outgoing Greater Western Sydney mentor, who is believed to be considering roles at both clubs.
"There are some wonderful offers of help at the moment and not all necessarily around (the role of) senior coach … and Kevin has been one of those … He is a good person and there is still a lot of Essendon interest in what Kevin might do in the future," Little said.
Though admitting the coaching situation was less than ideal, Little believes the Bombers can still be a threat next season, given what the team achieved under enormous stress this year before the off-field distractions ultimately took their toll.
He also expressed confidence that the club would not lose any players over the scandal.
However, he conceded the loss of first and second-round draft picks in 2013-14 would be "difficult" to overcome.
Asked whether he would understand if some players withdrew from Saturday night's game, Little said: "I think it'll be the opposite. I think you'll find that … Essendon players will be playing for James Hird and the club."
As for whether he would continue as chairman, Little quipped: "Is there anyone in the room who would like the job?"
More seriously, he felt it was "just the start of the journey", and would happily relinquish the role when the club was "a lot stronger than what it is at the moment".
On the possibility of his predecessor David Evans returning to the club, Little said: "You'd have to ask David that. I don't think he's in the country at the moment."
Little said one of his greatest concerns was the financial cost of the saga – which he estimated as being in excess of $1 million, in addition to the $2 million fine – at a time when the club was trying to fund its new high-performance centre at Melbourne Airport.
"From a cash-flow point of view, it couldn't have come at a worse time. However, we will manage it," he said.
Little said the club would not refund memberships.
Twitter: @AFL_BenCollins