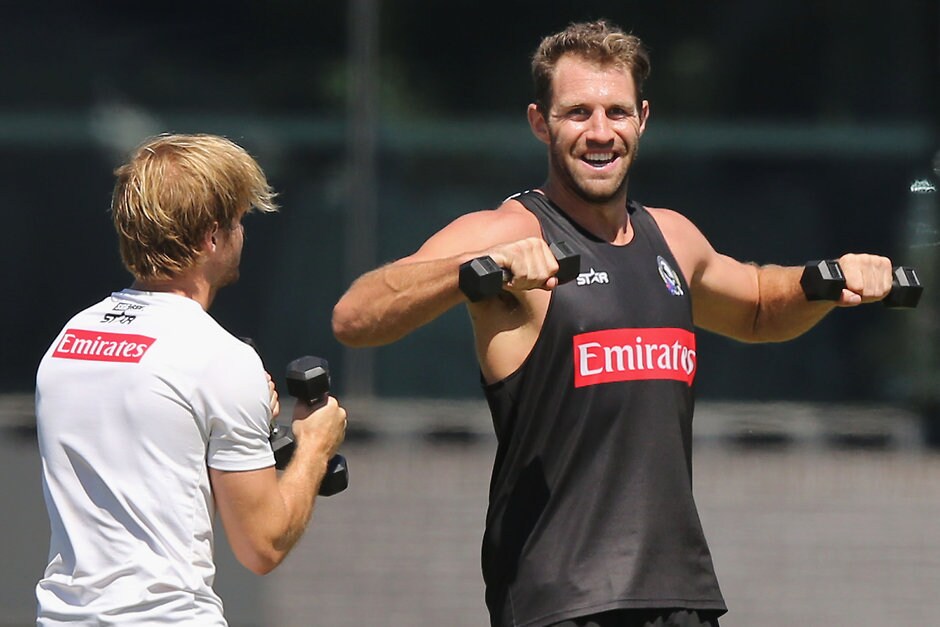 DESPITE not reaching expectations during the premiership season last year, many of the Pies still managed to deliver from an AFL Fantasy perspective.
As usual, Scott Pendlebury (MID, $615,000) and the Fantasy Pig Dane Swan (MID, $609,000) led the way after dominant seasons, averaging elite scores of 111 and 110 respectively.
Taylor Adams (MID, $560,000) had a terrific break-out season, going on to average 101, but the pleasant surprise packet was Jack Crisp (MID, $506,000), who embraced his new colors after being traded from the Lions, going on to average 91.
Unfortunately, these two, along with Swanny have lost their dual-position status going into 2016.
Click here for every Collingwood player's starting Fantasy price and position

More Fantasy prices:
> Carlton: Will Brendon play the kids?
> Brisbane Lions: Fantasy Pig and friends
> Gold Coast: Sunshine and Fantasy points aplenty
> Essendon: Don't you know about the Bird?
> St Kilda: Big four won't come cheap
> Melbourne: The devil is strong in these youngsters
Click here to subscribe on iTunes

Scott Pendlebury (MID, $615,000): Pendlebury is so consistent and durable that he is often referred to as 'Dependlebury' from his loyal owners. In the last six seasons, this superstar has averaged over 100 points per game, dropping under 110 just twice while missing only five games during that stretch. He certainly comes at a price, but he is the perfect example of a stress free lock and load.

James Aish (DEF/MID, $293,000): Although he is coming off a disappointing year with the Lions where he managed just 11 games at an average of 53, this kid can play and looks well under priced. When Aish debuted in 2014, he played 21 games and averaged an impressive 74 despite receiving the sub's vest on two occasions. Also during that season we saw a sign of things to come with three 100s including a whopping 140.
Jeremy Howe (FWD/DEF, $361,000): Howe was obviously being played out of position last season, and that was reflected in his season average of just 65, following a career high 74 the previous year. The Pies have touted a wing/half forward role for the ex-Demon similar to Jack Gunston, which should provide him every opportunity to increase his average to over 80 points per game. He will likely slip far enough down many draft orders in Elite to provide a bargain.

Adam Treloar (MID, $576,000): There is no doubt about it, Treloar is a star and he will absolutely flourish in this environment. Coming off averages of 103 and 104 in the previous two seasons, the only question is how high can he go? If you look at what Adams managed to do, 110 is not out of the question for Treloar. It's a big call, but he will have a Fantasy feast in this company, as Dayne Beams did when he was sharing it around with Swanny and Pendles.

Mason Cox (RUC/FWD, $125,000): He is not a first-year player, but the big American is priced like one. He showed very impressive progress in the VFL last season including some great form up forward in which he managed five second half goals against the Richmond reserves. Track his pre-season to see where he stands in the pecking order, but he may be a viable bench option at that price.

Travis Cloke (FWD, $396,000): The big fella didn't have his best season last year, managing an average of 71 (his lowest output for nine seasons) from 17 games. Key forwards have an increased relevance this year as we have lost many popular FWD/MID dual-position options and Cloke has proven in the past that he can reach the elite forward bracket after twice averaging over 90, including a career best of 96. He looks well under-priced based on the Pies predicted overall improvement next season.

Jack Frost (DEF, $178,000): Although it can be tempting to select someone like Jack on your bench, it is best avoided. Although he is cheap and locked into the Pies' best 22, you are better off taking a punt on a youngster who has the ability to make you some cash. Unfortunately, Frost has been fast-tracked to join Zac Dawson in the Fantasy Prestigiacomo Hall Of Shame.
THURSDAY: The Traders are back to reveal the Giants' Fantasy prices and positions for 2016.