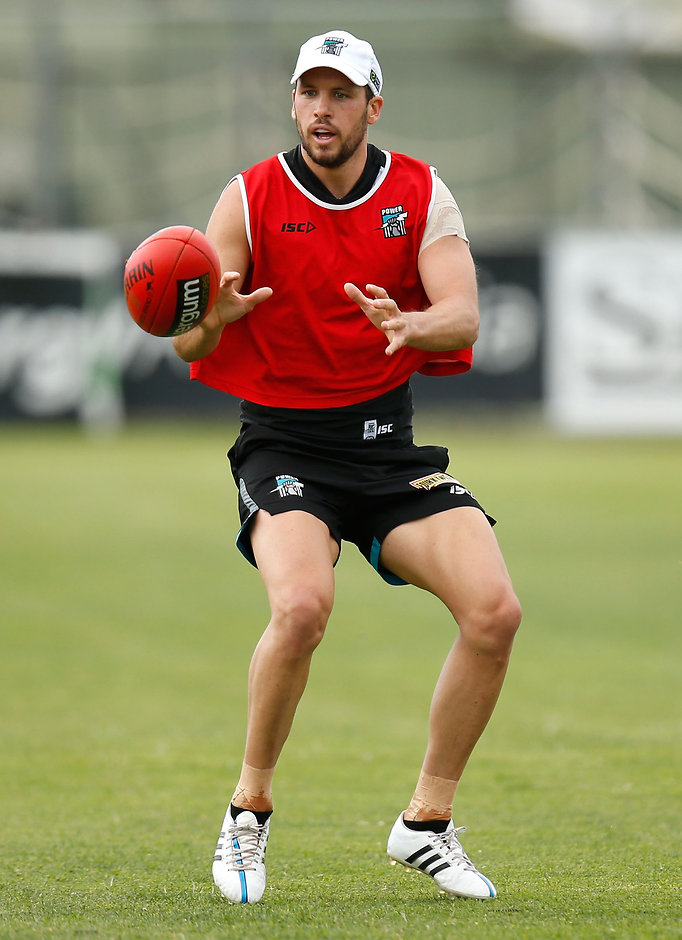 It's quite easy to go back home and relax, have a few beers and take it easy … but they've certainly worked hard and come back in really good shape
Tracis Boak
THREE-quarters of Port Adelaide's list ran personal best 3km time-trials on Monday morning, and skipper Travis Boak can't remember a better return from a Christmas break.
The Power's players returned to training in Adelaide's CBD at the same time as the Crows warmed up just a few hundred metres away.
Boak narrowly missed his personal best in the time-trial, but Sam Colquhoun finished in 9min 30sec and was closely followed by Kane Mitchell and Tom Clurey.
Season 2016 marks Boak's 10th in the AFL and he said his teammates had returned in brilliant post-Christmas shape.
"It's probably the best I've seen the group run – certainly a [3km time trial] – in my time here," Boak said.
"It comes down to the times they've been running and if nearly three-quarters of the group have run a PB, then they've put in so much work.
"It's quite easy to go back home or wherever you're from and relax, have a few beers and take it easy … but they've certainly worked hard and come back in really good shape.
"We know our strength is our running and we build our game around that and that's gone to another level so far."
The playing group spoke about training standards prior to the club's break, but even still Boak said the level of fitness on day one of 2016 exceeded his expectations.
Boak believed the fast times on Monday reflected the group's pain after a disappointing 2015 season.
Jake Neade was the surprise packet, running strongly and powering home in an effort that showcased his growing maturity.
It's the second-straight break from which the 21-year-old has returned superbly after he paid the price for a lack of training ahead of the 2014 season.
Neade played 10 games last year, including eight of the last nine, but Boak said the small forward's performance this summer would put him right in the frame to lock down a permanent place in the side.
"Jakey's been outstanding so far this pre-season. He put in a lot of work before Christmas and again today showed that he had a fantastic break," Boak said.
"[He wanted to] prove a point and really be in the front leading the way in that small forward group.
"It was [an issue a few years ago] and we sat down with Jakey and had a chat about that – since then he's changed so much.
"He's taken a step forward today."